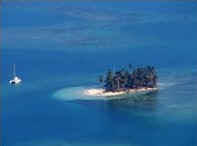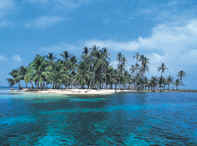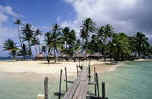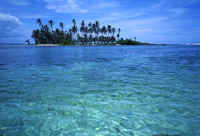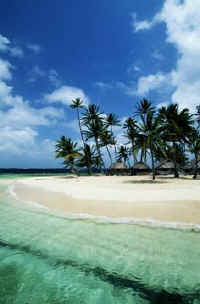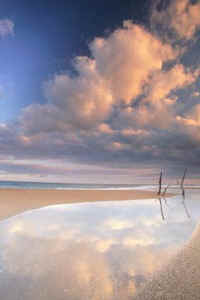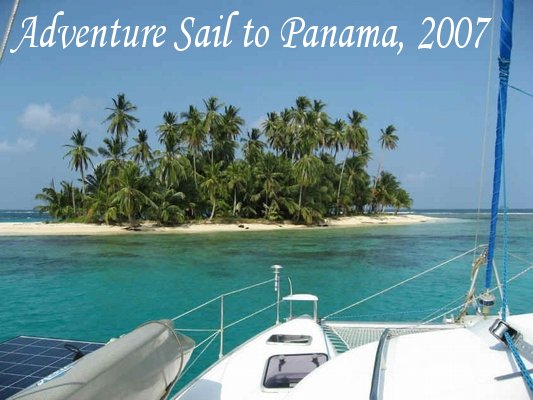 Use the Navigation Area to the left to cruise along with us
Check out Stray Cat Charters at http://www.SailStrayCat.com
------------- UPDATE - October 31, 2007 -------------
The website has been updated. Journal updates are located on the appropriate pages which are accessible using the Navigation pane on the left.
------------- UPDATE - October 19, 2007 -------------
The passage from Jamaica to Panama was supposed to be a beam reach through the trade wind belt. Pilot Charts are reference books that show what the recorded wind and wave information are for the last 100 years in most oceans and bodies of water. The Pilot Charts indicate that during the month of October on the passage from Jamaica to Panama that the wind blows out of the east at 15-20 knots about 90 percent of the time. Well, we seemed to find 100% of the 10% of the time that the wind did not blow. We were able to sail for several hours here and there, using squalls and localized micro-fronts to slingshot us 10 or 15 miles, but on the whole the trades never filled in.
On the second and third day, we did pick up some wind, but it was straight out of the south and right on the nose. We spent the better part of 24 hours tacking – first southeast and then southwest, but we found this to be futile as a substantial current was against us on the southeast tack. During those 24-30 hours we made only 15-20 miles of southing, and eventually realized that this tactic was not going to be successful.
At this point, we were forced to make plans based on the fact that if the wind never did cooperate, we were facing a serious issue, as we most likely didn't have enough fuel to motor the entire distance. As a result, we began using only one engine at a time, always keeping the RPMs in the 1500-2000 range in order to conserve fuel. At low RPMs, the engines become very fuel efficient, and even though we rarely moved at over 4 knots, we surmised that this was our best bet at making landfall any time soon.
And so it went for close to 300 miles. Sunrise became morning – morning became afternoon – afternoon became dinner – dinner became sundowners – sundowners became talking about the night watch schedule – a little sleep – a few hours on watch – a little more sleep – and sunrise came to start it all over again. All the while, we prognosticated, forecasted, made assumptions, made predictions, read weather books, studied the clouds, and even said a few prayers – all focused on the big question – "Where are the trades?"
The Dinghy Push Project
With 120 miles to go, we realized that we could no longer make any plans that included hoping for the wind – there was none. We knew that we were low on fuel so we started doing some calculations to see just what our situations was, and the result was that making landfall on the diesel that we had was questionable at best.
So, the last resort option came out and after a few hours of discussion, we decided to pull the trigger. We stopped the boat, lowered the dinghy and moved it around to the starboard side of the boat and rigged a spring line from Stray Cat's aft cleat to a padeye on the front of the dinghy. We then rigged the dink's bowline to Stray Cat's bow cleat. When all was tight and looked right, we revved up the Yamaha 15hp, and off we went – at a blistering 2.5 knots. The dink was doing an admirable job pushing us along, and for as long as we could keep that Yamaha running, we could move along at 2 to 3 knots without running the diesels, thereby conserving fuel that we would need to make landfall and enter the harbor. We also had a nice current of 1 knot and managed to stay between 3 & 4 knots most of the time. We were carrying approximately 14 gallons of gasoline on board, but none of us were sure of how long that amount would last because none of us had much experience pushing a 22,000 pound boat with a 15 hp outboard motor.
We started with the "Dinghy Push Project" at about 9am on Sunday morning. At about 11am, a squall came up and we were able to get the genny out and pulling for about 2 hours, which helped the dink get us up to 5 or 6 knots. Finally, at around 5pm, the first 4 gallon fuel tank ran dry, and we switched to our second 4 gallon tank. Then right before dark at about 7pm, we switched to the larger 6 gallon tank so that we would have the least possible chance of having to make any adjustments to the dinghy during the night, when it would be infinitely more dangerous. We "motored" through the dark for hours, and then at 5am, on Capt. Mark's watch, the Yamaha finally sputtered and died. Back to slow motoring on one diesel engine until sun-up, but by that time, we had come within 30 miles of Panama, and because of the heroic actions of our little 10 ft dinghy and 15hp Yamaha, we were now pretty confident that we had enough fuel to make landfall and get into port. The dink had pushed us for almost 24 hours and helped us make almost 60 miles. Not quite as good as having the trade winds on the beam, but it got the job done. The next morning we tried to get the dinghy going again, but the motor wouldn't start – it seems that during the night, the strengthening waves had splashed into the dinghy and some water had entered the fuel tank. Capt Mark proceeded to take apart the carburetor and clean it at least twice – all while underway, but alas, it didn't help as the gasoline was now contaminated. Oh well, at least we made it to Panama.
Landfall in Panama!!
Stray Cat and crew made landfall in Panama on Monday morning at approximately10am. We pulled into a place called Miramar because one of our guide books told us that they had a fuel dock, and that was important to us. We spent six days making the passage from Jamaica to Panama, most of it waiting for the trade winds to fill in. We were forced to motor for a large percentage of the time, and we were quickly realizing that by the time we were close to Panama, we would be on fumes. We knew that there would be no diesel available in the San Blas Islands because they are so remote, so we were forced to change course to make landfall about 25 miles from our original destination. Our new destination was a small harbor town called Miramar, where we hoped to refuel before heading to San Blas.
We shot the approach into Miramar – a reef on the left and rocks on the right. We made it around the reef and began to make our way down the channel towards the few docks and buildings that we thought was our destination. It seems that we were a little left of the channel, however, because just after a local whistled at us and motioned us further to the right, we lost water and the boat came to a stop rather quickly – we were aground. So much for a graceful entrance, but Capt. Mark stayed calm and skillfully used Stray Cat's twin props to wiggle off the ground and back into deep water. Ok – let's try this again. We moved the boat very close to shore and made a few inquiries about where we could get diesel and gasoline – our first foray into our "Spanish to Survive" course, and shortly thereafter we found what we had come for.
What we found in Miramar was a very small warehouse near the water, with a dock that can only be described as "rickety", and a small store, or "tienda" run by a very cordial Chinese family. When we arrived all of the locals were on the dock loading down with supplies to take to the small villages of San Blas. We waited for a space at the "dock" for over an hour as they loaded all kinds of sodas, beers, flour, sugar, rice, bananas and fuel onto their small panga style local boats. It was finally our turn to move in, and thanks to some great maneuvering and crew work, we pulled off the tight squeeze and tied the bow up into the mangroves. After a few "preguntas" from the young Asian man working the dock, down the pier rolled the diesel – on a hand truck inside a 55 gallon drum. We positioned the boat on the dock to get close to the drum and used a hand cranked pump to fill the port tank, but had to move the boat off the dock and flip her around to get to the starboard tank. We bought every bit of diesel they had which amounted to about 75 gallons, which we figured would be enough to last us during our trip through the San Blas.
They also had groceries and supplies at the small tienda, so we spent some time and money provisioning for San Blas before we left. They had a limited supply, but a few key items were necessary since we were picking up a new passenger the next day and we were very low on food. The prices were reasonable, the people were friendly, and our first contact with Panamanian culture was pretty enjoyable. It was a Godsend to have been able to obtain fuel, meat, milk, cereal, soda, eggs etc.. Most of all, though, it was very nice to have the long, windless passage behind us. Off to the San Blas Islands!
Checking in to Panama
Leaving Miramar, we turned east and followed the Atlantic coast of Panama towards Punta San Blas and the outlying islands of Kuna Yala. We were heading for an island called Isla Porvenir, which is an official Panamanian Customs and Immigration check in location, but what makes it different is that it is run by the Kuna Indians, and as a result, it has a reputation for being a much friendlier and less bureaucratic place to check in – much better than Colon. We had hoped to get there Monday afternoon in time to take care of the check in with the officials before they retired for the day, but our estimated time of arrival was past five 'o clock local time. As we approached, Mike got on the VHF radio and called Porvenir. The Customs & Immigration officials answered on the radio and said they could accommodate us, but with overtime charges of $20. No Problem Mon! We anchored next to Porvenir just past 5pm and Capt Mark hurried over in the dinghy to meet Eduardo. Capt Mark was headed towards the town dock in the dinghy when a man from an anchored sailboat flagged him down. Mark stopped over and the man introduced himself as Eduardo Lopez. They both made way to the town dock and after filling out a ton of paperwork, Capt Mark had the 4 of us and Stray Cat checked in for 3 months! Wahoo!! We celebrated that night with a few rums and a great dinner. It was wonderful to all be able to sleep through the night without having to stand watches and battle squalls and freighters. The sleep didn't last long however, as we had to make sure that we were awake to pick up Walter at 6:30am from the Porvenir airport.
We were all up early the next day, Tuesday the 16th, preparing for Walter's arrival. We were having our morning coffee in the cockpit, when we heard an airplane flying above us. We watched the pilot's deft maneuvering as he landed the twin engine, high wing, turbo prop at the Porvenir airport. Capt Mark sped over in the dinghy to greet Walter and he was back in about 15 minutes with no Walter. We decided that Walter had missed his flight when we heard the familiar sound of engines overhead. Another of the same kind of twin engine buzzed the anchorage and then landed. Another plane!
This time, we thought, Walter must be aboard, so Capt. Mark, Mike and Kate dinked over to collect our new crew member. Sure enough, we found him just as advertised, with his video camera, already filming the buildings and uniqueness of Porvenir. And so we added Walter – a Russian who has lived in Moscow and St. Petersburg, but now works in NY and LA. Walter is making a documentary film about the San Blas Islands, and Stray Cat and crew will be his transportation and production support team for the week or so that he is on board.
And so, with a new member on board, Stray Cat raised anchor and began the next chapter in the Panama Adventure.
------------- UPDATE - October 9, 2007 -------------
We arrived in Port Antonio, Jamaica on Friday, October 5th in the morning just after 8am. We had to check in with customs & immigration so we took a slip at the Erroll Flynn Marina. "Mix" was our line handler and he worked for the marina. One of the many great people we met in Port Antonio. We tied up and started filling out paperwork. What a job! The papers had to be filled out 3 different ways and for 5 people, it was a lot of red tape. We were able to get off of the boat and walk around the marina only. Lots of us took advantage of the marina showers and a little shopping at "Things Jamaican". The first item we picked up was a lb. of coffee for $1300. We quickly put it down! Then a shirt for over $900! We knew something was awry, so we asked the store manager and she told us the exchange rate at the marina was 65J's(Jamaican Dollars) to $1 U.S. The exchange rate at the ATM in town was more like 70-1. We spent thousands of dollars everyday, but without all the guilt, and the ATM receipt gave your balance in J's - we all loved seeing our bank balances number in the hundreds of thousands of dollars!!
We were all starving and looking for some lunch after the first 2 customs agents came & went, although we were still waiting for the third. Ryan got a suggestion from one of the local guys to head over to "Kooyah" for some authentic Jamaican food. We headed out of the main gate of the marina. The property of the marina was enormous and encompassed a city park open to the public in the daytime, it was gorgeous. It was like a lush tropical paradise with every kind of flower and fruit you could imagine. We did not have to go far to get to Kooyah and it was on the rooftop, so we toasted Red Stripes for making it this far on our adventure and we ordered, fried Red Snapper, curried chicken & curried goat! We found goat to be one of the staple meats of the area. Everything was delicious! From the rooftop we could see the outdoor market and some really cool old buildings. We were ready to explore!
We went to the bank to get some more J's when a local guy named John picked us up. He was a guy who wanted to show us around town and help us get whatever we needed, sort of an informal local guide service. John took us all over town showing us all of the shops, buildings, landmarks, and telling us some of the local history. He took us through the market where they had all kinds of fresh fruit and vegetables along with Jamaican trinkets, wood carvings, leather shoes, Blue Mountain coffee, spices, local meats & fresh fish. It was awesome! There was so much to see and bargain for. We went back many times. In the butcher shop a man was showing us some goat testicles and telling us how good they were for us. Goat & pig heads were a plenty. Then a Jamaican lady came and grabbed Ryan and asked him if he was an Irishman. She was happy to see him and gave him some money to buy a drink. Ryan was confused and John told him the lady was wealthy and had English roots, that she had gotten excited at seeing a tall white man. Ryan promptly was gotten a Red Stripe in the market. John took us back to the marina after showing us all around. We tipped him for the service, but he always wanted more giving us the reason that Jamaican dollars "funny money" .
After chillin' on the boat for a while, Ryan was ready to bar hop on his last night in Jamaica as he was flying out the next morning. Ryan & Capt. Mark hit every bar or hole in the wall in town. Mike, Kate & Stuart went to Shadow's, an outdoor restaurant downtown, for dinner and had a wonderful fish platter of Mahi Mahi, steamed vegetables & rice. One plate would have been enough for 3 people! It was really good and we had a few rums too. The local rum in Jamaica is Appleton Estates, we got very familiar with it. As we were finishing up our drinks, John came in to the bar. He had told us earlier in the day that they had really good food. He proceeded to take us around the city again. The first bar we stopped in we saw Capt. Mark & Ryan. We all had a few drinks and then Kate, Mike & Stuart retired for the evening and left the night owls up. Ryan had to leave at 8am for a cab ride to Kingston Airport. We were all up at 8am as he was leaving, he had scheduled 2 cabs and neither one showed up. There was a little panic as "Hulk" found a cab for Ryan. Little did we know at the time - even though Jamaica is in the same time zone as we are, they do not adjust for Daylight Savings Time, so it was actually only 7am and at 8am both cabs did show up for Ryan, OOPS!
Saturday was a work day for the Stray Cat Crew. Capt. Mark & Mike worked on the generator wiring and fuel pump, they also mounted a pad eye in the deck for the SSB antennae, then they secured the dinghy with new line. There were a couple of local guys, Hulk & Donovan, buffing and polishing the hulls for a few days as it rained on and off the whole time we were in Jamaica. Stuart & Kate did 6 loads of laundry and went back and forth to the market 3 times to re-supply the ship's stores. This was the day we discovered the local bakery & meat pies Yum! The bakery was very inexpensive and had warm bread fresh from the oven. Meat pies were the only ground beef we came across in a cheese flavored Phyllo dough, very tasty! Rum thirty came early that day as everyone had worked hard. There was a little exploring of the marina pool and the internet access was really nice. We were able to use Skype to make a few international calls - it was really nice to be able to keep in touch for a few days. We called it an early night as we were all exhausted.
Sunday was another good work day cleaning up the interior and wrapping up all of the projects on deck. We had a salon day on the swim platform with haircuts all around for Mike, Kate & Stuart. We met little Sevaskia Brown, Hulk's daughter, who hung out on the boat & watched movies while he buffed & polished. Donovan was still buffing the boat and went to get some lunch in Boston. A local town well known for their jerk chicken & pork. It was the best jerked meat we had the whole time in Jamaica, but it was VERY expensive. Mike & Kate scouted around the immediate area finding a restaurant nearby and a gorgeous beach with some historic ruins on the marina property. The flora & fauna were incredibly beautiful. We retired early again on Sunday as it was raining once more.
Monday was spent preparing the boat for departure and stocking up on everything we could need for at least 5 days of sailing. We hit the local Supermarkets, liquor store and hardware store. The hardware store is where you would go to buy your baby chicks or eggs by the dozen. The babies were adorable! We did some more sight seeing with Capt. Mark and had lunch at a local chicken place called the Chicken Shack - there was one fast food restaurant that everyone would recognize - KFC, the locals called it the Fowl Coop.
In the early afternoon, Capt. Mark checked out of Jamaica with customs & immigration and took the guys to fuel up and Kate went to town for a few more fruits & veggies. Later a guy named Moses had been doing some fiberglass work on the boat and as he was leaving the marina he showed us all of the fruit trees on the grounds. There were bread fruit, ackee and coconuts all over the place. He was something of a bush doctor. He snapped twigs off of trees and told us to make tea with it = the plant was called sour sap, and he said it would calm your nerves. It was clear that Jamaicans live off of the land and do not even need to plant rows of fruit trees or crops, everything grows naturally and they harvest it when it is ready instead of trying to hurry along God's process. It was fascinating to hear all of the remedies and how to prepare the different fruits & leaves. Completely in tune with the earth and natural goodness. Our last night in Jamaica we hung out in the cockpit and talked with Hulk. He had been found on the streets in Kingston at 18 months old. He was a very smart guy with a wordly knowledge and a big heart. He was one of our favorite people that we met. We finally decided to head out to dinner and opted for Chinese. It was the only place around still open. The funny part about this place was that we could not even tell that it was a restaurant and were hesitant to order, but we did anyway as our options were limited. We wound up eating some of the best Chinese food any of us had ever had! The shrimp & chicken in our meals were fresh & local - Imagine That! It was great, we all retired immediately after dinner.
Tuesday AM - Not feeling too good. Appleton Estates had us in a bit of a bad way, but we recovered. Stuart & Kate headed out to the bakery early for some more treats & meat pies. Capt Mark & Hulk cleaned the boat and Mike hooked up Mark's new email address on SSB to the Stray Cat website. There were 2 other Privilege Catamarans at the marina and Capt Steve did let us aboard "Amazing Grace" the 65 footer. It was enormous and laid out like a mega yacht! The interior was astounding, incredibly fancy with every bell and whistle you could think of. The last selling price was $1.5million U.S. Stuart said he was jumping ship and stowing away on the Privilege 65! Capt. Steve said that the owners did not like sailing, so they would call him and tell him which island to bring the boat to and get it all stocked up so that they could fly in to that location and meet him at the marina without having to be at sea. They do not like being at sea?! Why have a sailboat?? Stray Cat set sail just after noon, with Stuart on board. Jamaica was great and Port Antonio had some wonderful people! George the manager of the marina was very helpful & so was Mix, Moses, Steve & Hulk. They were all there to wish us well and see us off. We had a fantastic time and we would go back to Port Antonio anytime. We would recommend it to others without hesitation! Go Jamaica Mon!!
------------- UPDATE - October 6, 2007 -------------
Well, the adventure has begun. We left New Bern, NC at approximately 6am on Saturday, September 29th on our way to George Town, Bahamas in the Exumas. The flight out of New Bern left about 40 minutes late because they had a flight attendant call in sick at the last minute. We arrived in Charlotte a scant 15 minutes before our next scheduled flight to Ft. Lauderdale and only an "Amazing Race" - OJ Simpson style airport run saved us from missing our second flight. We arrived at the gate at the last minute, and were the last two passengers to board the jet - WHEW!
The rest of the flights went smoothly, but our 6 hour layover in the Nassau airport was less than desirable. Regardless, we arrived safe and sound at the airport in George Town right on time at 7pm, which also happened to be just right to catch a beautiful sunset.
We had made it safely, but as we soon found out - our checked luggage had not. We weren't told that we needed to claim and recheck our luggage at the first port of entry, which was Nassau, and as a result, our bags were left in Nassau. Willie, our taxi driver, waited patiently while we filled out the necessary forms and made the necessary apologies and pleas for help. On the way into town, Willie offered to meet the 7am flight in from Nassau the next day to see if our bags had been forwarded on that flight.
This was the situation that we had most feared, as we were pretty sure that Capt. Mark would be ready to "beat feet" very soon after we arrived, and waiting on luggage would not be a good enough reason to wait around, especially during hurricane season. You gotta get it while the gettin's good, as they say. Knowing this, we had packed the most important items in our two backpacks, which we did not check, and carried on all the planes. But, that didn't mean that the two small bags that were lost didn't want to be seen again.
After a 30 minute taxi ride, we arrived at the dock and made our way out to meet the boat. It was a happy reunion with hugs and handshakes all around - it was good to see Capt. Mark and Stray Cat again. We met Stuart, Ryan and Bradley, all of whom had been aboard since Miami, and had spent the previous 7 or 8 days making final preparations for the trip, crossing the Gulf Stream and then working their way through the central Bahamas and down the Exumas chain to George Town.
We told Mark about our luggage issue, and he informed us that Bradley wasn't flying out until 3pm the next day, and that, combined with the fact that we still needed to go to Exuma Market to restock the boat with essentials for the next leg, would be reason enough to spend most of the next day in George Town before leaving. So, we breathed a small sigh of relief and began praying that our bags would be put on the 7am flight and be in our hands before we had to set sail.
When the introductions and greetings were behind us and we had all of our things on board, we cast off the lines and headed out to the anchorage to spend the night at anchor. Stray Cat has all the necessary equipment to be self sufficient, and to stay the night at the dock would have cost $100. Now that's an easy decision.
That night, we settled into the boat and began to get to know the rest of the crew. Stuart has sailed with Capt. Mark before on a long trip to the Dominican Republic and has a good many years of sailing experience. In his shore side life, he is a laboratory scientist who works on cancer research. Ryan and Bradley are brothers-in-law who grew up in the same town in Missouri, and took this trip together hoping for a little adventure. Ryan is an USAF F-16 fighter pilot and Bradley is a professional photographer based in Hollywood. They were all pleasant and welcoming. We talked and laughed that night over a few rums and then turned in early to get enough sleep for the next day, which was likely to be a big one.
The next morning, we were relieved to here "Stray Cat - Stray Cat - Taxi One" call on the VHF at about 7:15am. Willie had asked Taxi One to call us on the VHF and let us know he was on the way with our luggage. We eagerly got dressed and jumped in the dingy with Capt. Mark and motored into Victoria Lake and the George Town dingy dock. Willie was waiting and walked down the pier, but there was only one problem - he only had one bag. Luckily for us, it was the one bag that had the most essentials in it, so if it had to be one or the other, we were happy to see this bag. Willie said that the next flight in was at 2:30pm and that he would be there to check for our other bag at that time. We told him that we weren't sure if we could stay that long, but that we would try.
The rest of that day was mostly spent grocery shopping, stowing groceries, and trying to get Internet. We moved Stray Cat back onto the day dock to make the days tasks a little easier. It was a Sunday in George Town, and everything was closed, except Exuma Market, which only stayed open until 11am. We were lucky to get there in time and be the last people checking out as they were locking the doors. Bradley was all packed up and ready when his 1:30pm taxi arrived. We all wished him a safe trip and watched him walk down the dock, on his way back to Hollywood.
We were now down to the crew that would take Stray Cat to Jamaica - A crew of five - Capt. Mark, Mike, Kate, Stuart and Ryan.
Capt. Mark was kind enough to wait until the next flight from Nassau came in to see if our other bag was going to make it in. The 2:30 flight time came and went with no VHF call from Willie, and we were preparing ourselves for the fact that we were going to lose that piece of luggage. About 2:45pm, we called "Taxi One" on Channel 16 and found out that no bag had arrived for us, and that Willie was sorry, but he had found out nothing. We thanked him for his efforts, drafted a note with our contact info, and left it with the local gas station attendant, who kindly agreed to pass the note on to Willie.
With our business in George Town completed, we made preparations for departure and by 3pm we were slipping the lines to make way. We headed East between Stocking Island and Great Exuma before making the cut out to Exuma Sound. Our direction at that point was going to be determined by the draft of the boat and the direction of the wind. We considered a southerly route through Hog Cay cut (DON'T TALK LIKE A GRINGO TIP #1 - Cay is pronounced "Key" - not "Kay"), but because that cut is an extremely shallow one, and the tides were not suitable, Capt. Mark decided to head Northeast for the northern tip of Long Island.
Another factor in that decision to head up around Long Island was the wind direction, which was South. The decision ended up being the right one, because as soon as we rounded the northeast tip of Long Island we were able to cut the motors and sail at an average of six or seven knots. The sky was cloudy and we encountered several squalls full of rain and wind, but we were able to use each to our advantage by skirting the counter-clockwise sector, constantly changing course to stay close hauled - not being over powered or under powered - and keeping the bow to the ever growing swells. Each one lasted less than an hour - each one soaked us to the bone - and each one was somewhere between "amusement park fun" and "close to death terrifying".
This weather stayed with us as we moved down the coast of Long Island. By this time, night had fallen, and we had settled into a watch schedule. Stuart and Ryan took the 10pm to 2am watch, and Kate and Mike woke up for the 2am to 6am. We didn't see a lot of traffic and besides the squalls, not much else.
We continued past Long Island and stayed to the north of the Acklins on an easterly heading. The wind was still out of the South and while that was surprising, we were able to use that wind to make a lot of easting. Our hope was that the trade winds would fill in eventually from the east making it possible to make our turn south towards Great Inagua.
We skirted the Acklins closely to take advantage of the lee of the island and the resulting calm waters, and as we made our turn around the east end, we got our wish. The winds began to blow out of the east, and we trimmed the sails accordingly, hoping for a free ride to Matthew Town.
With wind dictating much of our route, we weren't sure if we would need to stop or not, how far out of our way it might be etc.... The east winds fell off and became more southeast, and as a result, we ended up motoring more than expected. Capt. Mark thought it would be prudent to stop for fuel before continuing to Jamaica. Mark had never set foot in Matthew's Town, but had anchored just off of it many years ago. None of the guide books for that area had any information at all on Matthew's Town and Capt. Mark had remembered that they may have fuel, but it would have to be carried in jerry jugs.
Our first stop since George Town and we pulled in to anchor 2 miles around the island from the point of Matthew's Town at 10pm Tuesday. We had been underway for 2 days and 6+ hours. It was really not bad to go such a long way, because we had so many people to stand watch. We did hit some really bumpy seas and that was about the worst of it.
Early the next morning we were up for coffee, conversation and plantains... Yum! At 10am we weighed anchor and headed to Matthew's Town. As we got close we called in on the radio for instructions on entering the harbor. The instructions were cordial and fairly vague, very Bahamian. After a few minutes of searching, Mike spotted a range and a narrow crack in a seawall, That was it! Capt. Mark eased Stray Cat in through the narrow channel, at 24ft. wide she's a big girl and he gracefully squeezed her through.
There was a gentleman to greet us and guide us through the procedures. We informed him that we were looking for a Starbucks and a Wal-Mart. He had a great sense of humor! He got us tied off and took Capt. Mark to customs right away as we waited for fuel. Before he departed Kate asked him about the flamingos and he told us they were over 50 miles away. We knew we did not have much time so figured it was not possible.
As we had pulled in to the harbor there was another boat already tied up - the only other boat there in the harbor. This was not an ocean going vessel. It was a Larson 32, much like a Sea Ray, a motor vessel or a speed boat you would call it - something that you would normally see on a lake. As we were waiting Capt. Mark's return, the two latino gentlemen from the Larson came over and asked us where we were coming in from. Ryan told them from Miami. They said that's where they had arrived from and we could not believe it. We had traveled through some very large seas on our way to get to Matthew's Town and we would never want to see waves like that in such a small craft like they were in.
These 2 gentlemen, one named Maruzio, we think, had been rescued by the coast guard only days before. They went on to tell us how the seas were huge and their GPS had failed. The boat was being violently tossed back and forth when they ran out of fuel. They were close to land at the time and almost decided to swim for the land and try to make it on foot. They were told later by locals that they would be dead if they had tried it. They did have an EPIRB on board, a rescue beacon that sends a GPS signal off to the Coast Guard with your coordinates, and they decided to press the button. They retold the exciting tale how the chopper was overhead in 30 minutes. The basket was lowered to take them to safety and one by one they crawled into it. They told of the wild ride in the basket and how it flipped and flopped and felt like they were going to fall out of it. They were soaked to the bone and scared to death, but alive. The Coasties took them to Matthew's Town the closest settlement.
Upon arriving in Matthew's Town the men paid a local in a small aluminum boat to take them back out to the powerboat with some fuel. They said it was a bumpy and X-treme ride, that took them 46 miles! They were happy to get back to their bosses powerboat and made way into Matthew's Town harbor, now in the Larson 32. They had told us they were trying to deliver their bosses boat from Miami to Venezuela. They had 2 55-gallon drums for fuel in addition to the tanks on board. We thought, these guys are Insane! They had a great story to tell and they were excited to tell it to us.
Unfortunately, it turns out that these guys had not checked into The Bahamas at all. You have to clear customs at the first point of entry or the first land you touch within 24 hours of entry. They had gotten fuel at 3 other islands in The Bahama chain and never checked in with customs & immigration. They told us that 40 police officers, immigration officers and even the DEA came down to meet them. They were in BIG trouble!! The officers tore their boat apart looking for drugs. They cut all of the seats, carpeting and turned everything upside down. As far as we know they did not find anything, but these guys were told they could be fined $10,000.00 for not checking in, plus 30 days in jail, and also they could take the boat and confiscate it. As we left the harbor these guys were still sweating it out and had been there for 2 days. The Bahamas is not the quickest pace to start with, that is part of the attraction, but in the case of these 2 guys there was definite foot dragging going on. Who knows maybe we'll see them again on our journey.
Before we departed Matthew's Town we were able to fuel up, find an internet cafe next door and were taken to see the flamingos. We saw the beautiful pink birds from a distance. We also saw a young couple of feral donkeys and learned that they had wild cows, goats, donkeys etc... on the island from folks who had lived there hundreds of years before. They have many fresh water sources on Great Inagua.
It was strange that the latin men and everyone else that we asked told us there was no market or store on the island and as we went to see the flamingos we passed 2 stores a bakery and a liquor store. It seemed no one wanted our business and we did not get to explore much of this beautiful town.
We set sail on Wednesday at 3pm for a couple of days sail to Jamaica-Mon. We passed so close to Cuba you could smell the cigars. Down through the Windward Passage we go between Cuba and Haiti, Travelin' South.
The crew & Capt. Mark have been great. The camaraderie is evident and everyone is chipping in. It has been a truly win-win experience with a great bunch of people! God is Great!
------------- UPDATE - September 22, 2007 -------------
On September 29th, we fly out of New Bern, NC on our way to George Town, which is on the island of Great Exuma in the Exumas chain of the Bahamas. It's sure to be one of those travel days that never fades from your memory. We are scheduled to change planes four times – first in Charlotte, then to Ft. Lauderdale, where we transfer to a Bahamas Air flight bound for Nassau. After a six-hour layover in Nassau, we'll jump the evening flight to George Town, arriving there at approximately 7:15pm. We're hoping to catch a taxi from the airport to a place called Coco-Plums Beach Club, which we visited on our last trip to these islands. They are the proud creators of a cheeseburger, which has been rated #1 on both mine and Kate's lifetime list of "Best Cheeseburgers Ever".

The past few weeks have been hectic to say the least. We have been doing a lot of asset liquidation with the ultimate goal of getting down to the bare necessities of life. Believe it or not, Tomorrow is even up for sale, but we won't let her go cheaply. If she doesn't sell while we're gone, we'll be more than happy to have her, but if someone wants her badly enough between now and then, we'll be happy to make the exchange.

Hopefully, after the #1 Cheeseburger in the World, we'll grab a taxi into George Town and meet up with Capt. Mark and Stray Cat, a 45' Privilege catamaran. Probably the next day, we'll weigh anchor, and begin our journey south, ultimately heading for the San Blas Islands of Panama. The route will take us offshore, through the Windward Passage between Haiti and Cuba, and then on to Jamaica. We plan to pull into Kingston, Jamaica for a day or two to rest and take on provisions and fuel. When the weather allows, we'll make the decision to continue south for the last offshore leg to the San Blas Islands, a distance that should take 2 or 3 days to cover.

The San Blas are renowned for their tropical beauty, palm tree studded islands, white sand and turquoise blue waters. They are also famous for the indigenous Kuna Indians, who still live according to their generations old traditions and legal codes. The country of Panama even recognizes the sovereignty of their nation and their laws. They are famous for paddling out to meet visiting yachts in their dugout canoes with the desire to trade fish, coconuts, and most famously, the colorful "molas" that are crafted by the Kuna women and children.

We plan to explore San Blas for several weeks before making our way to the Bocas del Toro province of Panama where we will be based for several weeks. Past that point, the schedule is relatively open, and as sure as anything CAN happen, we are sure that many things WILL happen.

We'll do our best to update this blog and our website with reports and pictures so that you can all go on a "virtual adventure" without ever leaving your computer screen.

In return, we only ask for your thoughts and prayers for a successful and safe voyage.

All the best,

Mike and Kate.
Hi to everyone,

Here is an update to the upcoming Adventure Sail itinerary,

My original sail plan was to depart from Miami, sail through the Bahamas, to Jamaica, and from there, offshore to Panama. Several readers have contacted me and warned me away from Jamaica because of the ever-increasing crime problem. I then changed my tack and began planning to head from Miami to Key West, then to the Yucatan, and down from there to Panama.

After Reading lot's of books and after finally getting my hands on a set of pilot charts for the region and time of year, I discovered that it was a good plan, until one arrives in Honduras and wishes to go on to Panama. At that point, the trades and currents will be predominantly on the nose, making for near impossible conditions.

The plan is now (and won't change) - Leave from Miami, make our way down through the Bahamas to Great Inagua Island, then proceed offshore to Kingston, Jamaica. After a two-day rest, provisions, fuel and maybe some careful sighting we will go off shore again to the San Blas Island archipelago of Panama.

The dates, miles and times are dictated by wind and weather, and can be off by a day or two; However from Miami to George Town they should be right on. My planning is based on six knots which will probably hold true for the Bahamas with its prevailing south east wind but the rest of the trip should be broad reaching or beam reaching in the trades with SOG of 8 to 10 kts.

From the day of departure and afterwards, I may be reached by email while underway through on board equipment (no forwards, attachments or pictures). Or, if the need is immediate, by satellite phone: Dial 1.480.768.2500 (welcome to Iridium global message) then dial 881.631.566.456. You will only be charged for airtime from your location to Phoenix Arizona. The satellite and overseas charges will be mine.

All of the settlements or towns in the Bahamas have local airports. The most convenient airports along our route are Bimini, Nassau and George Town.

Leg 1

Depart Miami at Coconut Grove September 20th for Gun Cay, the Bimini chain, Bahamas. This leg involves a Gulf Stream crossing, 60 miles and 9 hours.

We will remain over night then take some time to snorkel a very nice reef at Cat Cay on the 21st. Depending on crew consensus; we will start the next leg to Chub Cay after swimming.

Leg 2

Depart Cat Cay for Chub Cay, in the Berry Island chain Sept.22nd, 90 miles 15 hours.
Rest, explore, and swim.

Leg 3

Depart Chub Cay Sept. 23rd for Nassau; 38 miles 6.5 hours. The trip so far will be considered a shake down with Nassau being a good stop for any maintenance issues that arise. A crew consensus at this point to stay over in Nassau or pass on through to Rose Island 7 miles for the night. There is some very good snorkeling and beach at Green Cay adjacent to Rose so the crew could elect to spend an extra day.

Leg 4

Depart Nassau or Rose Island for Staniel Cay, Exuma Islands Sept. 24th or 5th, 78 miles 13 hours. These islands are amongst the best I have ever sailed. The crew will have some input as to which islands to visit and how long we stay. No matter how it plays out we will depart Staniel Cay on the 27th. Staniel has the grotto that was used in the James Bond movie Thunderball; if you have never snorkeled in a cave this will take your breath away.

Leg 5

Depart Staniel Cay for George Town, Exuma Sept. 28th, 115 miles 19 hours. George Town is the most popular of these islands with very good air travel connections, provisioning, restaurants, Tiki bars and stunning beaches.

Leg 5

Depart George Town, sailing for Long Island Sept. 30th, on to Rum Cay 75 miles, 12 hours. Good restaurant, fuel and little else on this far out lying island.

Leg 6

Depart Rum Cay sailing for Matthew Town, Great Inagua, Bahamas; October 1st, 185 miles, 31 hours.

This passage should be a beam reach or a little closer to the wind while southing. Depending on sea state and wind direction we will likely leave long Island to starboard with Crooked and Acklins Islands close aboard to port for sixty miles in the lee.

Conditions could be such that this course is altered to make for the Plana Cays south of Rum then south to Inagua.

Matthew Town is the largest settlement in the southern Bahamas. I have anchored off of it a few times but I did not have a reason to go ashore. Basic services and supplies are available with air links to Nassau if needed for parts or a flight out.

Leg 7

Depart Matthew Town sailing for Kingston, Jamaica October 3rd, 300 miles, 50 hours. This passage makes for the Windward Passage between Cuba on the Starboard and Haiti on the port hand.

October 5th; thus far we will have sailed approximately 940 nautical miles touching three countries with 116 hours underway taking 15 days to cover the distance.

Leg 8

Depart Kingston for Isla Porvenir, Panama October 5th, 520 miles 90 hours. This will be a blue water passage with wind, waves and a half-knot current on the port beam. There are varying currents, seamounts, banks and bars to deal with.

Landfall at Porvenir will take some planning to make a day light approach to the vast San Blas archipelago. The island doesn't have a settlement but it's the right place to go through the formalities of clearing into the country thus avoiding the hustle of the bigger ports. This is a good place for departing/arriving friends and guests since they have frequent flights to Panama City.

The neighboring island of Wichubuala has supplies and is located about a half mile away. This begins for me an adventure of discovery of these three hundred Polynesian like islands, its' people, culture, food, music, rain forests, many rivers and much more.
I will eventually be making my way to Bocas Del Toro in the North West of Panama. I will post a newsletter in a few days with more information about this part of the adventure sail for those of you who wish to come down and enjoy.

Best regards,

Mark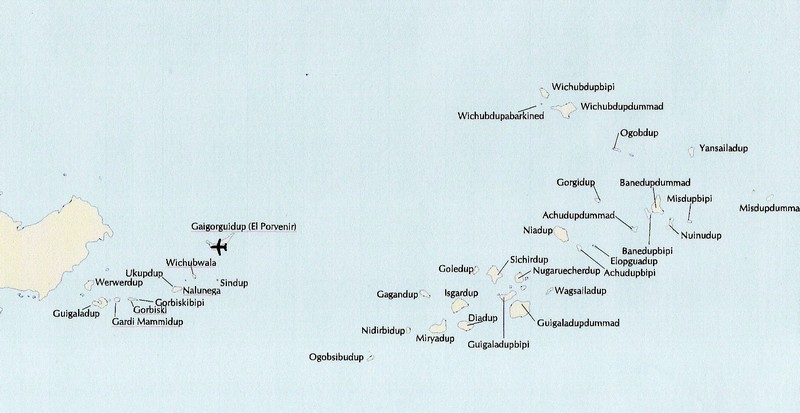 SAN BLAS ISLANDS - KUNA INDIANS
Nestled away on Panama's eastern Caribbean coast is the breathtakingly beautiful San Blas archipelago. 357 small islands inhabited by a proud and self-reliant group of native Americans known as the Kuna. There are daily flights to San Blas from Panama City. Tours and hotel accommodations can be easily arranged on several of the islands.
The Kuna are considerate and attentive hosts, preparing wonderful meals of lobster, crab and fish freshly harvested from the sea and guiding tourists in dugout canoes to small, uninhabited islands with gorgeous beaches and pristine coral reefs. Politically independent, the Kuna won their right to self-government in the Kuna Revolution of 1925, an historic event that San Blas celebrates every February with the local holiday of Mor Ginnid. Kuna law prohibits fishing in their waters by boats with sophisticated machinery or the taking of anything from the sea that a diver can not reach with air from his own lungs. Scuba diving is therefore not permitted, but tourists may snorkel in the reef, one of the oldest and best preserved in the world.
Visitors to San Blas will be treated to a tour of one of the 49 Kuna communities, to observe daily life at first-hand The men rise early to fish or tend their farms on the mainland, paddling off on their business in dugout canoes that are sometimes equipped with makeshift sails. Fresh crab, lobster, octopus and fish, caught with nets or spears, are exported to Panama City. On their farms, the Kuna men raise vegetables, fruits, coffee and the all-important coconut, 15 million of which are exported each year to neighboring Colombia. Coconuts can actually be used as coins in Kuna commerce and have a value of about ten US cents. A soda, which costs about 40 cents, can be purchased for four coconuts on the islands of San Blas!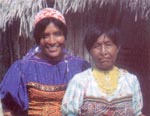 Visitors will also see women at work making molas, the traditional women's garments. Molas are panels of cloth appliqué, which are sewn into the fronts and backs of blouses. Mola designs vary from the abstract and geometric to representations of birds, fish and innumerable other subjects, all different, but all distinctly Kuna. These works of art are one of Panama's best-known native crafts and can be purchased in every town of San Blas. Also available are necklaces of sea shells, and chaquiras, the bead bracelets used to adorn women's arms and legs. Visitors may also have the chance to visit a traditional Kuna house, made of palm-thatched roofs and cane walls, and observe the kitchen and sleeping quarters.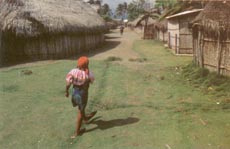 Towns on San Blas are exceptionally tidy. Public buildings include schools, health centers and the town hall, a long building with thatched roof which is the heart of each community Citizens meet daily, except Saturdays and Sundays, to discuss community affairs, as well as issues involving neighboring communities and Kuna culture in general. Town meetings are presided over by the community's leader known as the sahila.
Beyond cultural tours and snorkeling, visitors may also accompany Kuna men to fish, of trek rainforest reserves on the mainland, where birds and other wildlife are abundant. There are hotels on the islands of Wichubwala, Nalunega, Ailigandi, Nargana, Achutupo and Carti-Sugtupu, which also provide meals for guests. Most Kuna communities have an airstrip, either on the island or the mainland nearby, and are easily accessible by light aircraft. A visit to these beautiful islands, set like jewels in the turquoise water of the Caribbean, will be one of the most memorable experiences of your visit to Panama.
SAN BLAS ISLANDS - PARADISE FOUND
YachtCrew.com
Paradise FOUND -Yacht charters in Panama
YachtCrew.com

If your idea of paradise is a scattering of islands, many of them uninhabited, covered with coconut palm and ringed with white sand beaches, then perhaps you have found it. Paradise. Running from the Golfo de San Blas to Cape Tiburon on the border of Columbia, the San Blas Islands lie nestled safely in azure waters, protected on one side by a reef holding back the waves of the Atlantic Ocean and guarded on the other side by the towering, tree covered mountains of Panama.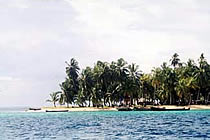 The San Blas archipelago lies outside the direct influence of the Caribbean trade winds, and is south of hurricane threats. Dry season normally runs from December through April, when bright sunshine prevails and the winds can blow 25-20 knots. Safe within the protective reef, the islands are sheltered from the waves and only when a yacht leaves the protected embrace of the area will it feel the force of the wind-driven water. Rainy season has drastically reduced breezes and gray skies punctuated alternately by short squalls and brilliant sunshine.
The islands and coastal forest are inhabited by people of the Comarca de San Blas or Kuna Yala, as they refer to it. They appear to be little changed from the times before the Spanish Conquista, a direct result of the legendary tenacity of the Kuna people. According to their oral tradition, the Kuna's forefathers lived in the Darien mountains of Panama. It is believed that they numbered between 500,000 and 750,000 at the time of the Spanish arrival. Whether it was pressure from other tribes or from the Spanish invaders, the majority of Kunas moved to the coast and later to the offshore islands.
After suffering from inroads from outsiders, the Kunas rebelled in 1925, killing many Panamanian policemen and children of mixed blood living in the islands. Finally, in 1938, the government of Panama granted the Kuna leaders almost autonomous control. Even today, the Kuna Indians pay no taxes to Panama even though they are allowed to vote in all Panamanian elections. The Carta Organica, the Kuna constitution, sets the governing principals for the three districts of Kuna Yala, each district is headed by an elected cacique, or high chief. The Kuna nation consists of 49 communities which are home to about 50,000 Kuna Indians today.
Each community elects their own chief, or sahila (pronounced sigh-la) that presides over the local daily congresso., The daily congresso is held in the afternoon in the large council house located on the island. The chief swings in his hammock while everyone else is seated on wooden benches. A complex system of laws exists, with an equally complex system of punishment existing for ignoring or breaking the laws: from fines to being made to sit on a very tiny chair during the daily congresso, to ostracism or even expulsion.
Permits are necessary for seemingly everything, including visiting another village. Of the 49 communities, approximately half are headed by women sahilas. The Kuna society is matrilineal, with new husbands moving into the wife's compound. The law dictates that the land belongs to all Kunas. This has the benefit that all of the people perceive themselves as co-owners of the islands and the mainland which is Kuna territory.
However, the coconut palms on the islands are all individually owned and the coconuts harvested from the trees provide cash. The Kuna women have their own source of cash...the making and selling of molas. Each mola is an intricately worked reverse appliqué design, measuring from 4" X 4" for small molas to 2' X 2" for larger ones. Prices depend on the size of the mola, the number of layers and the size of the stitches, anywhere from $1 to several hundred dollars per mola.
Traditionally, the women wear them stitched to the front and back of their blouses. They also create strings of tiny beads, which when wrapped on wrist or leg, create intricate patterns and designs. Another source of cash comes from the "one dollah" to take their picture...so when you go to these wonderful islands and want to take pictures of these beautiful people and their children, bring plenty of single dollar bills! Any time a boat anchors near one of the islands, it is sure to be greeted by at least one (usually more) dugout canoe with Kuna women ready to sell you molas, the men with coconuts, fish, lobsters and sometimes vegetables.
Often the whole family is in the dugout, including the grandma, children and dog! The canoes are sometimes powered by an outboard engine, but even more often it is paddled with hand-made wooden paddles. The constant use of the canoe produces expert boat handlers and extreme stamina, as the dugouts are neither light nor graceful. Perhaps because of this relentless strength, the Kuna people have maintained their reputation as fierce warriors and even today, squatters fear to intrude on Kuna territory.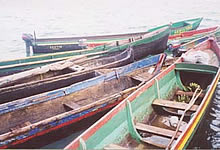 As a result of their fierce reputation, in a world of shrinking rain forests, the land of Kuna Yala is a notable exception. Kuna huts consist of reeds or canes to form their sides and palm fronds thatching the roof, so no hardwoods are needed for their construction. A small number of trees are used for the making of the dugouts, but the hills remain densely wooded. Farming is subsistence level and cattle are not raised, so the forests will stand for years to come, safe in the care of the Kunas.
The Kuna Indians are a friendly people inhabiting beautiful, fascinating islands and coastal lands that beckon you to explore them.
How many islands make up the San Blas archipelago? Depends on who is telling you, but the numbers run anywhere from 243 to the oh-so-very convenient number of 365, one for each day of the year. Obviously, you won't have time to visit them all, plus some interesting places on the mainland territory of Kuna Yala, so we will introduce you to a few delectable choices here. The north part of the San Blas Islands are defined by Punto San Blas, an arm of land reaching out from the mainland, as if striving to touch the islands so close to it, wrapping the Golfo de San Blas in its protective embrace.
The island of Porvenier lies a short distance from the end of the Punta San Blas and features a small airstrip, which is an excellent place for guest and charter yacht to rendezvous. While Porvenier has no village, immediately to the south lie Wichubhuala and Nalunega. The huts are so close together and so near the waters edge, that viewed from the sea, they appear to be holding onto each other to keep from spilling into the ocean. Plenty of molas and other crafts for sale, with bright-eyed children everywhere, some shy and curious, others wanting you to take their picture for the inevitable "one dollah".
The Chichime Cays lie about 4 miles to the northeast of Porvenier and have become so popular with visiting yachts that the Kunas sometimes call them Puerto Yate. They have no village, merely a few huts scattered in the thick groves of coconut palms. There is a deep pool between the islands, protected by a shallow reef that extends toward the ocean. Excellent snorkeling is to be found on the lee side of this reef.
A bit further to the north and east of the Chichime Cays lie the Holandes Cays, Kaimon in Kuna. There are sixteen palm clad islands, wrapped by sugary white sand beaches, drifting in the clear protected water of a seven mile long area of fringing reef. Divers and snorkelers might never be enticed back out of the water, once they have experienced this enchanting area. However, divers should note: fishing is strictly prohibited while on scuba. Beyond the Holandes Cays lies the Coco Bandero Cays.
They continue the "perfect island" phenomenon of small islands, azure waters providing the perfect setting for these jewels, each more stunning than the last. The biggest problem is deciding which one to visit next. Tearing yourself away from the outlying islands, you will surely want to return to the Punta San Blas and explore the inner islands, plus some of the delights to be found on the mainland territory of Kuna Yala. Sheltered under the arm of Punta San Blas is Tadarguanet Island, Kuna for "where the sun sets".
Tupsuit Dumat (also called Alitupu) is a good base for exploring the nearby rivers on the mainland, there are two that are worth exploring. The first is Rio Torti, with a cemetery on the right, almost as soon as you enter. Kuna cemeteriea are usually close to the rivers. Thatched roofs on poles shade the deep clay graves where the deceased are buried in hammocks, accompanied by everyday utensils for the afterlife. The other river is Rio Mandinga, noteworthy because of its vast number and variety of birdlife.
Nurdupu lies to the east of the Tadarguanet islands and almost directly south of Porvenier. Nurdupu has all the aspects of the perfect tropical island. Huts are in shady spots under breadfruit trees and coconut palms. Many of the coconut palms have been pierced to take the levers of sugar can presses to make the juice for chichi. Chicha is a mild alcoholic drink from fermented sugar cane juice. Collecting the cane, pressing the juice and then several days of tasting the fermenting concoction terminates in two or three days of celebration, such as the Kuna Independence Revolution Day.
Rio Sidra, though sounding like a river, is actually an island consisting of two villages, Mamartupu and Urgandu. Both villages have their own chiefs. Also of interest is that Rio Sidra is heavily populated and has an airstrip which receives several flights a day, making it an excellent place to start or end your charter. Rio Diablo lies further east and is home to not one, but two airstrips. The name of Rio Diablo is found on the charts, however, the two villages comprising the bridged community. One is known as Naragana in Panamanian and Yandup in Kuna, the other is Corazon de Jesus in Panamanian and Akuanusatupu in Kuna. Just a bit confusing!
Extensive outer reefs smooth the inshore waters from Punta Brava to Achutupu. Within these protected waters is Airligandi, a heavily populated island with several restaurants, a hotel and a clinic. The nearby river of Rio Nasadi is a nice excursion, with its large stands of bamboo and mango trees to wander through. Continuing down the coast, one comes upon Ustupu, the largest village in San Blas.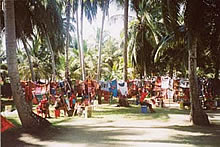 Home to about 8,000 people, not counting children, with a bridge connecting it to Ogopsukum, home to an additional 2,000 inhabitants. Several flight a day land on the two airstrips, one located on the island and the other on the mainland. Sugandi Tiwar is a nearby river that should bwe explored. Its estuary is marked by the hulks of giant trees washed down during the flood of 1925 which forced the village to move from the mainland to Ustupu.
There are large cemeteries on both sides of the river and in the afternoon hours, the bird activity is positively raucous. The Kunas call Isla Pinos: Tupbak, or "whale", for its resemblance to a giant beached whale. For centuries the 400' high island has served as a landmark and landfall for mariners. This protected yet easily entered and exited anchorage made a perfect base for buccaneers working the Spanish Main, especially the gold transport shipments. Later, new England schooners would come to purchase coconuts. Today, yachts continue to enjoy it and visit the two villages located there.
Sukunya is the Kuna word for the small penisula that the Spanish called Punta Escoses. Escoses is the Spanish word for "Scottish". In 1698 the Scotts attempted to establish a colony there, starting with an expedition of 1200 people. Defeated by starvation and disease, they returned home, passing two ships carrying reinforcements from Scotland. They too, gave up and returned to Scotland in 1702. Of the 2,800 people involved, over 2,000 perished. Only a boat channel hacked out of the coral limestone and a length of moat remains of what was once Fort Andrews.
Today, the San Blas Islands wait to be discovered and explored. Perfect tropical islands, winding, shaded rivers, protected azure waters, history, dense rainforests, friendly people...the San Blas Islands and the territory of Kuna Yala. Paradise Found.
SAN BLAS ISLANDS - INSIDE INFO
ExplorePanama.com
The San Blas Archipelago is composed of approximately 100 nameless islets, 113 with names and nearly 30 islands all coralligenous. You could spend almost an entire year traveling through the insular area of each one. There are no roads into the region, but small planes fly to more than a dozen landing strips daily. Panama City tour operators can arrange overnight stays, which is recommended. Off the northeast coast of Panama, palm-lined beaches, coral-ringed islands and jungle-cloaked mountains make San Blas look a lot like paradise, but the main reason for going there is to spend time with the Kuna Indians, who have managed to protect their unique culture. They live in thatched huts on about 40 of the 350 islands of the archipelago and rule their own autonomous province.
Inhabitants of the San Blas Archipelago live at the Mulatas' Archipelago or San Blas and at the Bayano and Chucunaque rivers basins. They are of Caribe origin, small in stature, short neck and big head, broad backs, strong chest, short legs and small feet. They dress moderately. The Kuna women still wear long skirts, red and yellow headdresses, appliqued mola blouses with showy colors. They wear gold earrings and a ring in their noses, keep their traditions and legends, their beliefs and myths, and their Gods.
Inhabitants of San Blas believe in superstition. Their language is rich and vast. They practice monogamy and adultery is a felony. Their leader is the Sahila who has authority on the community in which he lives. The Nele is the leader of several communities. They practice agriculture and cultivate coconut which is their main staple and which they have for sale. Although they cultivate corn, rice, cocoa and yucca, essentially they are fishermen. The National Government provides elementary schools for them and also a Junior High School at the Nargana Island. The adventure at San Blas could be a stay at an uninhabited island, a fishing tour, dancing and traditional rites, diving and submarine fishing, the enjoyment of the crystalline waters or merely the peace of a hammock swung by the wind or to get a tan.
Though they maintain their traditions, the Kuna have also become adept at modern business practices: The region's six hotels are owned and operated by the tribe, and all offer visits to nearby villages and snorkeling excursions. A newer hotel on the island of Kuadule offers private oceanfront huts and meals cooked by Kuna women. Business even comes to bear on any photos that you take of the Kuna: On most islands, you'll be expected to pay US$1 for each person in the photo.
Flight depart from the national airport in Panama City everyday at 6:00 a.m. to Porvenir and to several other islands, as far as Osbaldia Port. Flights return around 8:30 of the next morning. If you wish to go by road, take the Inter-American route toward Bayano; at the point of El Llano, Chepo, the route leads up to Carti in the middle of the San Blas coast, from there, canoes can be rented in order to make connections with the insular region.
San Blas Islands
El Porvenir- Seat of the Region
The regular weekly flights arrive on this Island. It is the strategic point to obtain more detailed information in connection with the kuna culture and the services offered by other islands. At Porvenir there are beaches and it is the administrative center for the governmental offices. Seat of the Region's Intendency. From here you may move to nearby islands. Even reaching Obaldia's Port, Panama's lost boundary with the Republic of Colombia.
Nargana
There is the Nargana Lodge Hotel. The island connects with another town through a wooden bridge, politically divided, known as Jesus' Heart (Corazon de Jesus), that is to say, it is an island that has two towns. These are two communities quite accustomed to other cultures, bilingual, men as well as women wear western clothes. Both towns are managed by the Sahilas. Presently these communities do not practice their rites, nor play their traditional instruments. They do not have much native things, however, its general aspect is quite pleasant because of its straight, clean and sandy streets. Traveling 15 minutes by canoe, you may visit Tigre Island, a very traditional island; women still wear Molas and they practice their traditional rites. The best typical dancing groups, well organized, are at Tigre Island. The inhabitants still make their handicrafts, to offer them to the tourists staying at the Nargana Hotel.
Wichubwala
The entire Archipelago favors tourist attention, but' the best services are found on this beautiful island. Here is the Anal Lodge; San Blas' best hotel. It has bungalow-type lodging, a marine pool with lobsters, it offers fishing trips or adventures to inhabited or uninhabited islands, diving or submarine fishing equipment are rented except for the oxygen tanks. It is worth mentioning that in the entire region there is no place to rent or fill up your oxygen tank.
Nalunega Island
Its name means 'Snapper Island', it is very attractive and its houses are traditional. This community takes advantage of the services of Porvenir Island.
Carti-sugtupu
We find the hotel which carries the some name of the island, and which belongs to the town. At Cartil there is radio-communication, post office, library, junior high s school, two docks, electricity, small shops, bakeries, a Catholic Church, a basketball court, health center and an airport on solid ground.
Ailigandi
Offers the services of the 'La Palmeco' Hotel, This community has a modern hospital, basketball courts, modest restaurants, shops, churches, airports on solid ground, post office, radio communication, plumbing, electricity, and a local Congress House. The hotel is a concrete, one story building, with a restaurant and a bar; it is property of the town cooperative society.
| | |
| --- | --- |
| February | PLAYON CHICO, TUPILE, AILIGANDI AND USTUPU Tule Revolution Anniversary. They present a dramatic feather of post battles, typical dances and drink fermented beverages. |
| March 19 | NARGANA Patronal festivities in which western style dances are performed, there are regional and national dishes, there are also basketball competitions. |
| | | |
| --- | --- | --- |
| July 8 | MULATUPO Inokina Anniversary. Typical dances and dishes, games and speeches. | |
| July 29-31 | FULIPE Patronal festivities, western style dances as well as typical dances, regional dishes. | |
| August 20 | NARGANA Charles Robinson Anniversary. Western style dances as well as typical dances, regional dishes. | |
| September 3 | USTUP0 Nele-Kantule, Dances, dishes, speeches, deceased eulogy. | |
| September 1 | TUWALA Yabilikiña Anniversary, dishes, typical dances, sport games and speeches. | |
LODGING
El Porvenir
El Porvenir Hotel: 13 rooms. Tel: 221-1397
Nalunega Island
Hotel San Blas: 31 rooms, kuna style, 3 daily meals, tours around inhabited and uninhabited islands. radio communication. Tel: 262-5410
Wichub-Wala Island
Hotel Anai 20 rooms, Wooden floor and cane walls.Tel:239-3025.
Kuna Kishua Hotel. Five basic rooms. Tel:227-5308
Sugtupu With cabin like aspect, wooden floor and cone walls.
Ailigandi Island
La Palmera One story concrete building, With restaurant and bar. It belongs to the Town Cooperative Society.
Hotel Nargana 10 rooms; communication by radio. Hotel construction Kuno style.
Achutupo Island
Hotel Uaguitupo Cabins, restaurant, Bar.
Kuanidup Cabins, restaurant, bar.(Sidra River).
Iskardup Cabins, restaurant, bar.
Kwadule Eco-resort. 6 stand-alone cabinas and large restaurant. Tel: 269-6313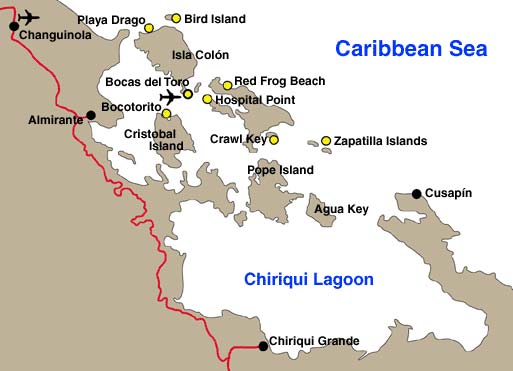 USA TODAY ARTICLE - BOCAS DEL TORO, PANAMA
The deep blue sea: The snorkeling area of Coral Cay in Dolphin Bay has docks with conveniently placed thatched roofs.

Paradise off the coast of Panama

By Mike Madden, Gannett News Service

BOCAS DEL TORO, Panama — When Liza Belkin and Brian Steele told friends they'd be going to some small Panamanian islands for vacation in December, they got only one question: "Why?"

But once the Palo Alto, Calif., couple arrived at this Caribbean archipelago dotted with lush jungles, white sand beaches and protected coral reefs, they had a ready answer.

"This is awesome!" says Steele, 30, a marketing executive.
Long overshadowed by eco-tourism heavyweights Costa Rica and Belize to the north, Bocas del Toro is starting to emerge as the newest star in the eco-tourism pantheon. Guidebooks and promoters tout the islands as "the Galapagos of the 21st century." Hundreds of species of fish, parrots, toucans, monkeys and sloths live on the islands, which include a 20-year-old national marine park to protect endangered manatees and sea turtles.
Already a popular destination for vacationing Panamanians from the mainland, Bocas del Toro, which means "mouths of the bull," is a collection of nine islands and more than 200 keys sprinkled about 25 miles off the coast near the Costa Rican border. Christopher Columbus named the archipelago, which today counts 10,000 residents, in 1502 when he landed on Isla Carenero, the smallest island. American banana companies built the main settlement, known as Bocas Town, on Isla Colon, the largest island in the chain, not long after Panama declared independence from Colombia in 1903.
But with its rustic facilities and end-of-the-line feel, it's not for everyone. Now, as eco-tourism increases, Bocas Town, with only 1,200 people, feels like a sleepy beach place poised on the verge of a big boom. The government-run Panamanian Tourism Institute has started promoting the islands to U.S. travelers, launching an English-language Web site that features Bocas prominently.
With an airport, Internet cafes, ATMs and plenty of hotels and restaurants, Bocas Town has enough infrastructure that visitors have no problem quickly making themselves comfortable. Concrete-and-steel frames for more hotels seem to be popping up everywhere, and a Bocas Business Association, with a big sign in English, sits prominently on downtown's main strip, Calle 3. The official currency is the dollar, the legacy of U.S. involvement in Panama, and most stores and restaurants accept credit cards. Many merchants speak English as well as Spanish.
But chickens and roosters still strut the unpaved side streets with impunity, and the chirps of tropical birds often wake tourists well before the alarm clock rings. Most of the few cars are taxis, and pedestrians stroll down the center of Calle 3. Palm and banana trees provide shady spots. The islands are still wild enough to have hosted the Italian and Russian versions of Survivor.
"It's kind of rough around the edges, which we like," Steele says.
Getting around the islands is easy. Touts for boat companies wander the streets, offering to ferry tourists to less developed spots in the archipelago. Once out of town, the biological diversity sparkles. Mangrove forests bump up against beaches with coral reefs just offshore.
On Isla Bastimentos, a 10-minute ride from town, a little village of brightly painted open-air huts and cheap hotels sits at the foot of jungle-covered hills. Tourists can take a 20-minute hike through sunny meadows and down muddy paths to Wizard Beach, a nearly deserted slice of white sand between warm turquoise water and steamy rain forest.
Along the way, ants carry bits of leaves twice their size across the path. Thick mud oozes underfoot after a common early morning rainstorm. A jungle-covered hill looms to the north, vines drooping from the summit almost all the way to the sea. Coconuts fall from trees at the beach's edge. Surfers willing to lug their boards through the forest ride rolling waves.
Back in the village, tourists sip beers and listen to reggae music under a thatched-roof bar where water taxis dock.
In Dolphin Bay, boats circle to watch bottlenose dolphins surface, although there are too many jellyfish to swim alongside them. Perfectly clear water covers a sprawling reef at Coral Cay. Barracuda lurk as snorkelers watch white snappers, angelfish and other species in dazzling shades of yellow and blue.
From there, a short boat ride ends on Bastimentos, where another hike goes through forests teeming with rare poison-dart frogs. Bright red and not much bigger than a thumbnail, they dart from one leaf to another. (They're only dangerous if handled with open cuts.) At the end of the trail is Red Frog Beach, less empty than Wizard Beach but just as relaxing.
Another popular snorkeling stop is Hospital Point, where an enormous variety of sea life clusters along a coral reef at the edge of a 60-foot underwater cliff. Live sponges mix with coral on the seafloor. Eels slither alongside crabs and tropical fish. Guides can provide snorkeling equipment.
Over the past couple of years, some lodges devoted specifically to eco-tourism have opened outside Bocas Town, with private beaches and snorkeling spots.
Still, until more development comes, visiting Bocas may take a slightly more adventurous spirit than a trip elsewhere in the Caribbean. But for many who come here, that's exactly the draw.
"Our clients that choose Panama want something that is off the beaten path," says Denise Page with Lost World Adventures, a Decatur, Ga., travel agency that has booked trips to Bocas for eight years. "It's people who are more well traveled and comfortable going to places that are off the beaten path. That's what they seek."
Getting there: American, Delta and Taca are among airlines that serve Panama City. Taca subsidiary AeroPerlas runs two one-hour flights daily from Panama City to Bocas del Toro for $100 round trip.
IMPORTANT TIPS TO KNOW.....
Getting around: Taxis from Bocas del Toro airport to downtown cost about $1 a passenger. From Bocas Town, boats to nearby islands cost $1 to $2.
Where to stay: The ritziest hotel, which is not that ritzy by Western standards, is the Hotel Swan's Cay (011-507-757-9090; swanscayhotel.com). Double rooms are $60-$90; larger suites go for $120-$200. Rooms have cable television and air conditioning, and the hotel pool overlooks the sea. Out of town, several all-inclusive lodges offer bungalows and meals including the Al Natural Resort (011-507-757-9004), where double-occupancy huts start at $100 a night. Punta Caracol (011-507-612-1088, puntacaracol.com) is a slightly more upscale eco-lodge with five cabins set on a dock. Winter rates for two start at $265 a night, which includes breakfasts, dinners, transfers from Bocas Town and snorkeling equipment.
Where to eat: The Thai/ Lebanese/Mexican/seafood menu at El Pecado da Sabor may sound a bit strange, but the delicious fresh fish and soups cooked from scratch come together quite well; about $20 a person for dinner. Reggae Bar Roots in Bastimentos village serves fresh Caribbean food and cold beer as the sun sets on the water; $12 for dinner. Om Café offers Indian twists on Central American staples, including a spicy eggs vindaloo for breakfast ($7).
What to do: Eight-hour tours around the archipelago start at about $15 a person at any of the boat companies on the main drag in town. They can include snorkeling, scuba diving and visits to beaches with a stop for lunch. Wander past the docks and talk to boat operators until you find someone you're comfortable with.
OUTSIDE MAGAZINE - BOCAS DEL TORO, PANAMA
Hundreds of green sea turtles keep a secret from the tourists who flock to Costa Rica's Tortuguero beaches each summer to see them nest. On their way north, the turtles migrate through Bocas del Toro, a luscious collection of 68 Caribbean islands that offer deserted beaches as well as snorkeling among dolphins, eagle rays, soft corals, and shallow volcanic tunnels.
Dubbed Veraguas, or Greenwaters, by Columbus, Bocas is now surrounded by a huge banana-growing belt. The ethnic mix of workers is so diverse that the archipelago has adopted its own hybrid language, called Guari-Guari, a mélange of Spanish, English, and at least two indigenous dialects. The laid-back Caribbean style of life here is evident in the use of the word tranquilo—the locals' invariable response when asked how it's going—and in the languid pace of the water taxis that provide the primary means of transportation. For a few bucks, a taxi will drop you on an empty beach like those on Cayos Zapatillas, where you can stretch out on white sand under a coconut palm all day.
Or you can kick back, as I did, on the veranda of one of the clapboard guest houses on stilts in Isla Colón's hot spot, Bocas del Toro town, where plantation workers drink rum and dance to reggae bands like the Bastimentos Beach Boys. With a three-stringed bassist and a thumb-strumming guitar player, the ragtag but rhythmically impeccable quartet played an impromptu session at my hotel one night while I gorged on lobster-and-crab seviche and rondon, a seafood potluck–style stew.
Bocas fishermen also traditionally hunt green sea turtles for meat, but Ancon has been working to change attitudes and recently helped secure protection for 14 miles of nesting beaches (and 32,000 acres of reefs and mangrove forests) on Isla Bastimentos and nearby islands. For divers and snorkelers underwater conditions are excellent (except right after rainstorms, when silty river flow cuts visibility). If you're certified, head out with Bocas Water Sports to Cayo Crawl, the Garden, or Hospital Point, a 50-foot wall off Cayo Nancy. Snorkelers can hire water taxis to ferry them out to the reefs.
Despite the convenience of a 55-minute plane flight from Panama City, Bocas gets only a trickle of foreign travelers. That's starting to change, however, and Europeans and Americans have begun scooping up beachfront lots for as little as $2,000 an acre. Development in these paradisiacal islands is inevitable, but for the foreseeable future, unpolished Bocas remains slow, peaceful, and nothing near a resort.
MOON TRAVEL GUIDES - BOCAS DEL TORO, PANAMA
It's hard to leave Bocas del Toro. It's a terribly relaxing place, and at the same time it exudes a funky, romantic charm that has something untamed about it. The place is filled with colorful characters nursing drinks in dilapidated wooden bars or running rustic hotels on remote beaches. It's the kind of Caribbean hideaway one expects to find only in old Bogart films.
And it's just gorgeous. It has an abundance of emerald islands, pristine beaches, turquoise waters, dense forests, barely explored mountains and rivers, extensive coral gardens, spooky mangrove channels, and exotic wildlife. Four species of endangered sea turtles still visit the waters of Bocas. They come ashore by the hundreds during nesting season to lay their eggs on the north side of the islands and some stretches of the mainland coast. Little Swan's Cay, really just a rock in the ocean, is the only Panamanian nesting site of the beautiful red-billed tropicbird. It's just one of the more than 350 species of birds attracted to the region. Sloths, caimans, dolphins, neon-colored frogs, and, of course, lots of small tropical fish are easy to spot in the archipelago. No wonder a dozen countries have shot their versions of the Survivor TV series here.
The people help make Bocas special. More ethnicities and nationalities are represented on the islands than anywhere in the country outside of Panama City. And one is more likely to hear English spoken here than anywhere in the country, period. The islands have long been home to the Ngöbe-Buglé, as well as the descendents of Afro-Caribbean immigrants from the English-speaking islands of Jamaica, San Andrés, and Providencia, many of whom came down to work on the region's enormous banana plantations. Most of the hotels and restaurants on the islands are owned by Europeans and North Americans. And the mostly young and boho tourists Bocas attracts are coming from all over the world.
For most visitors, Bocas del Toro means the archipelago that stretches about 100 kilometers from Boca del Drago in the west to Isla Escudo de Veraguas in the east. For them the mainland is just a place to fly over or drive through on the way to the islands. But the rest of the province of Bocas del Toro has plenty of spectacular natural beauty, such as the Caribbean side of the enormous Parque Internacional la Amistad and the wetlands of San San Pondsack. Lucky hikers, at least those who venture far up into the mainland forests, may encounter endangered mammals such as Baird's tapir. All five species of cats found on the isthmus, including jaguars, are hanging on in the most remote reaches of the forest, but the chance of coming across one is slim. The forests are also still home to indigenous peoples trying to hold onto their culture and ancestral lands. This includes the little-known Naso, who welcome visitors to a unique eco-tourist project on the edge of their communities up the Rio Teribe.