Dupsormulubipi (a.k.a. "The Bipi")

October 23rd - 25th, 2007
We need to head away from Nargana, so we could swim and make some water – those are things you don't do where the bathrooms are right over the water. We found a great island in the Panama Guide Book for snorkeling and it was still close to Nargana, but far enough away that water would be clean. Great!
Dupsormulubipi, or just "Bipi" as we liked to call it, was about an hour northwest of Nargana. We anchored in about 8ft of water only 10ft off of the island, and donned our snorkel gear and headed out to explore the reef. Just off of the boat, we were enveloped by incredible schools of billions of baitfish. The baitfish were a massive wall - all lined up and stacked in an almost barricade between the reef and us. The closer we swam to the huge school, the more confused the fish would get and swarmed in unison all around us. We were all praying that no larger fish would come through and feed on us as we were passing through it, but eventually we broke through the wall of fish, there was an incredible reef on the other side. It was the most beautiful and healthy reef that we had ever seen. Tremendous fan corals, elkhorn corals, brain corals and many different corals that we could not even identify. Around the island was a wall of coral, in some places at least 70 ft deep. There were many ledges and caves, perfect for hiding the massive amounts of reef fish that we got to see. There were Queen Angelfish, large Yellow and Red tail Snappers, an amazing Goliath Grouper who must have weighed 20lbs, Spiny Lobster and much, much more! This reef was so incredible we went back to Dupsormulubipi 3 different times.
Walter's time on Stray Cat was coming to an end, and we had made arrangements with Federico to have Walter fly out to Panama City on Tuesday morning at 6:30am. Capt Mark took him to the airport at El Corazon in the dinghy around 6:15am. Mike realized shortly after they left, that Walter had forgotten the very expensive charger for his video camera, and we had no way to get it to him. Walter was leaving for Moscow the day he returned to NYC, and him leaving without that charger would be a major inconvenience, for him and for the crew of Stray Cat. After about 20 minutes of trying Mike was able to flag down a cayuco and hitch a ride out to Corazon just before the plane took off, with Walter and his camera charger, Yeah!! Walter was a lot of fun and very entertaining. We got a Russian perspective on a lot of subjects and it was very interesting to watch a professional filmmaker at work. It was great to be able to keep such a great record of our journey and we are looking forward to the film that he will produce about that leg of the trip.
After Walter's departure, we had one last night on Nargana and one last meal at Nali's. After saying goodbye to all of our new found Kuna friends, we headed northeast, as we wanted to try another snorkel spot – one that was rated one of the best in the San Blas, Gannirguinnitdup. Another bonus was that we were able to make water and do some laundry at the newest snorkel spot.
We snorkeled around the island, which had quite a strong current and surge. There was a huge reef around the island, but it was only a few inches deep. We saw many rock ledges where lobsters and octopus like to hide out and there were plenty of Kunas fishing and diving all around us. We were a little disappointed, as most of the coral looked dead and we found tons of sea biscuits and sea urchins also dead. We did pass a couple of coral heads on the swim back to the boat, with gorgeous and curious fish. Some of them would swim right between your legs checking you out. After snorkeling we decided it was time to head West, beginning our journey toward Colón.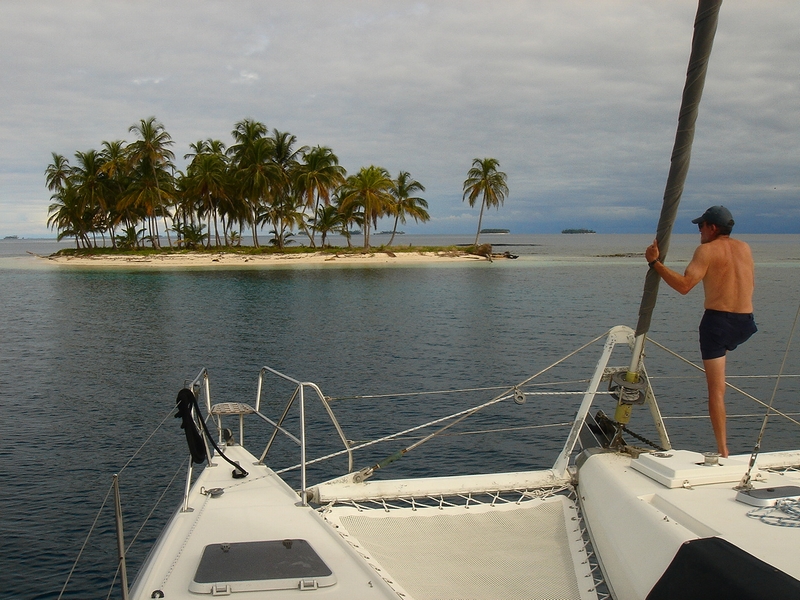 Anchor boy doing his job as we approach another deserted island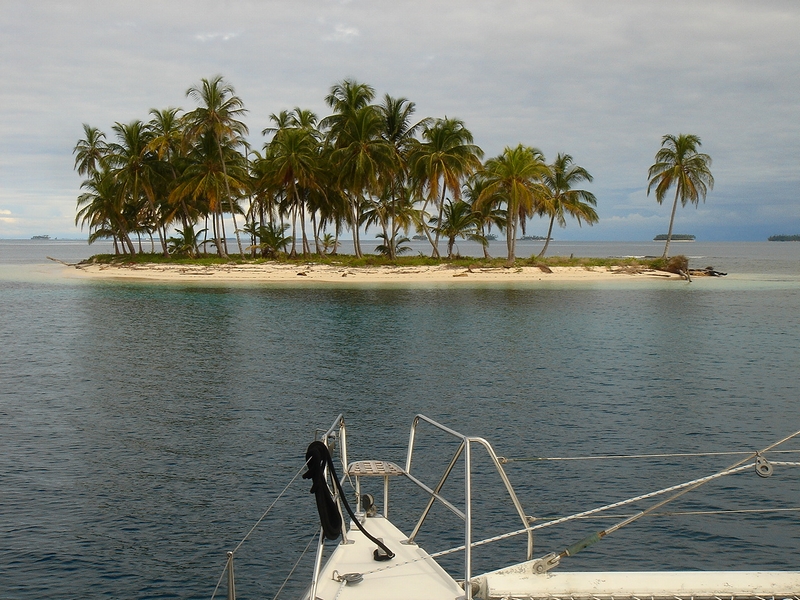 Great snorkel spot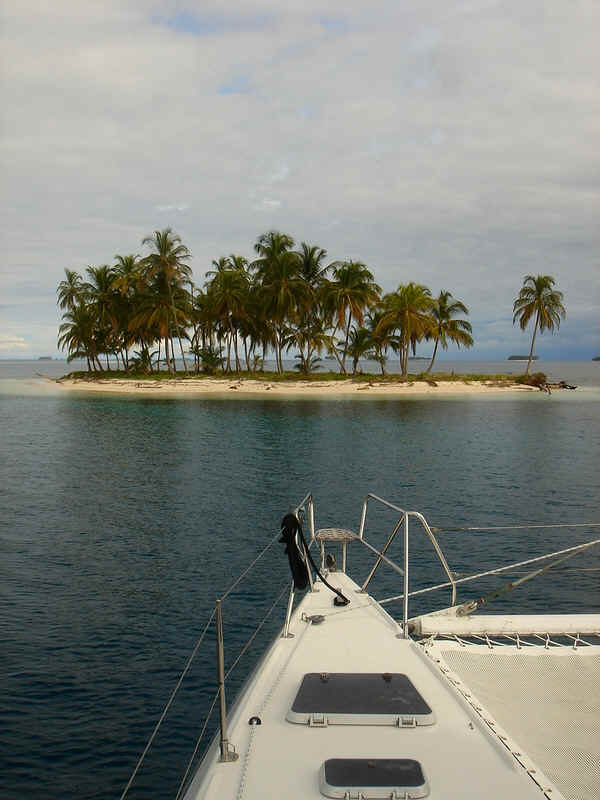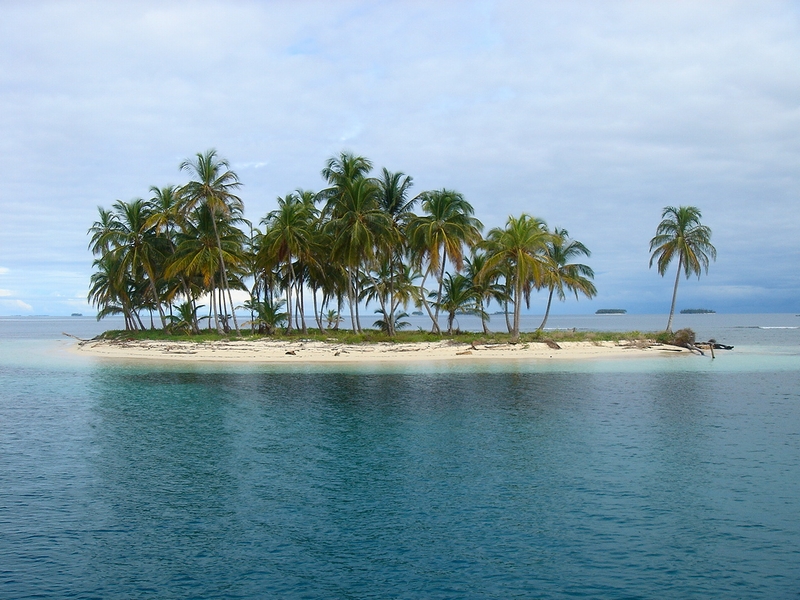 Paradise aka.. Dupsomulubipi the best snorkeling and coral reefs so far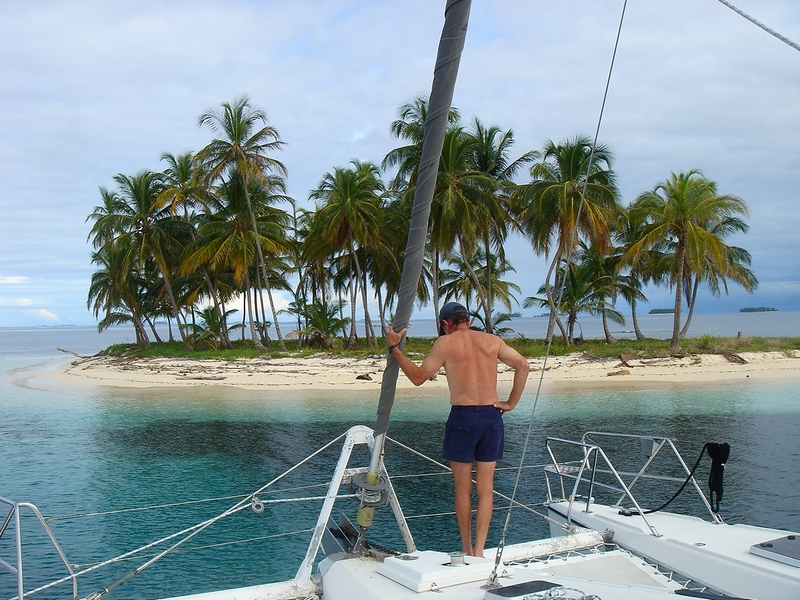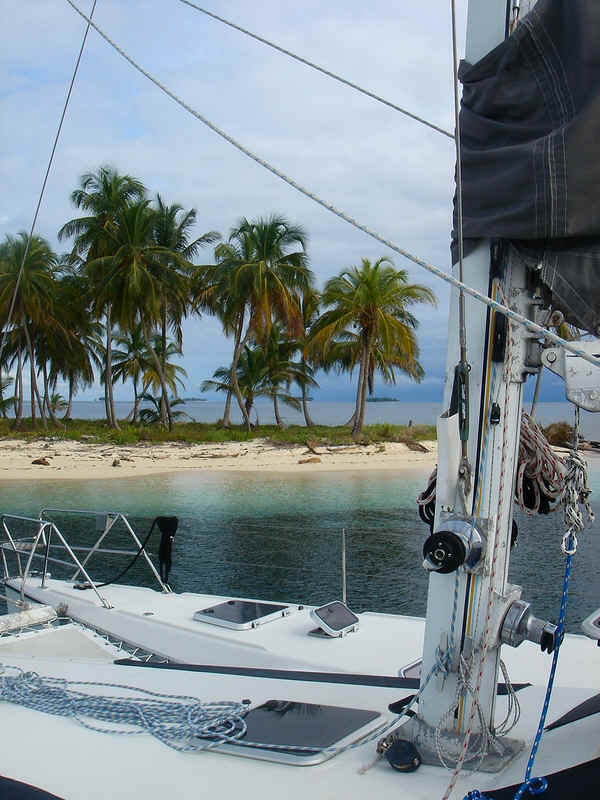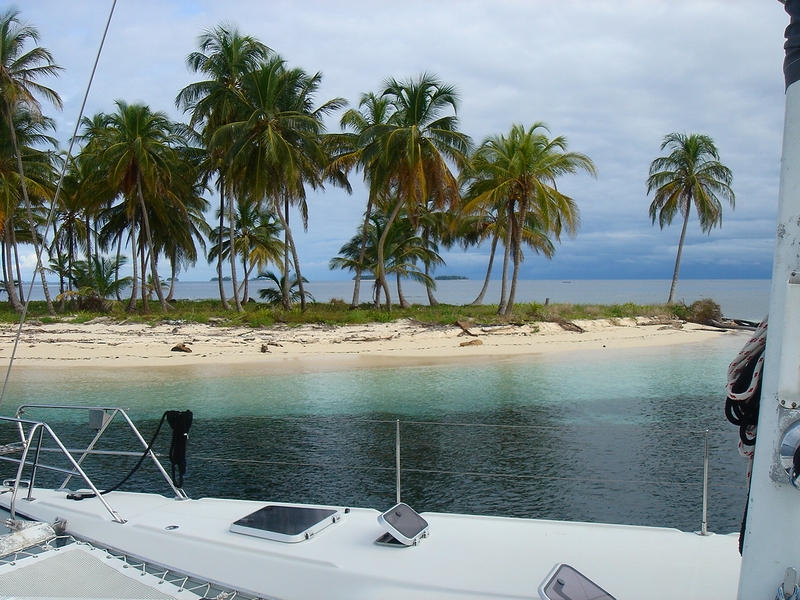 We anchored in about 8ft of water just off of Dupsomulubipi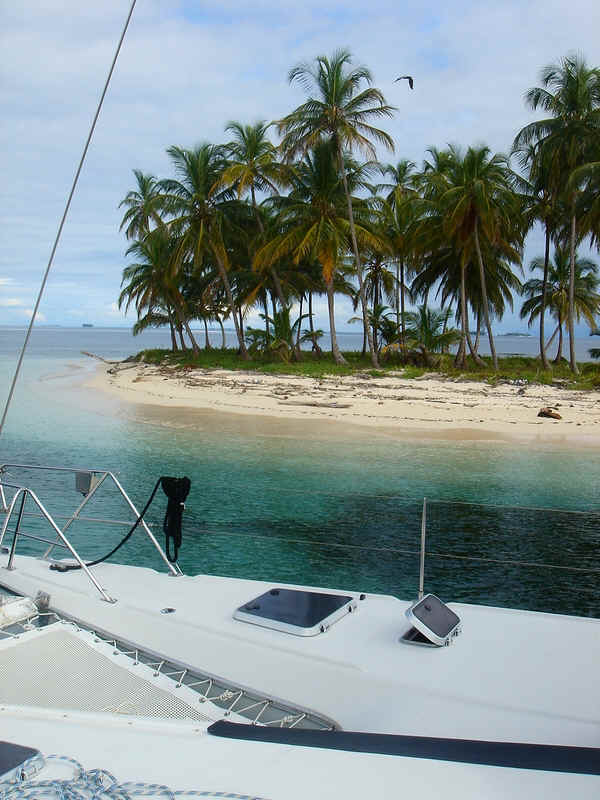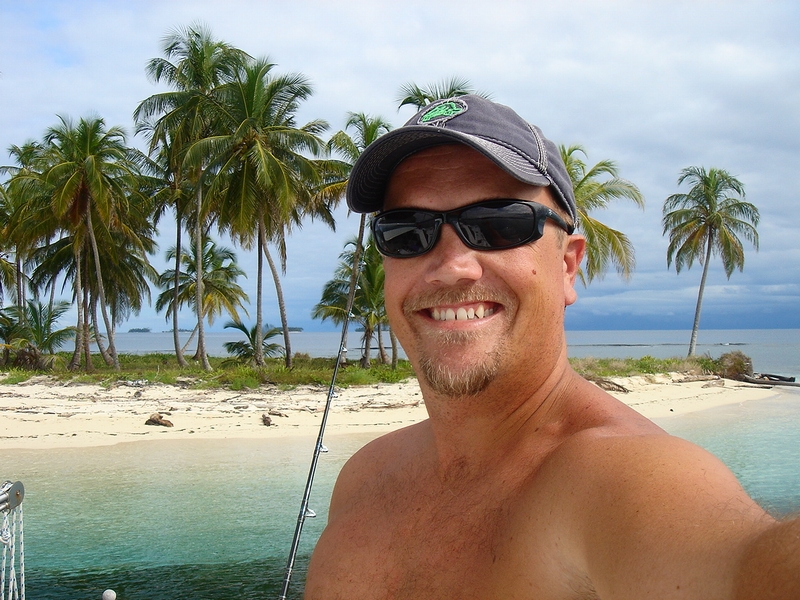 Mike with Bipi in the background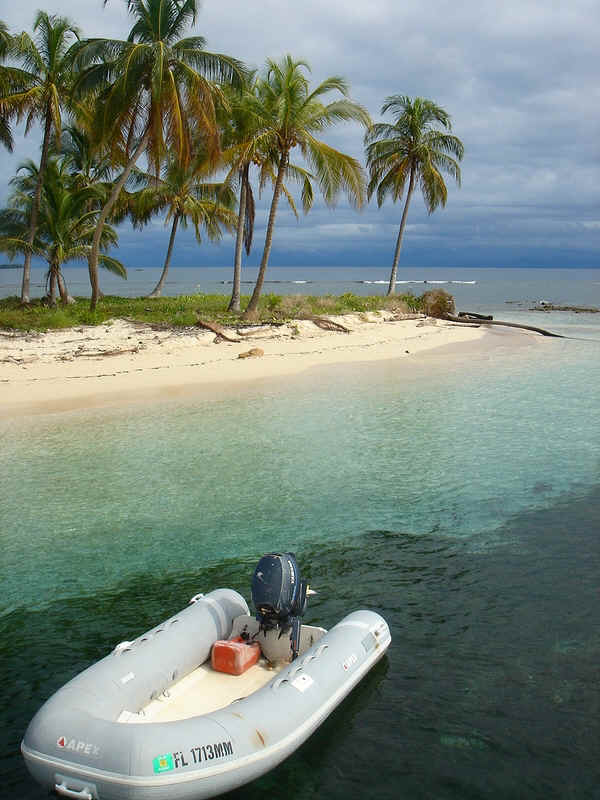 There was a great reef around the entire island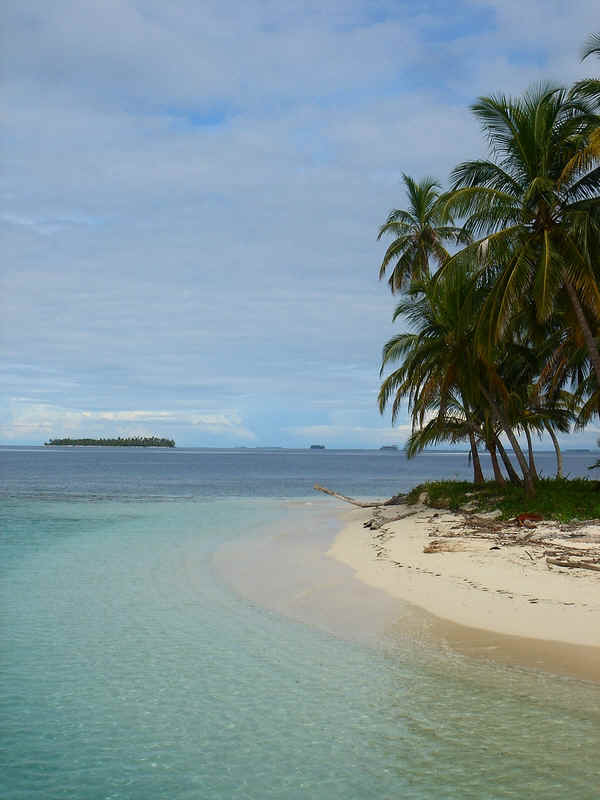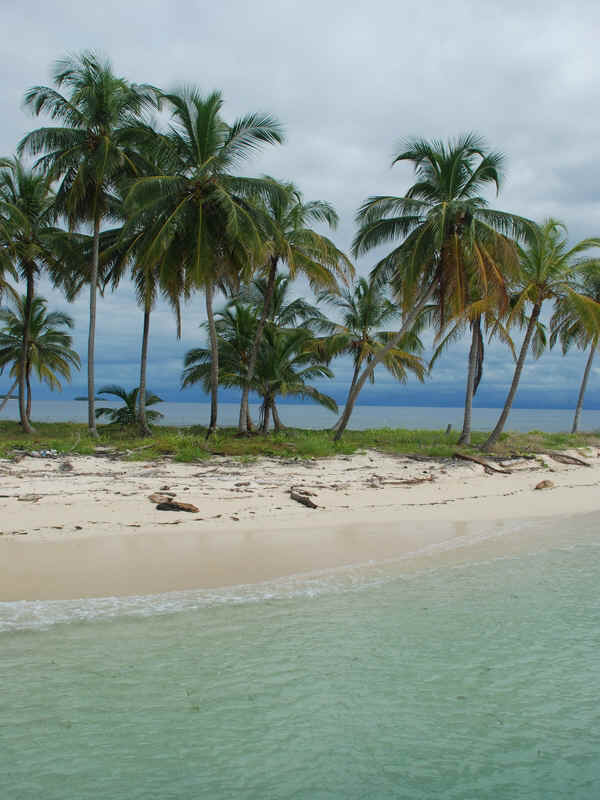 Dupsormulubipi or "bipi" for short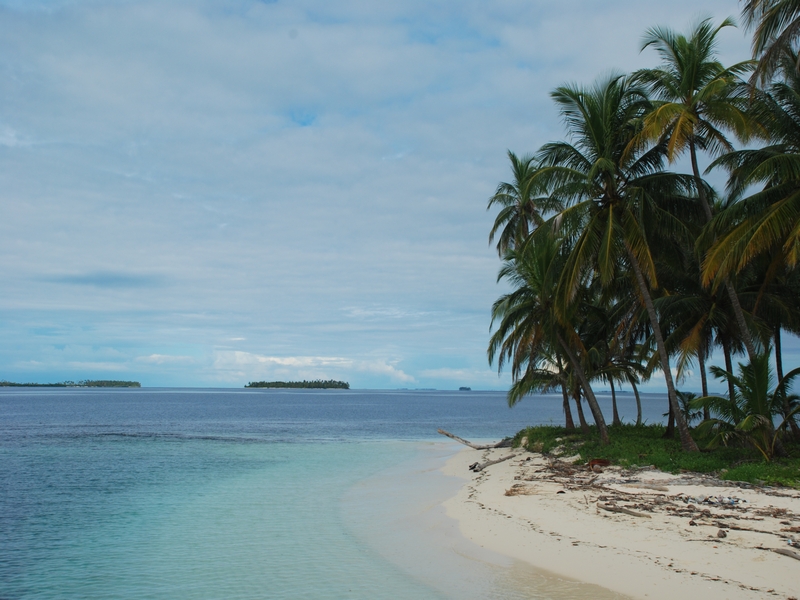 Bipi had the BEST reef with tons of coral and fish, we swam the reef at least 3 different times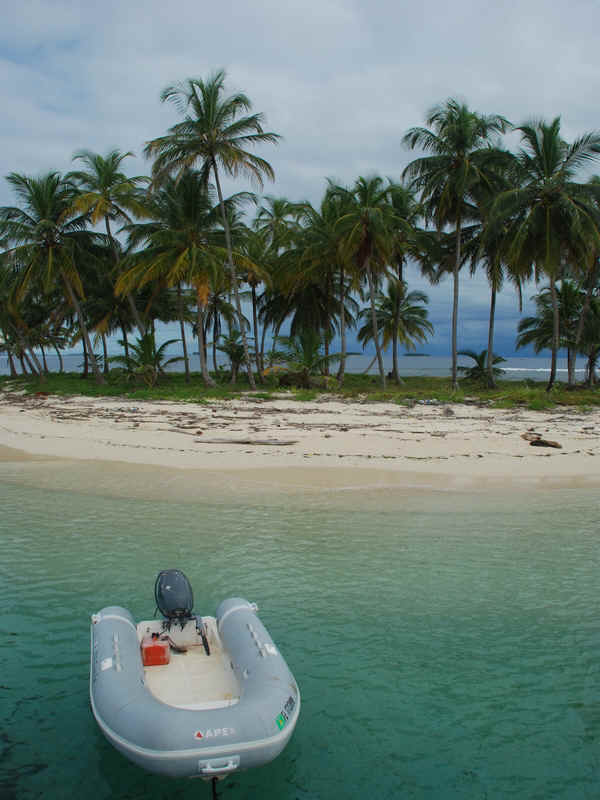 The dinghy at Bipi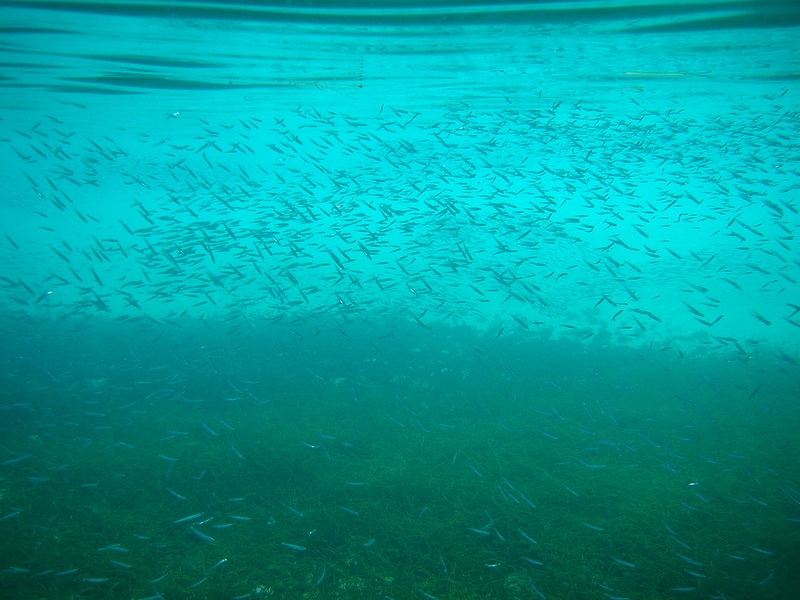 There were billions of small feeder fish and we had to swim through the schools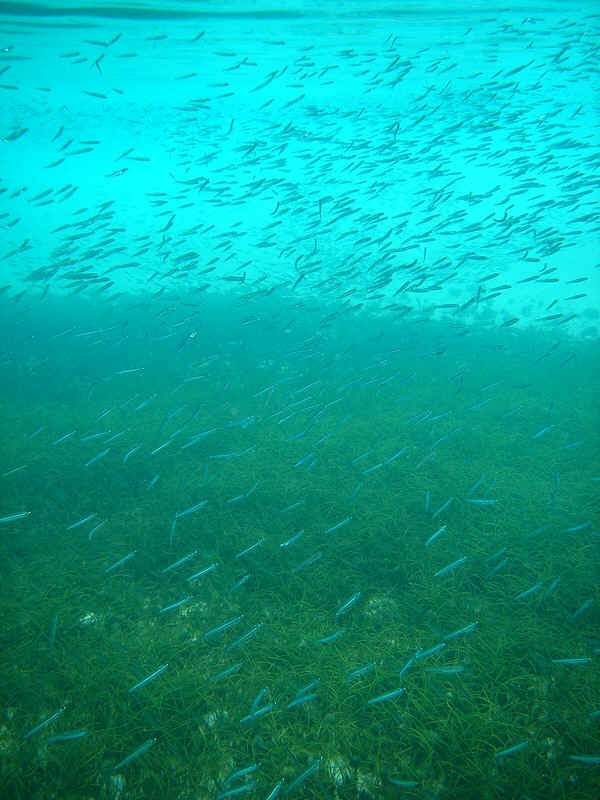 They would all change direction in unison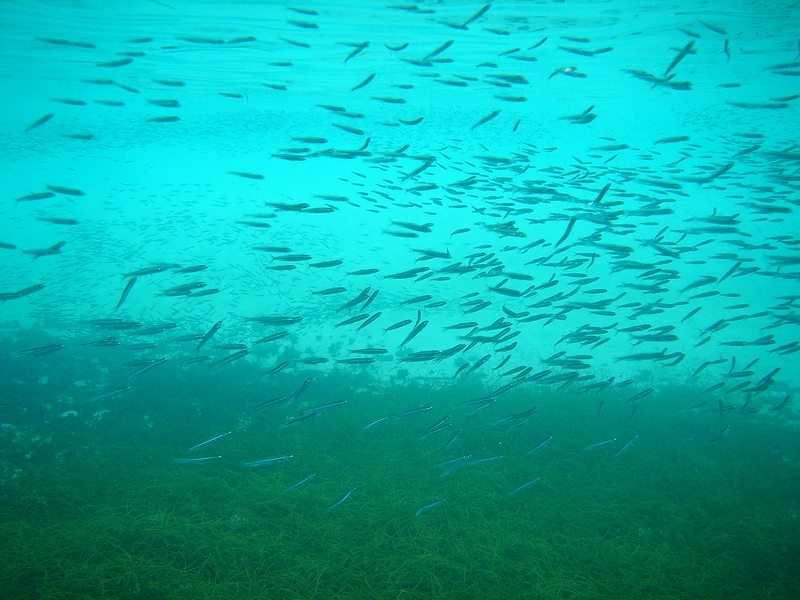 We hoped there were not any larger fish feeding on this bait ball as we had to swim through it many times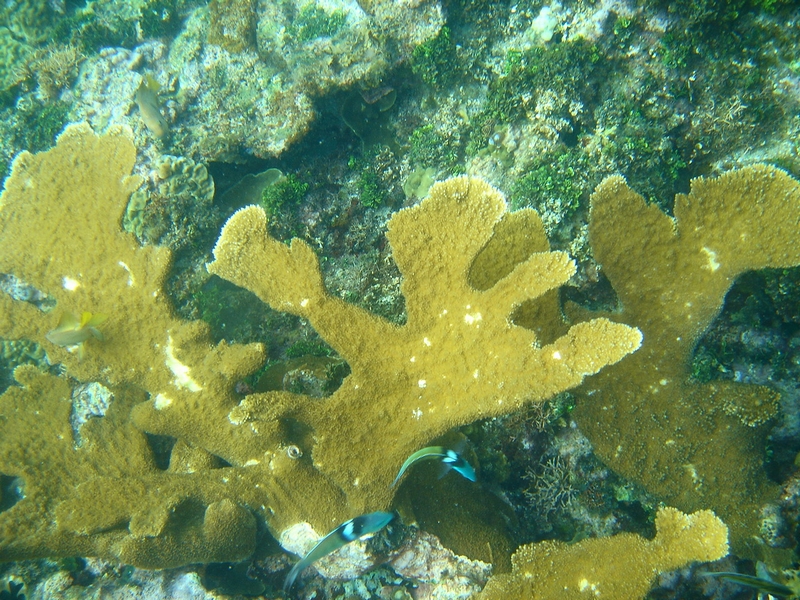 Elkhorn coral with blue headed wrasse's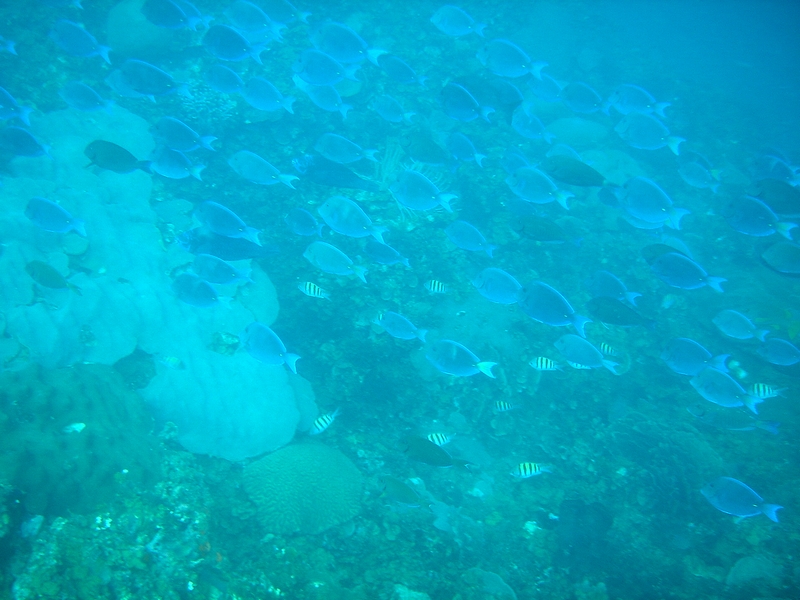 A huge school of Blue Tangs, with Parrotfish and Sergeant Majors, there was a hierarchy within the school that was exciting to watch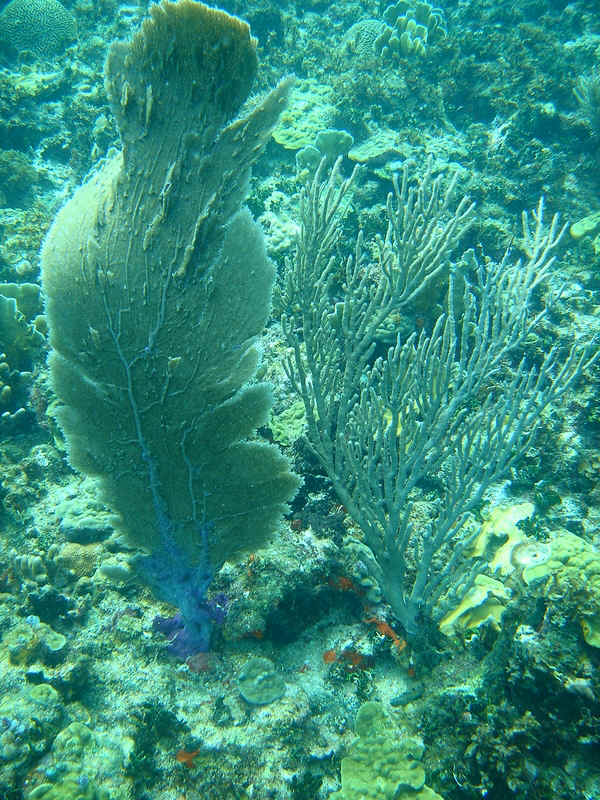 Some of the fan coral was 4ft high and 3ft wide it was an extremely healthy reef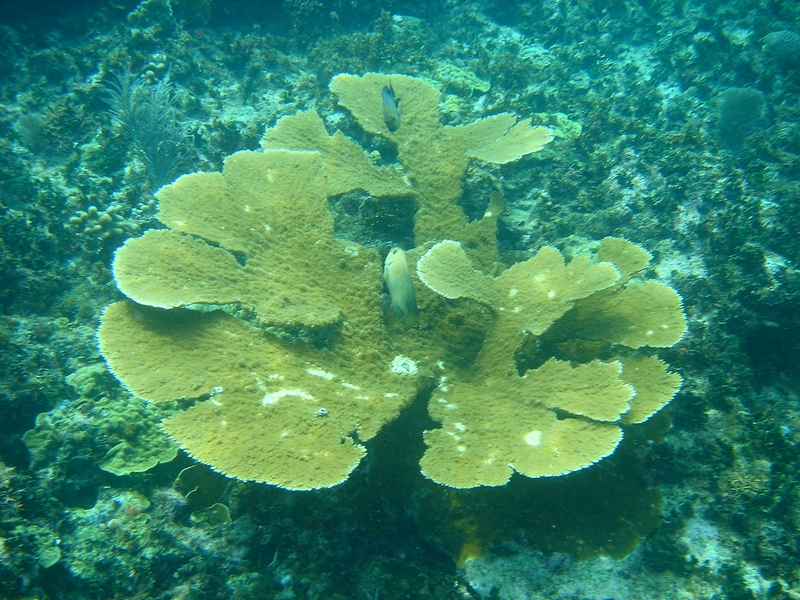 More Elkhorn coral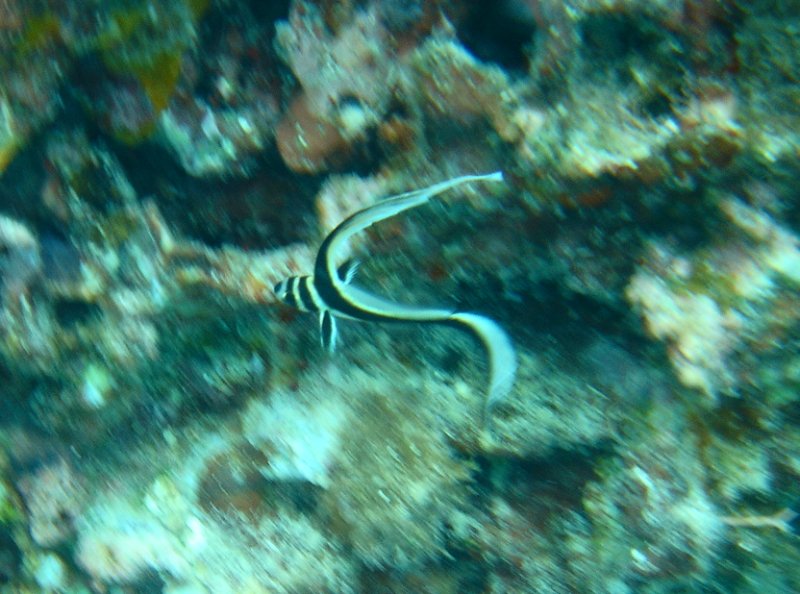 The gorgeous angelfish we are not sure of the exact type, most fish would be in the exact same coral head or area everyday we snorkeled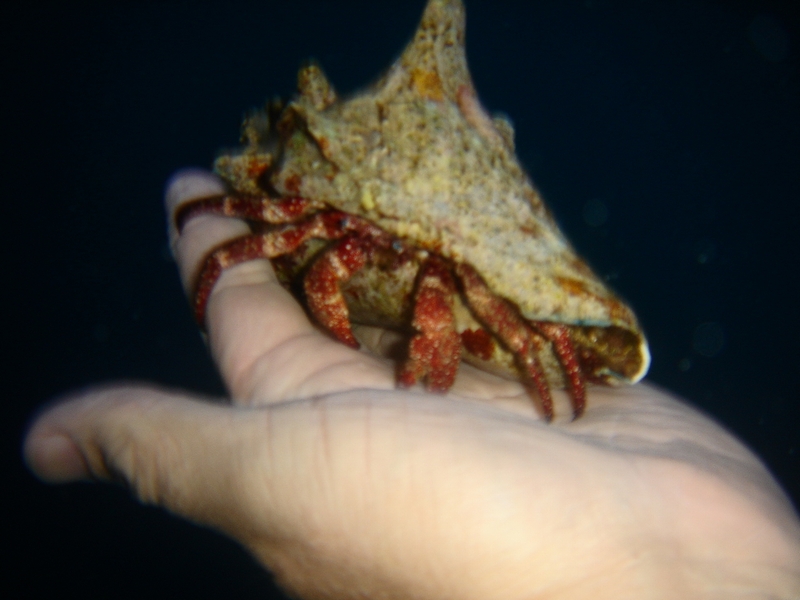 Walter found a hermit crab that had made a home from a discarded Bahamian Conch Shell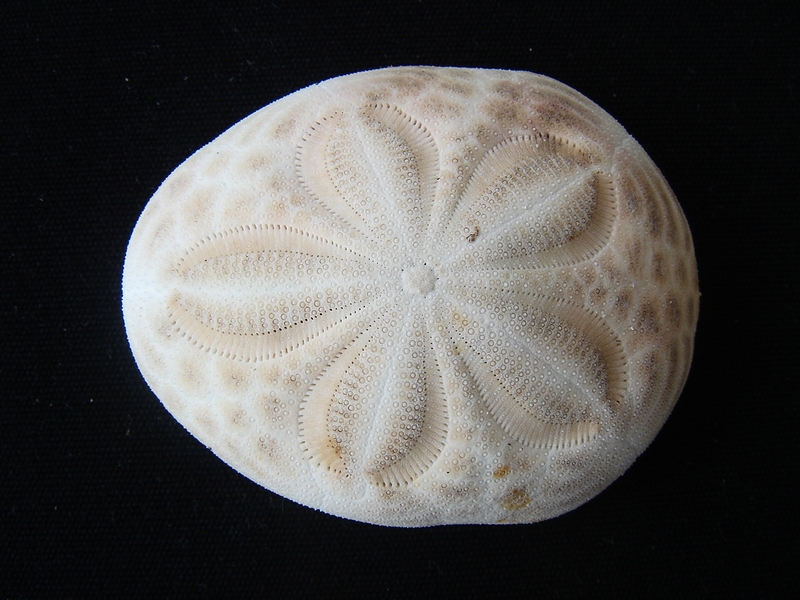 Sea Biscuit found near bipi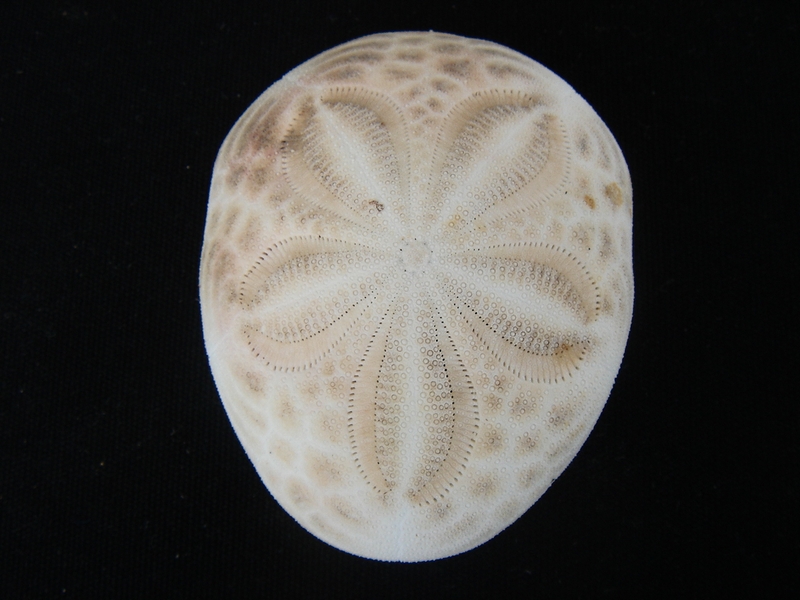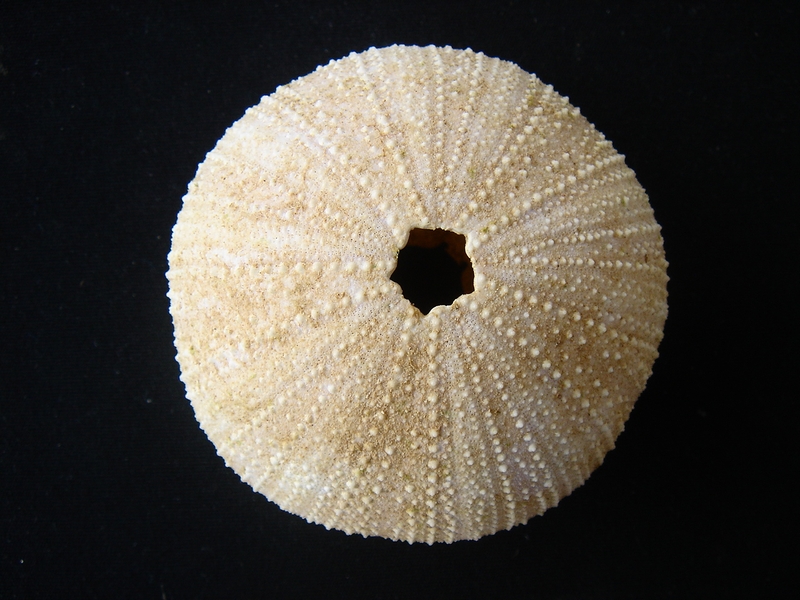 Sea Urchins were everywhere, alive & dead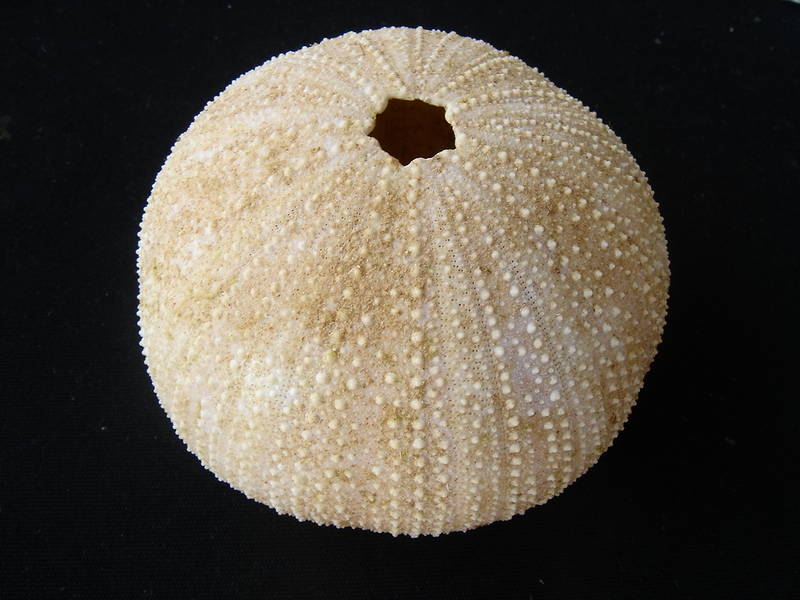 All of the bumps you see on the shell were once the long black spines, like that of a porcupine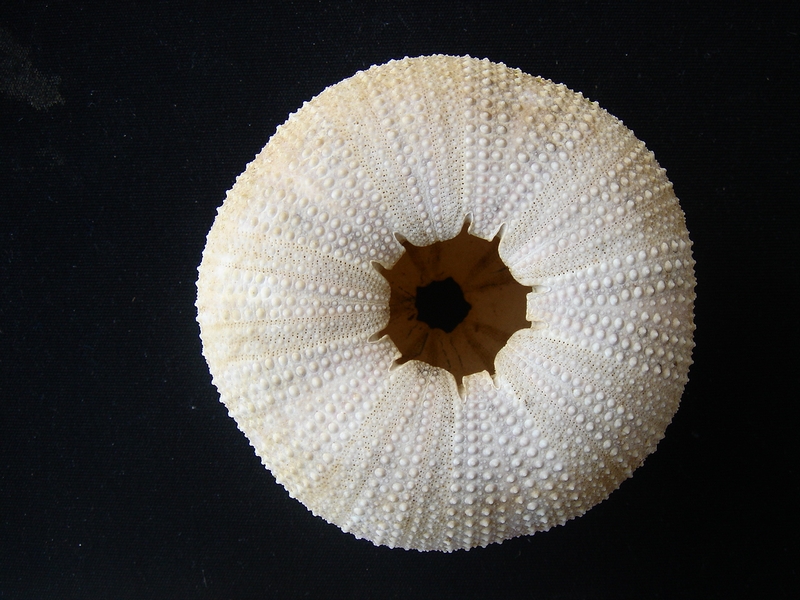 Bottom side of the Sea Urchin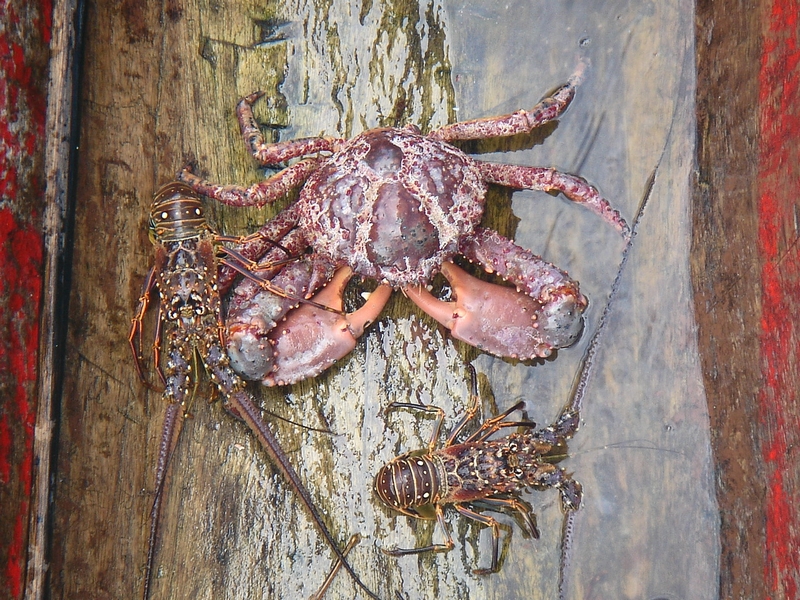 Cangrejos & Langostas - Crabs and Lobsters, local fisherman came by the boat everyday to sell us seafood and most of the time we took them up on it, average price for a lobster was $3ea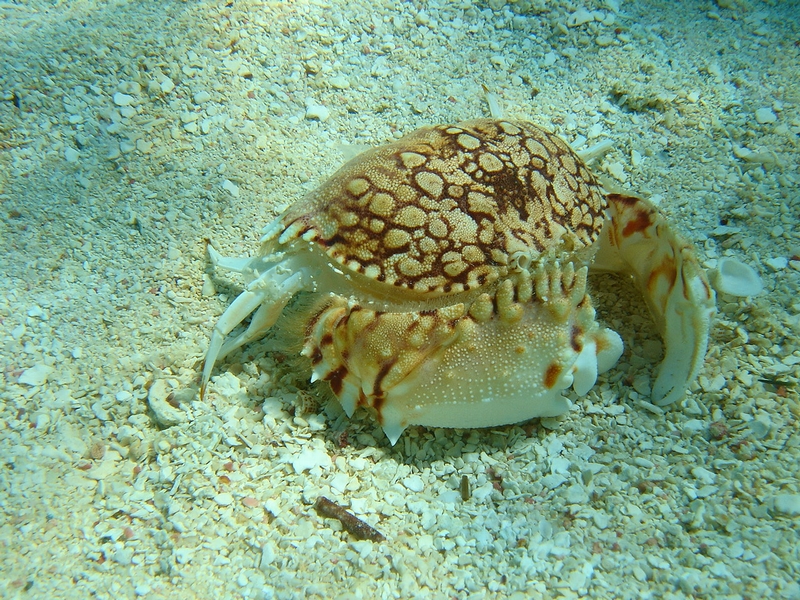 A dead crab we saw while snorkeling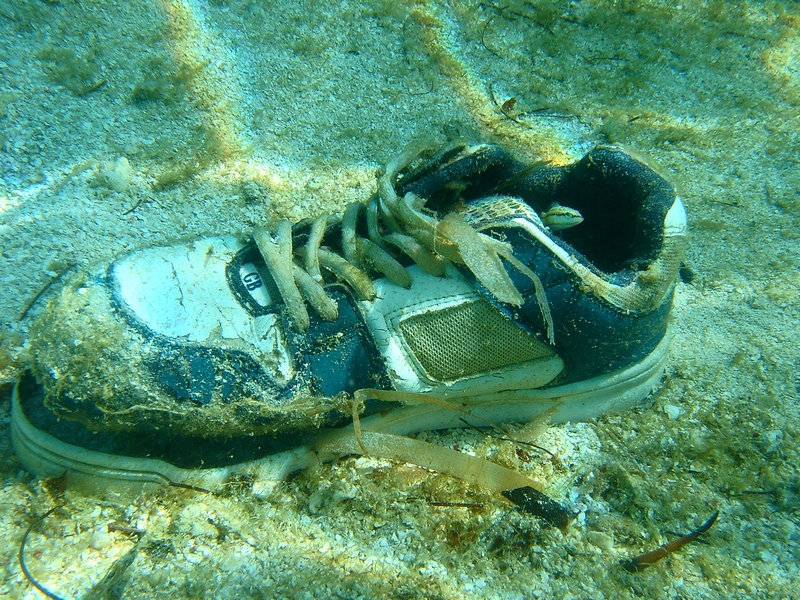 A shoe fish!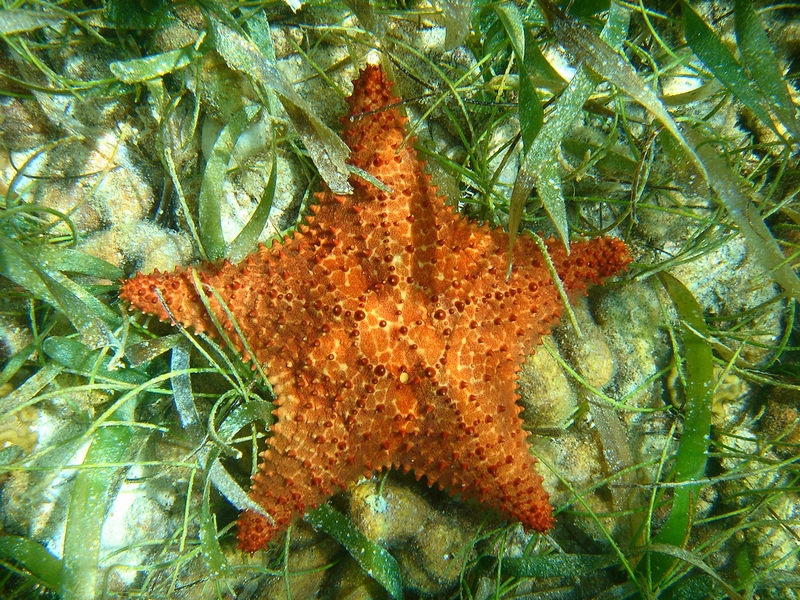 A Starfish in the shallow water and sea grass, we would see tons of Starfish at deeper depths from 20-40ft, notice the circular pattern dead center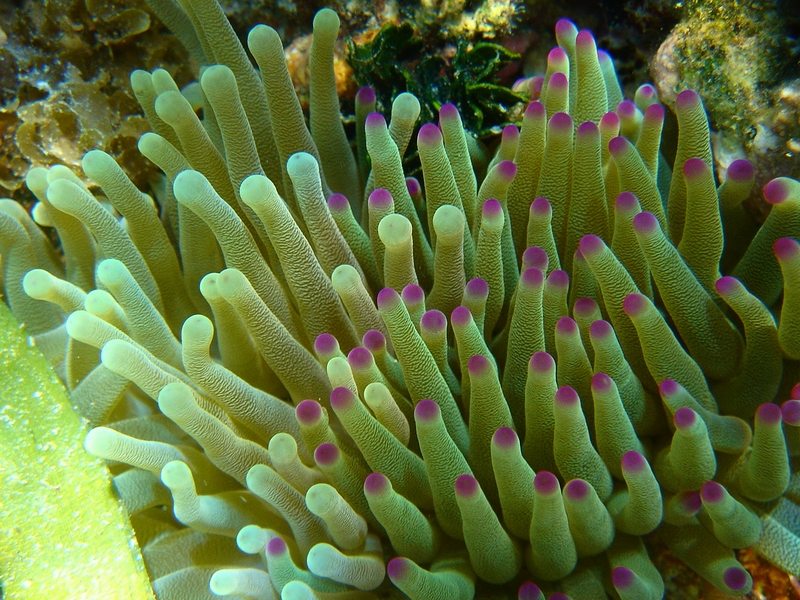 One of the gorgeous corals on Bipi, the colors were stunning!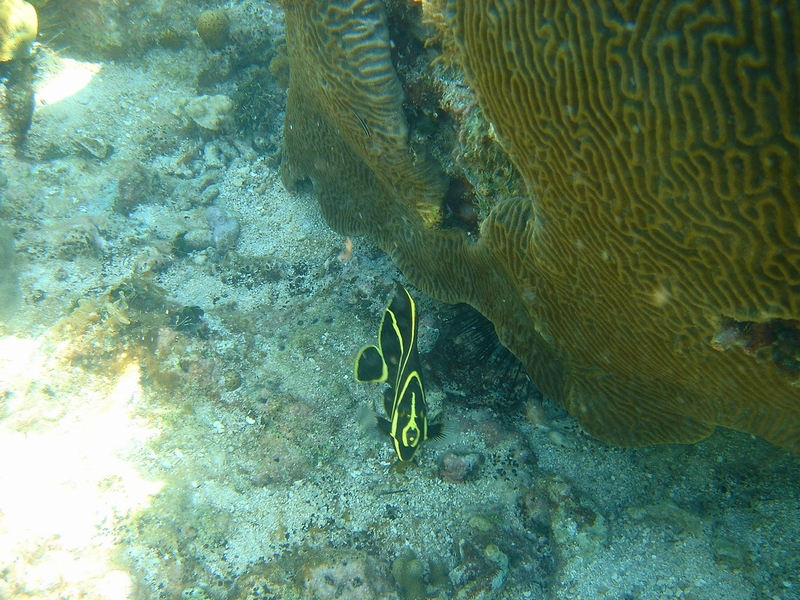 A type of Angelfish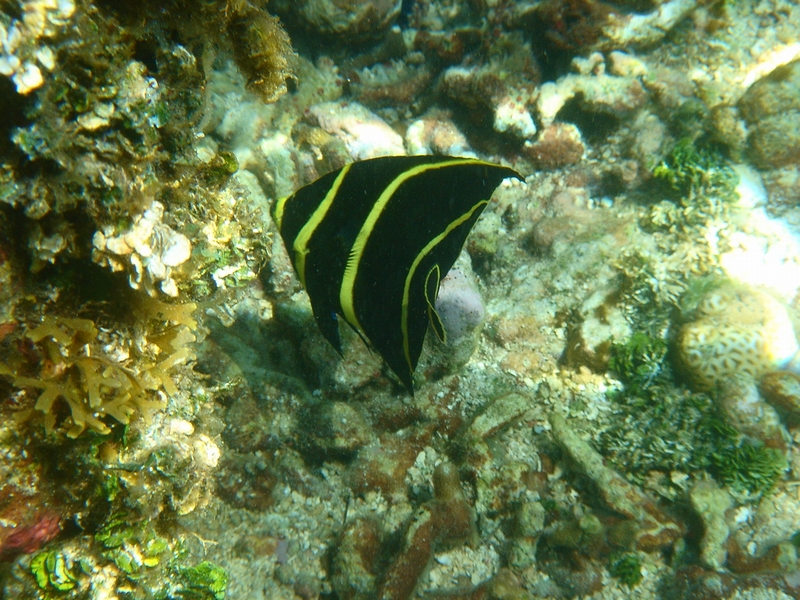 The only Angelfish we saw of this color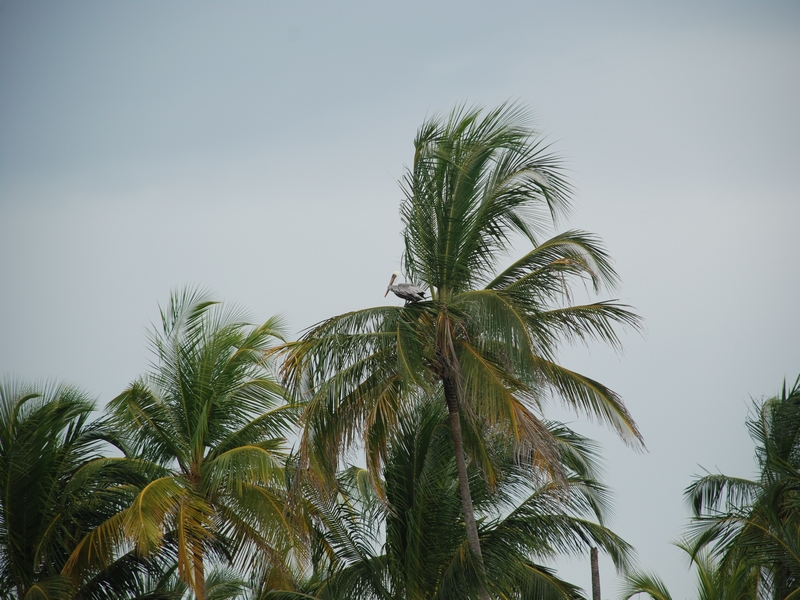 A pelican at Dupsormulubipi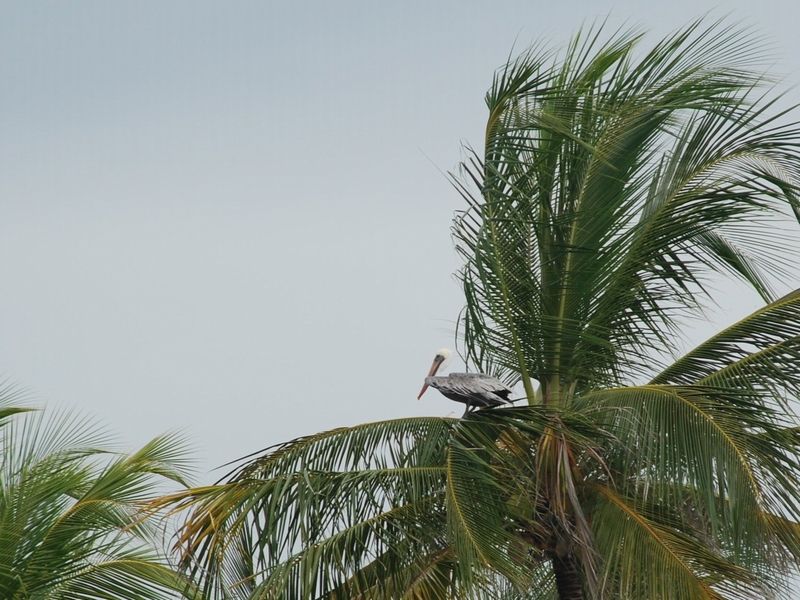 Pelican Palms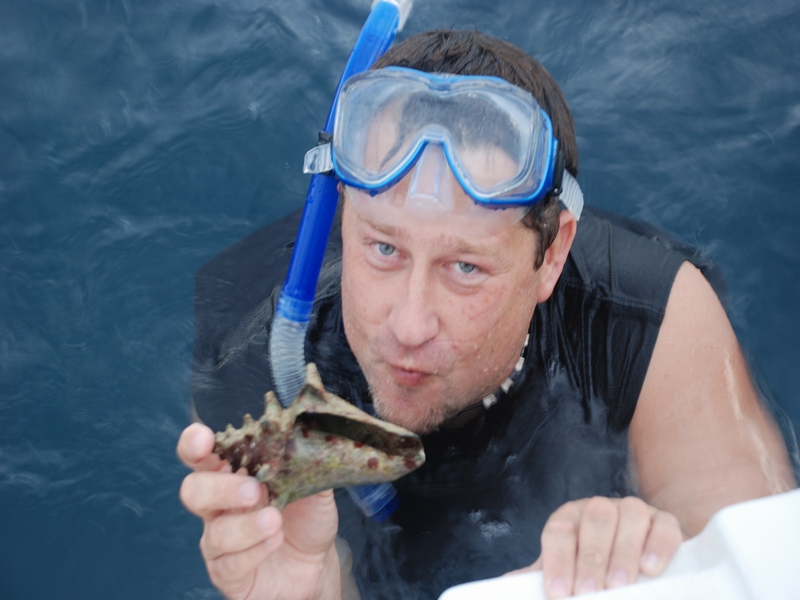 Walter and his friend Crabby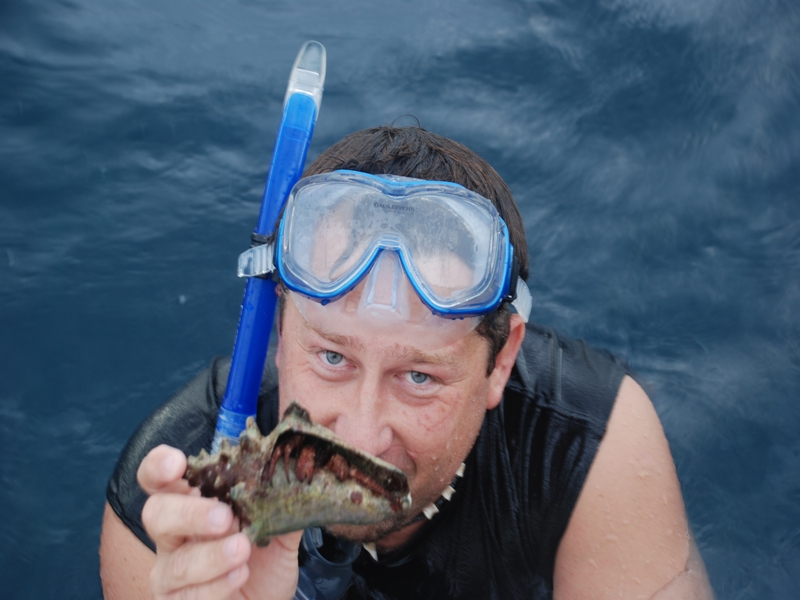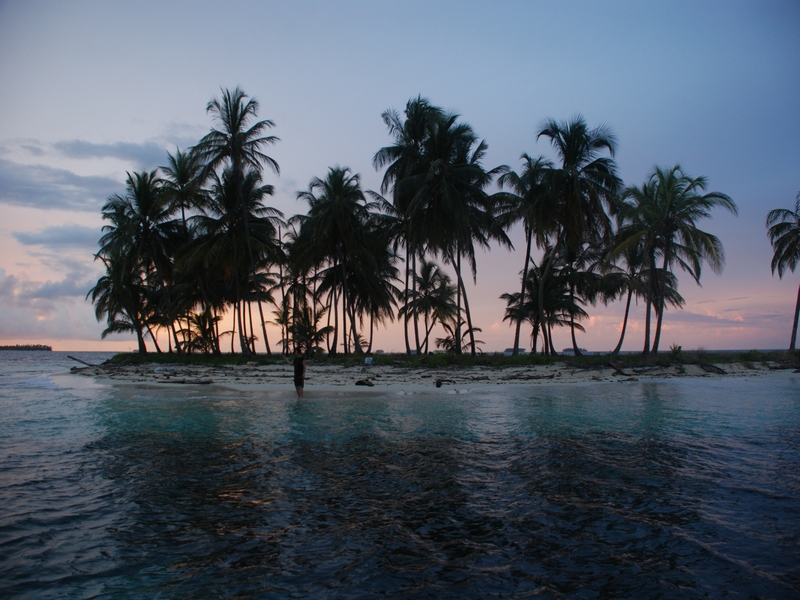 Walter on Dupsormulubipi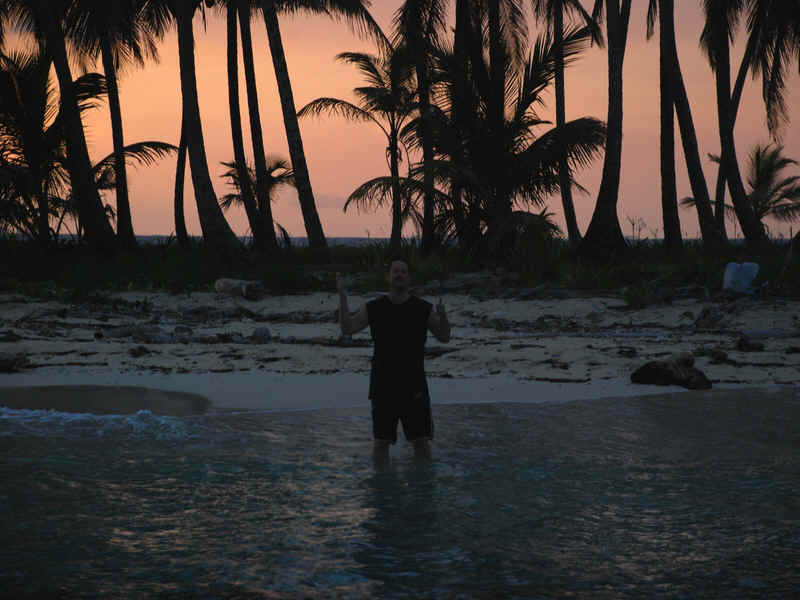 Last night on Dupsormulubipi at sunset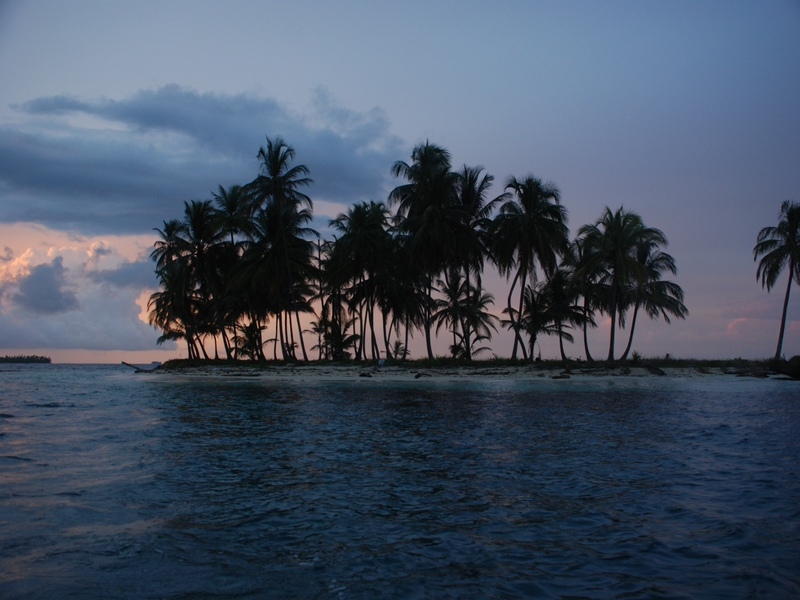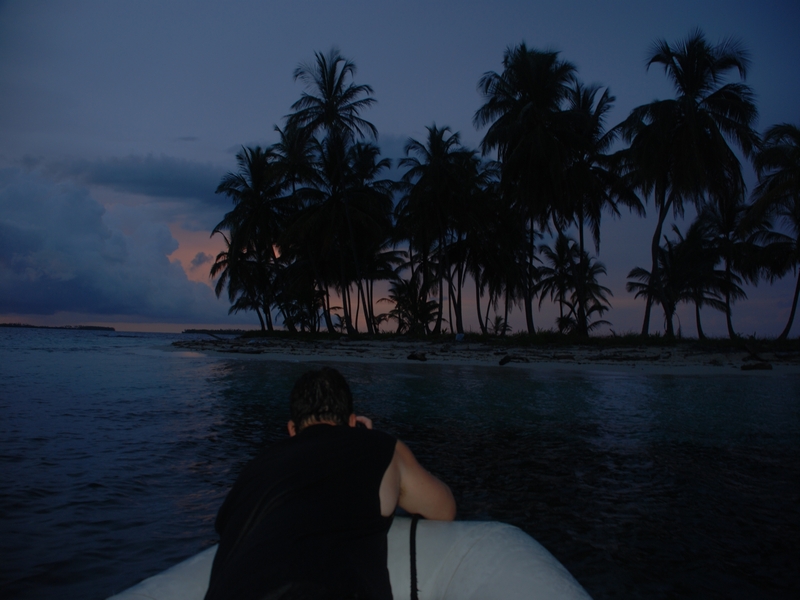 Walter's final photo shoot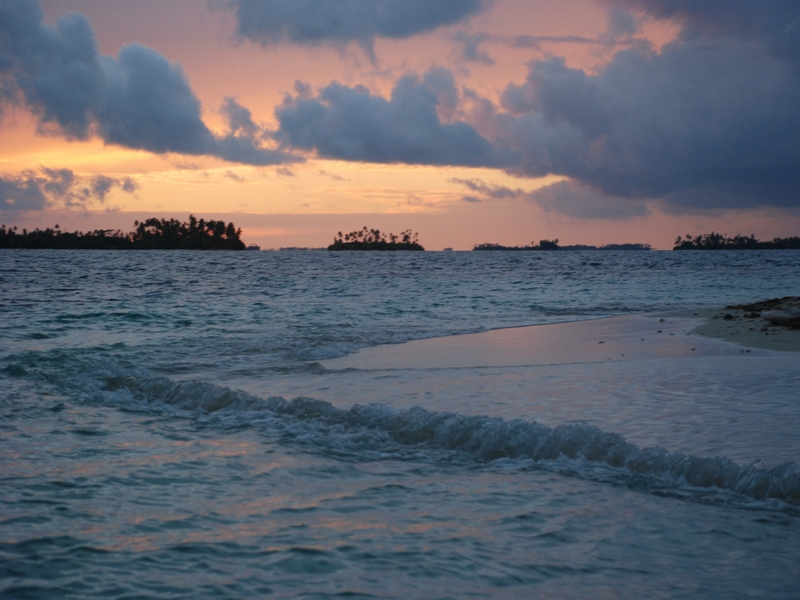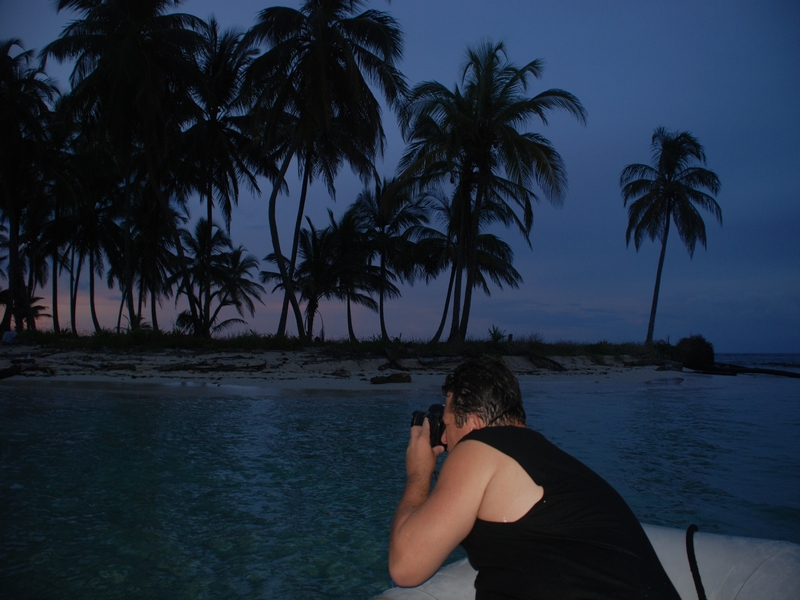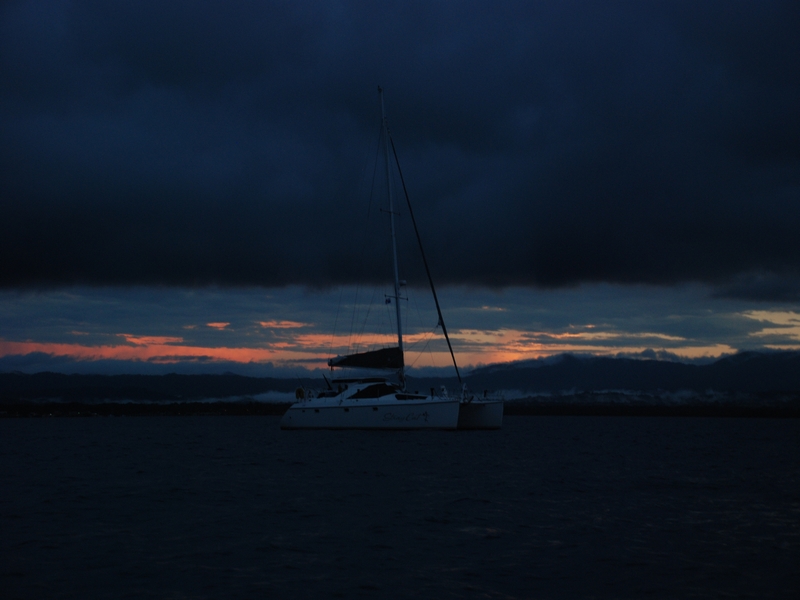 Stray Cat at Sunset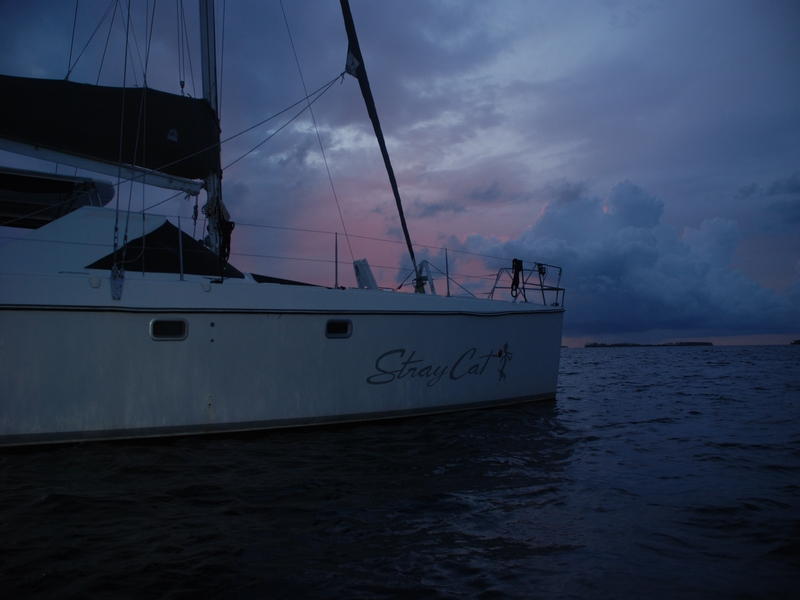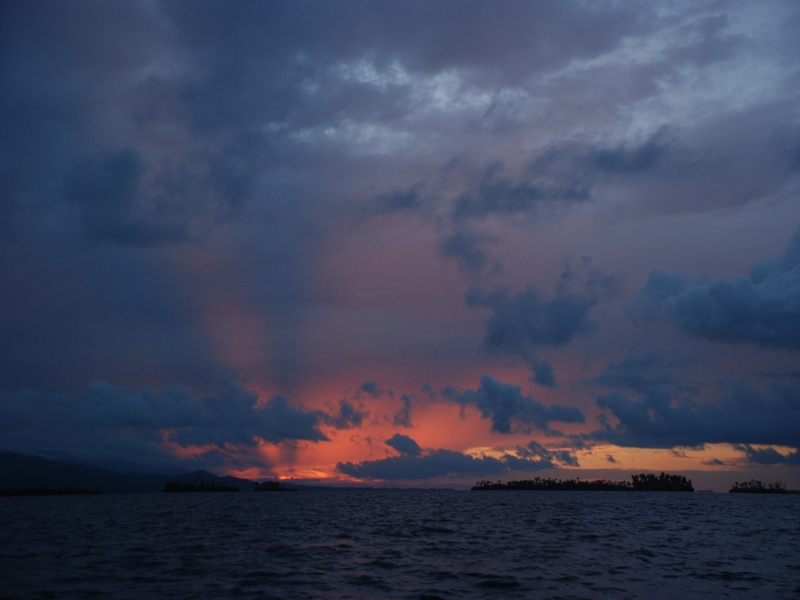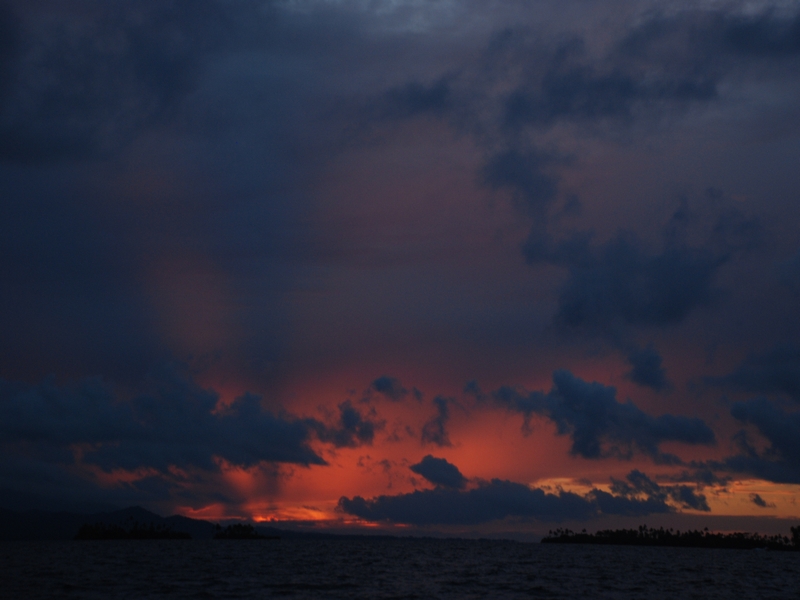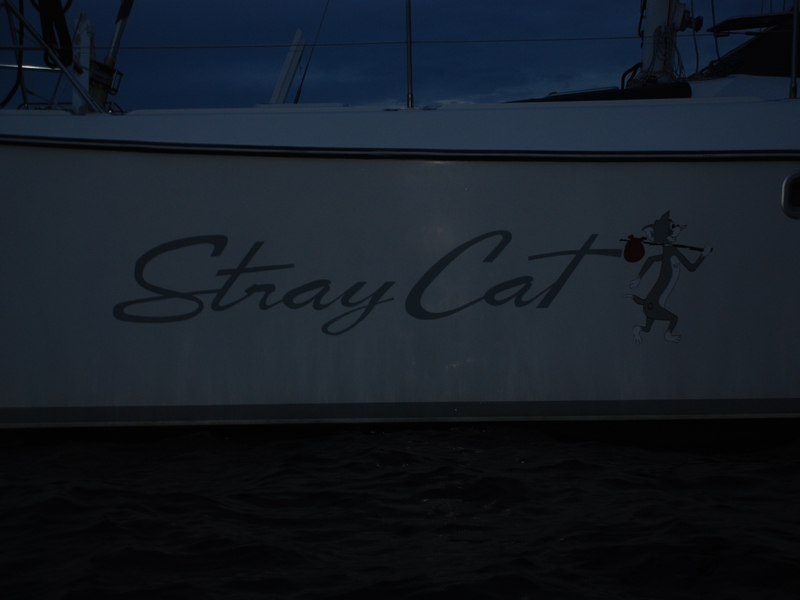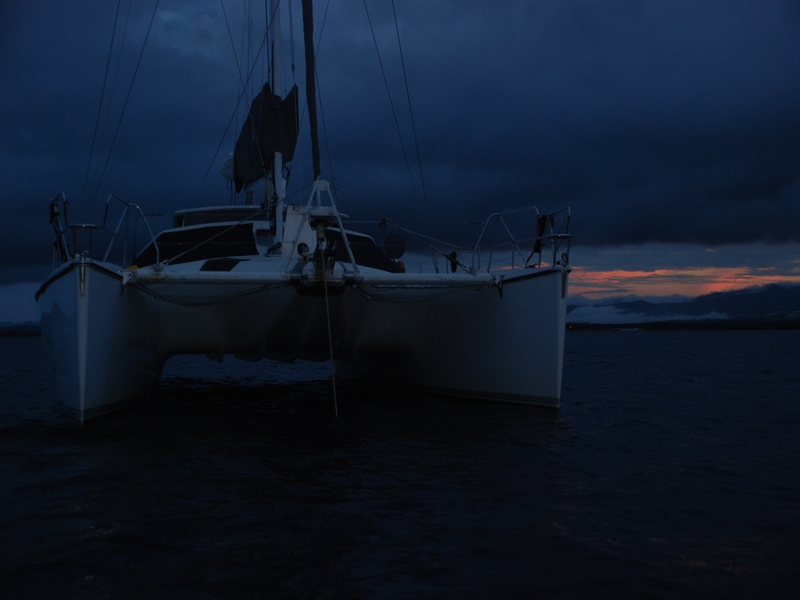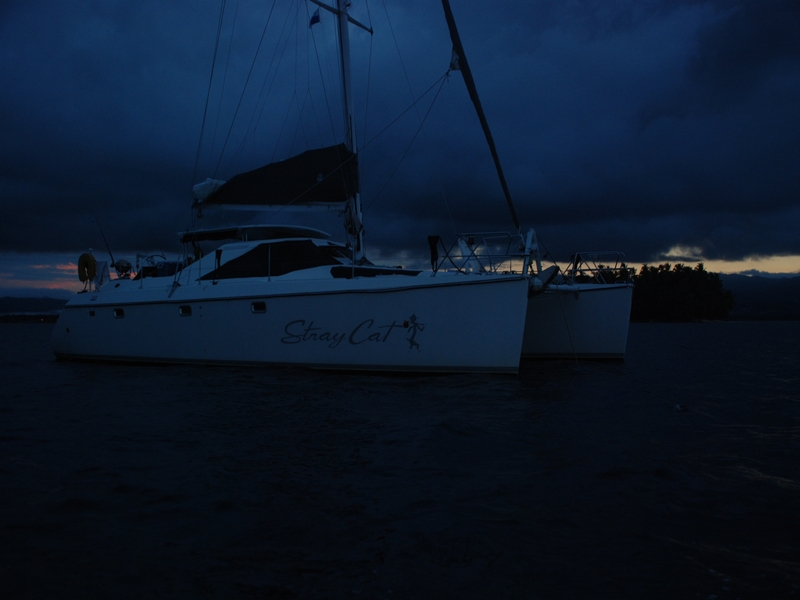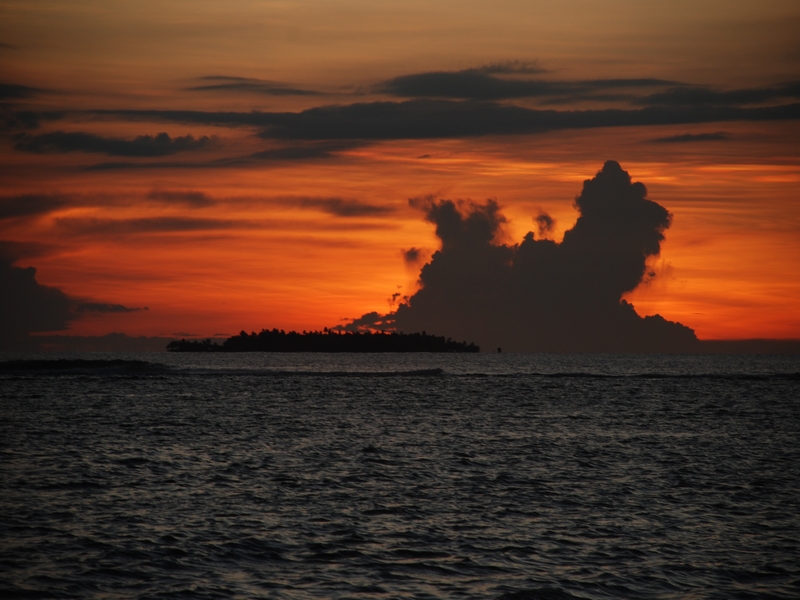 Gorgeous Sunset at Bipi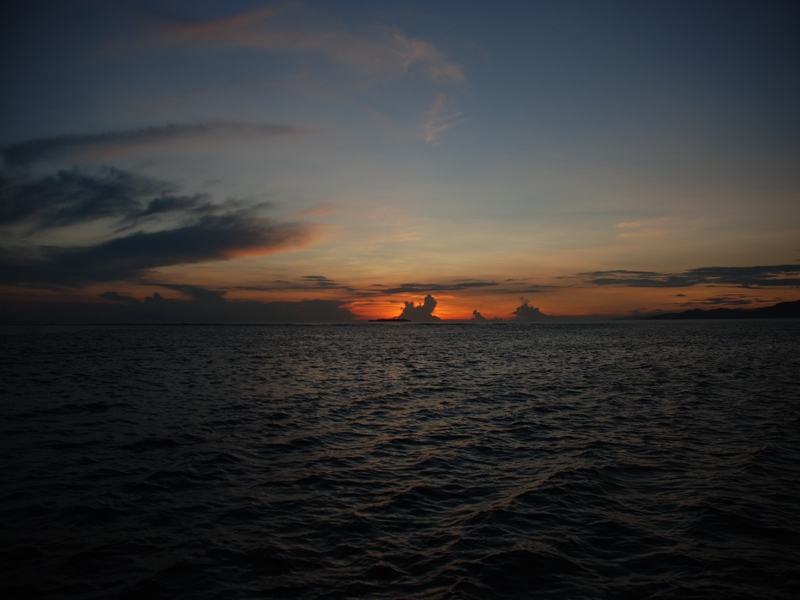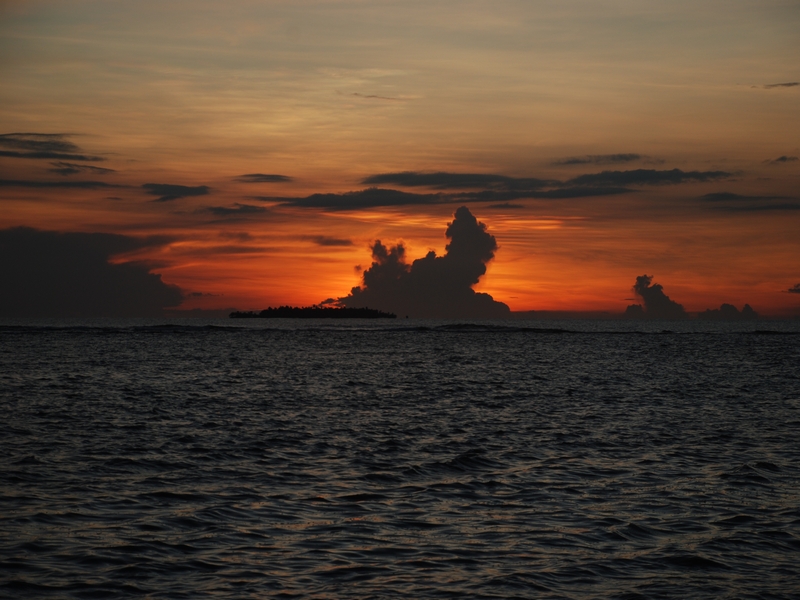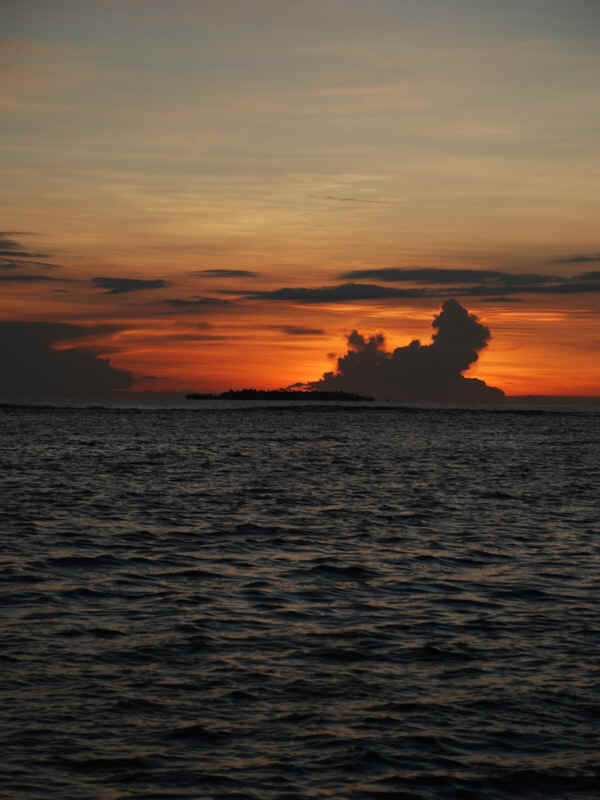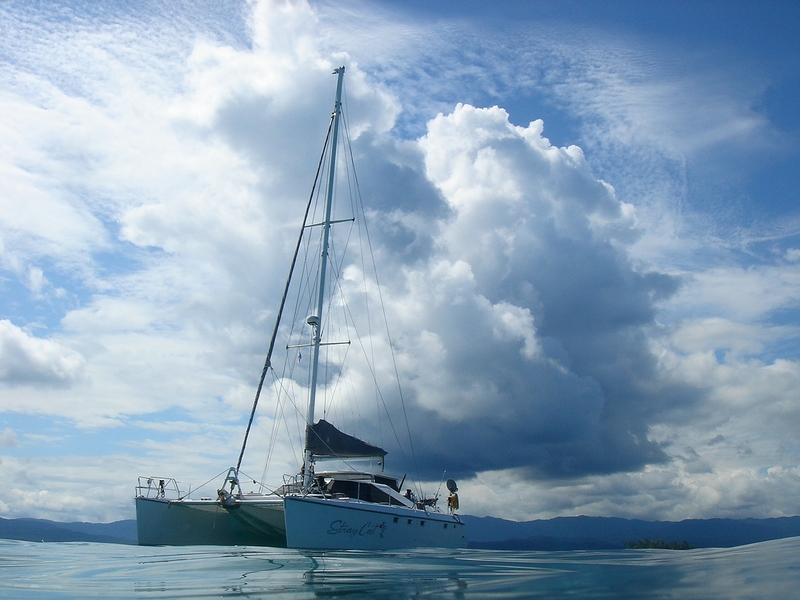 Stray Cat at anchor on Bipi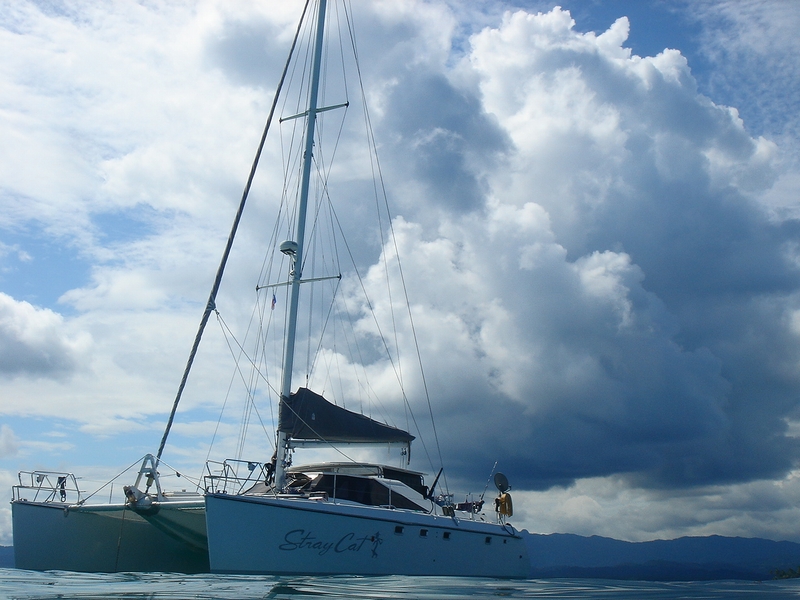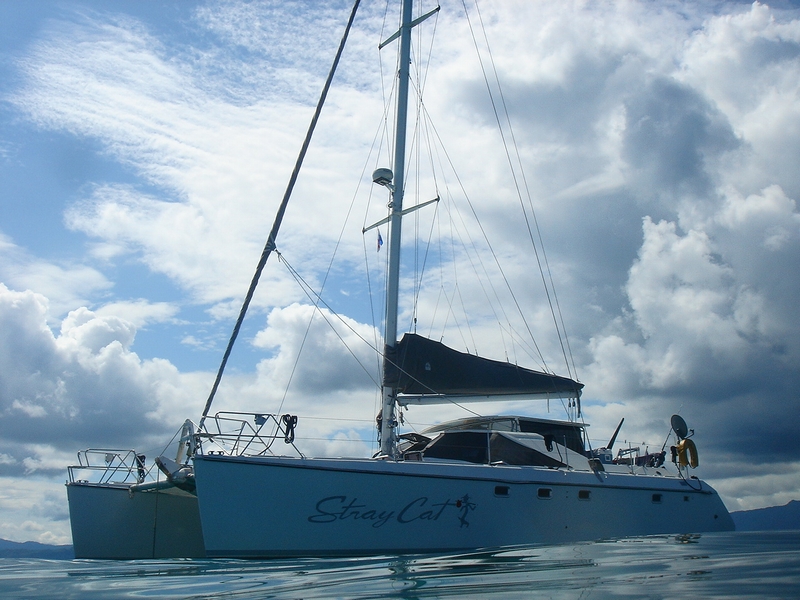 Stray Cat in the swells