The Panama Canal - Miraflores Locks

November 4th - November 8th, 2007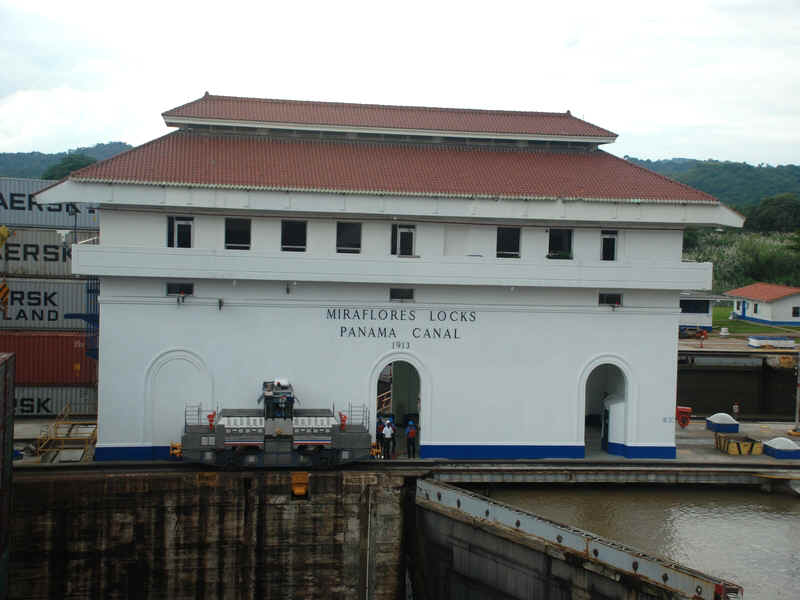 Mira Flores Locks - The Panama Canal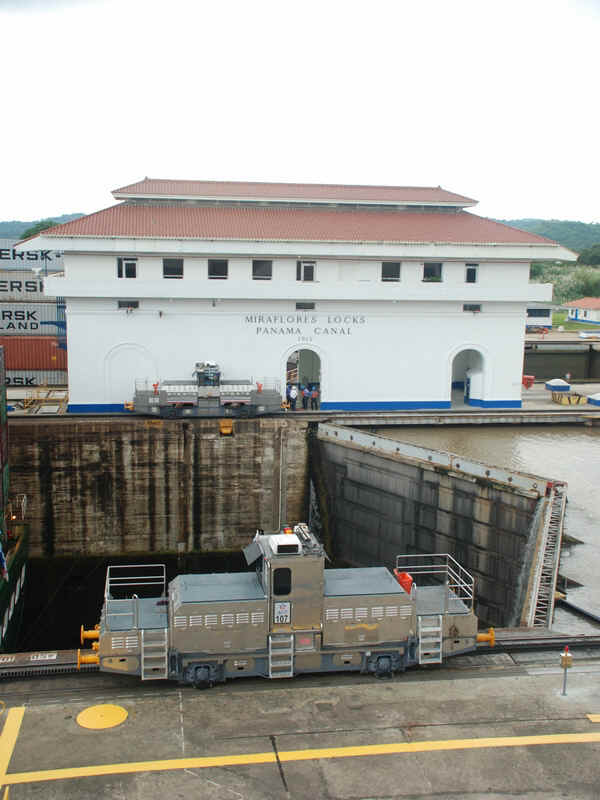 The Electric Mule in the foreground costs more than 2 million dollars, they hold the lines of the large ships as they pass thru the Locks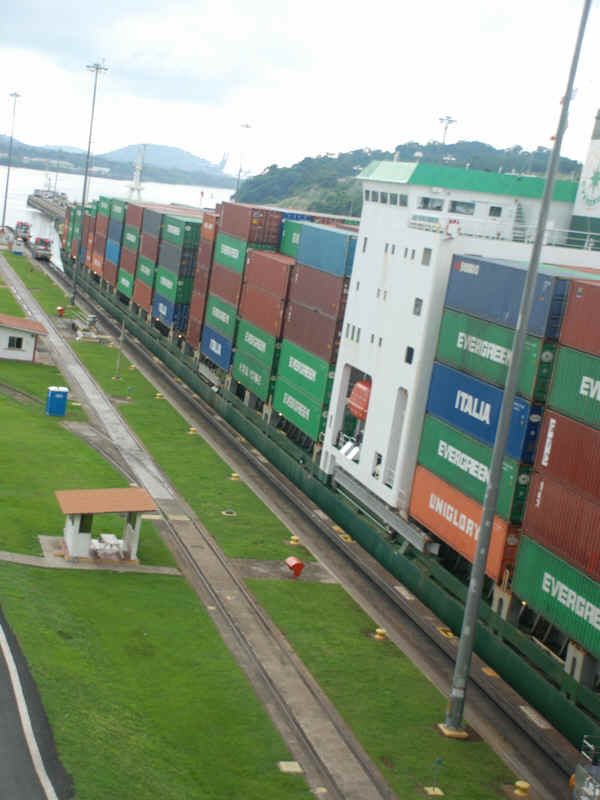 Mira Flores is only one of the 3 sets of Locks you must traverse thru the Panama Canal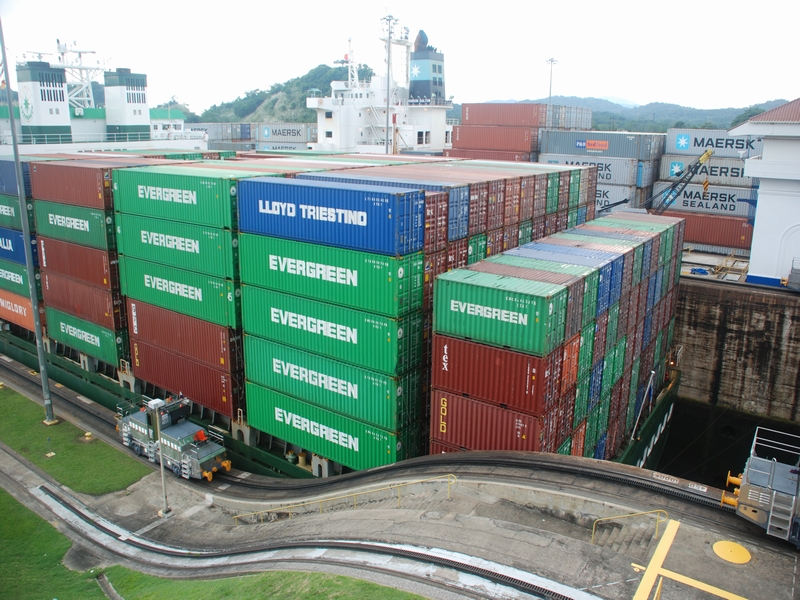 They had 12+ Electric Mules at this one location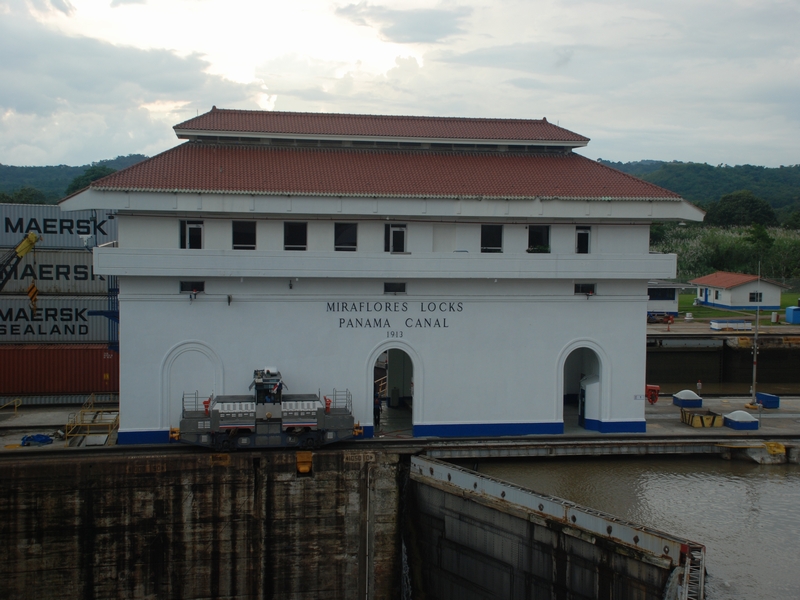 In 1914 when the locks were completed they used regular mules to guide the ships thru the Locks and steady them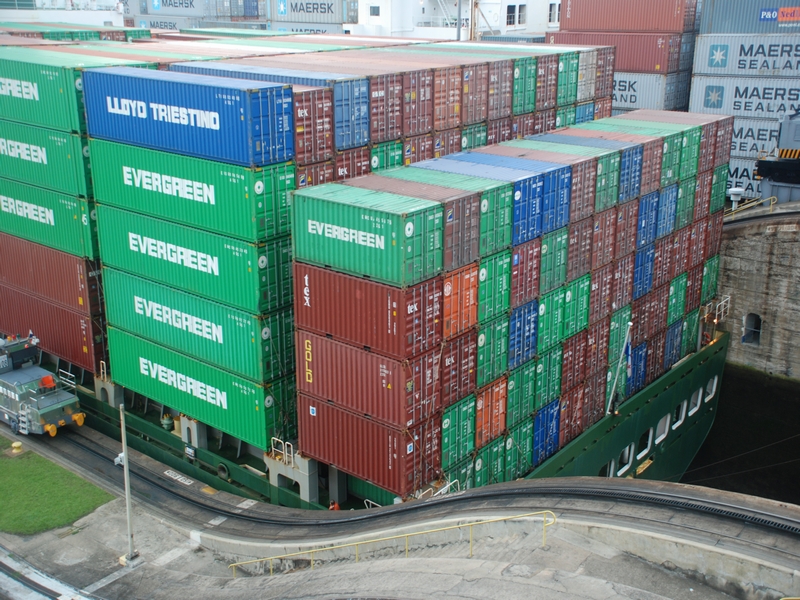 Some huge ships like this Evergreen container ship have only inches on either side of the walls and from front to back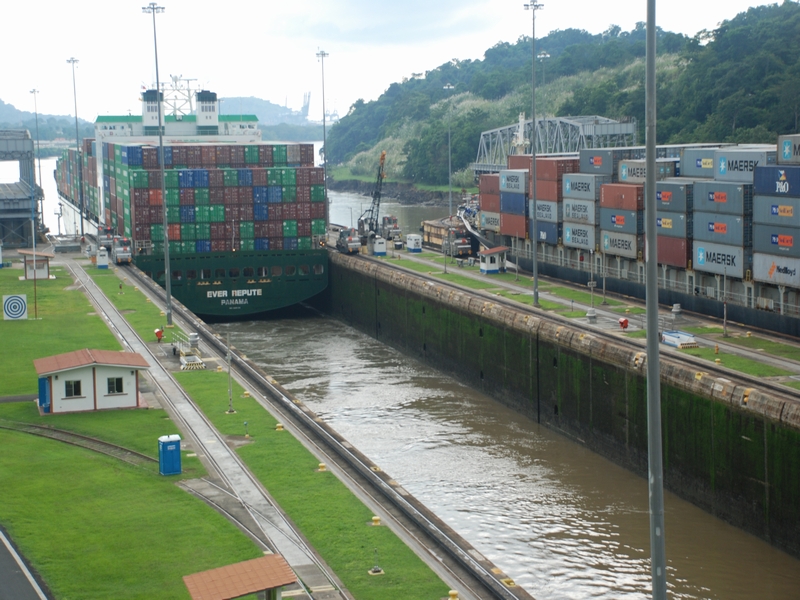 Sometimes they do scrape the sides of the ships on the walls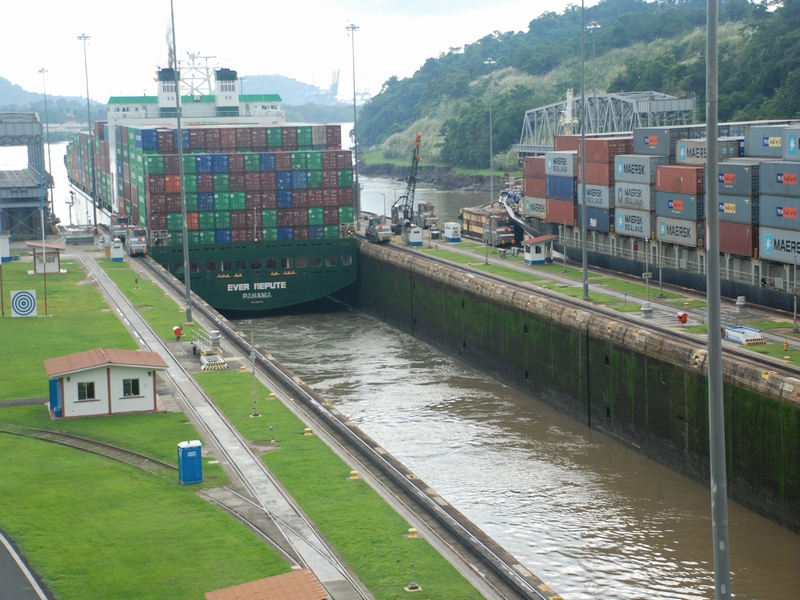 The ships drop from 8 to 10 meters per chamber, there were 3 chambers in these Locks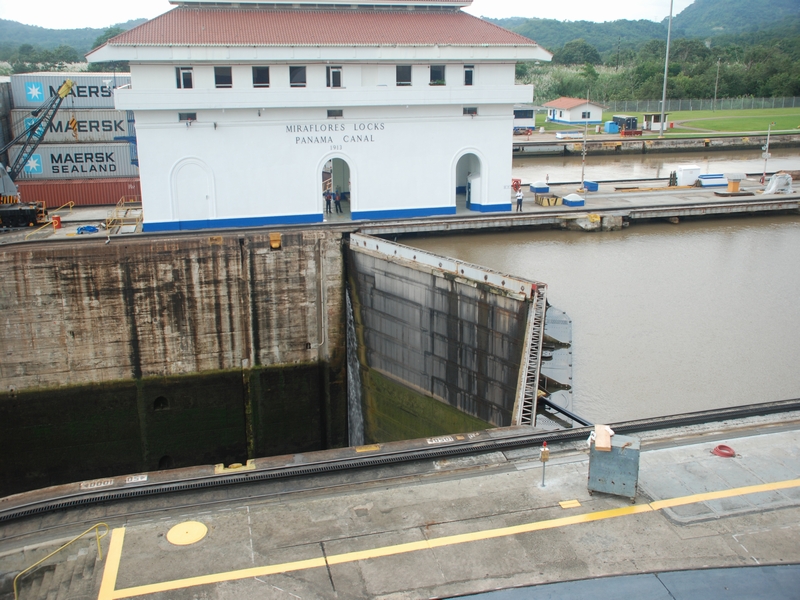 The gates seal perfectly in the middle, the pressure of the water behind them holding them together even tighter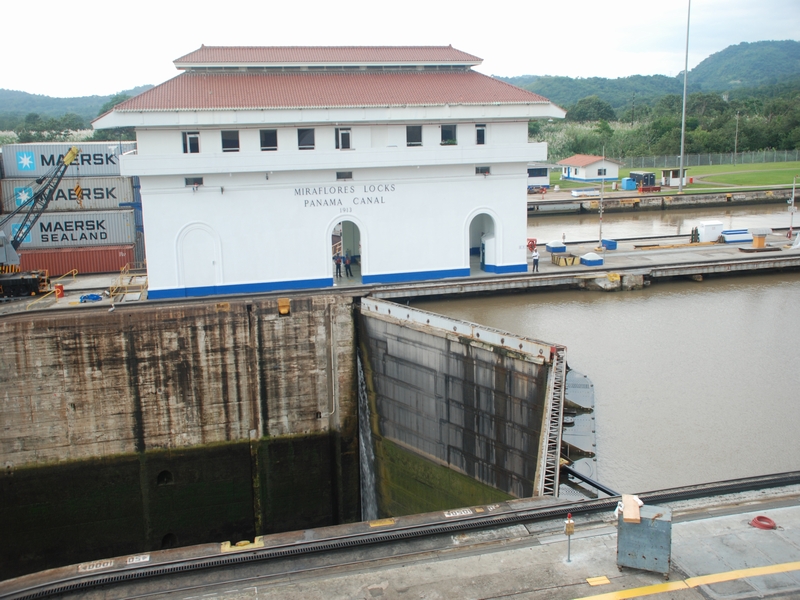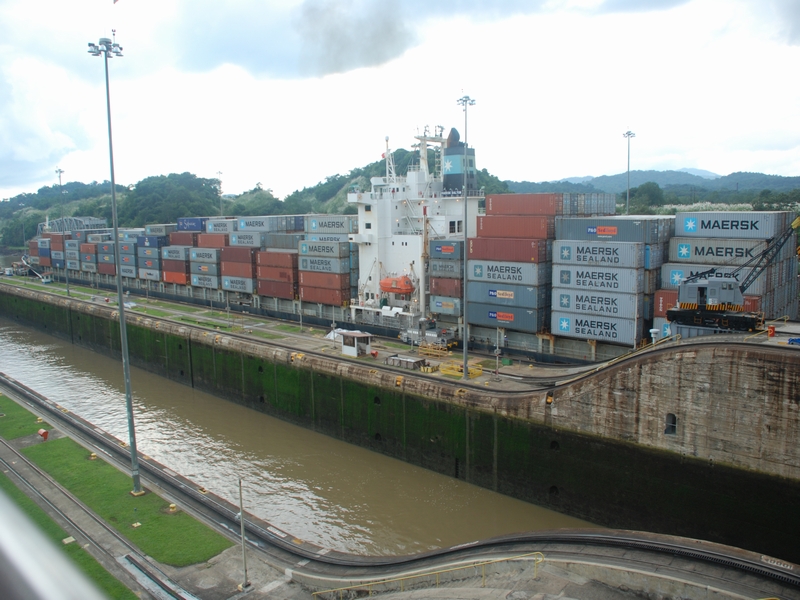 There are 2 lanes at each lock and since 1914 the Canal has never been shut down except for WWII, when U.S. Military ships quickly transited the canal and the U.S. closed it to the public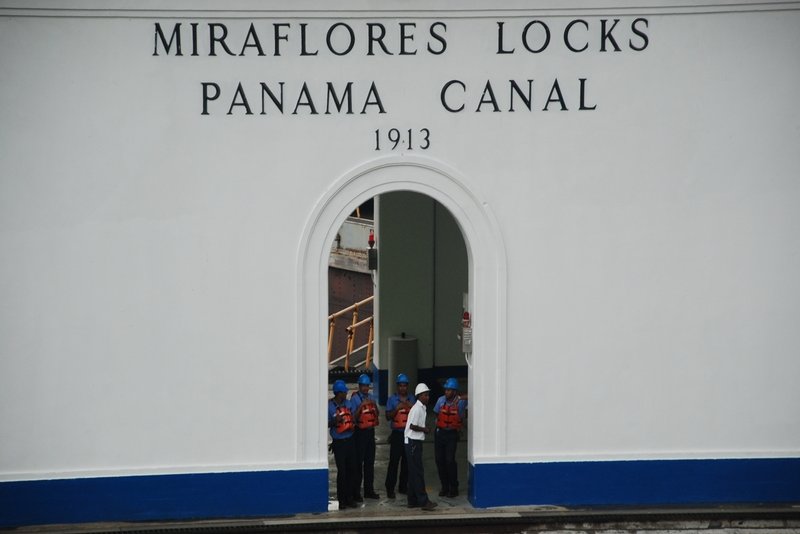 Some of the line handlers at Mira Flores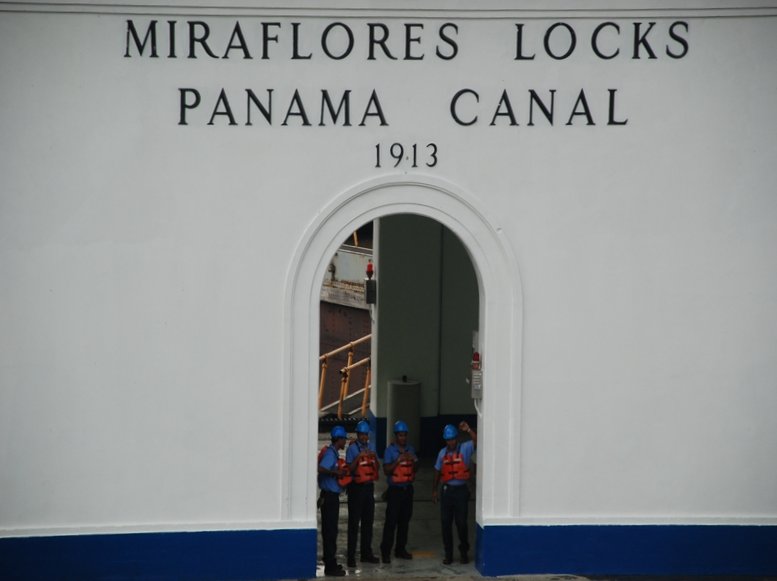 For smaller ships passing thru, men guide the ships thru the Locks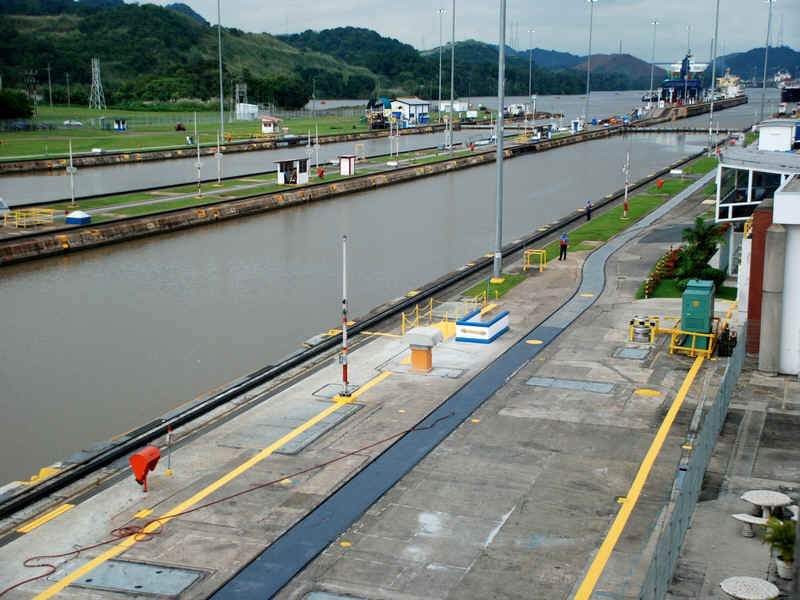 Notice the water level is full right now, at this time of day, the ships were traveling from the Caribbean side to the Pacific side of the Canal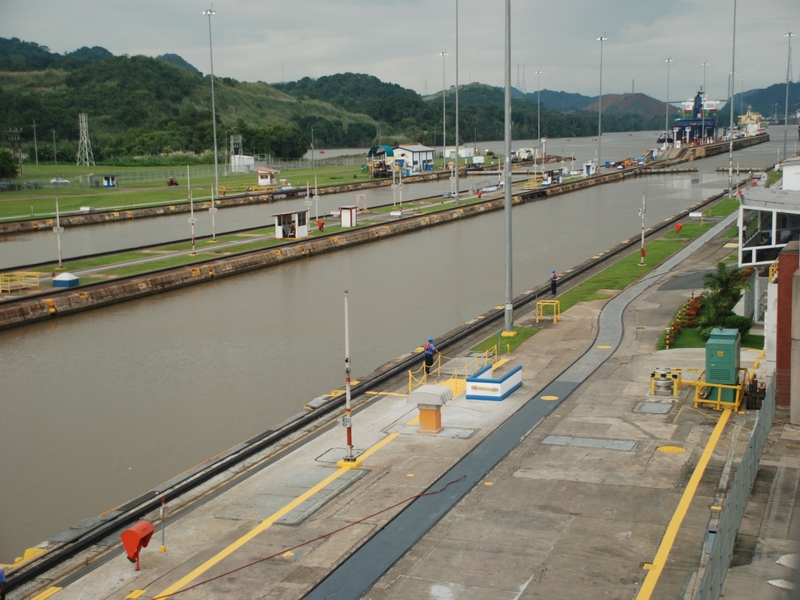 You can see the first set of gates opening as the huge vessels are guided in by tug boats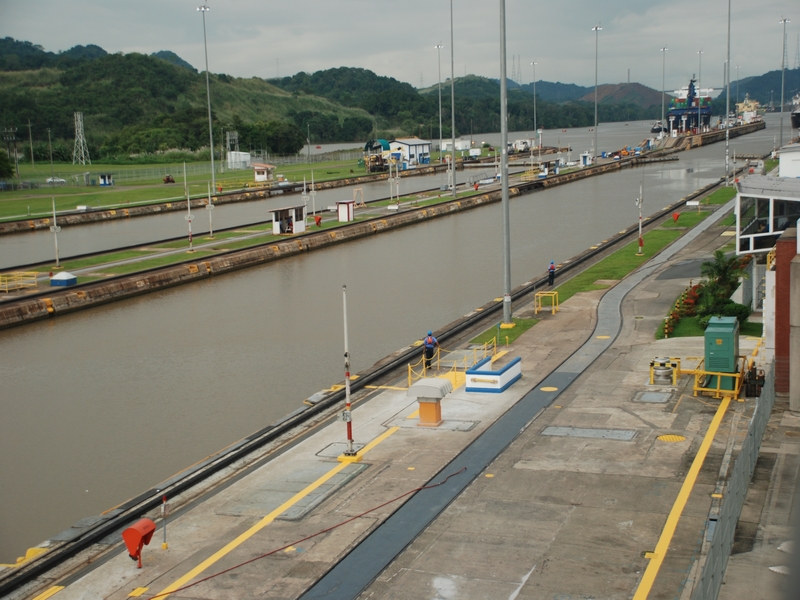 Each lane is opening and the ships are entering the Locks from Gatun Lake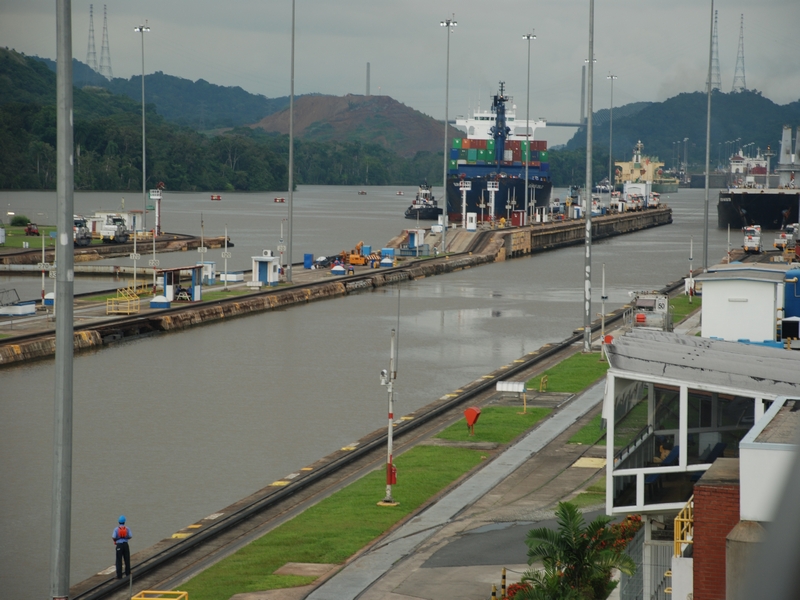 The first set of gates is completely open on the right lane and still closed on the left lane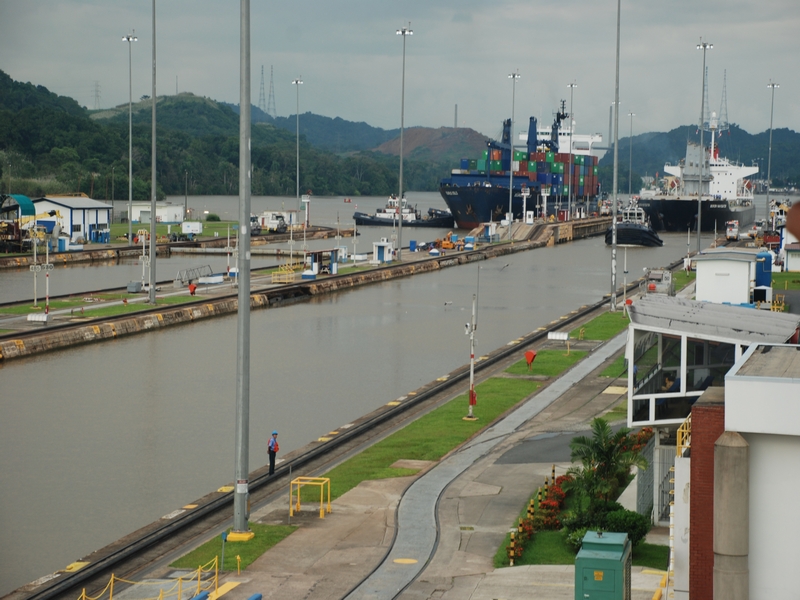 A tug boat pulls in ahead of the large ship in the right lane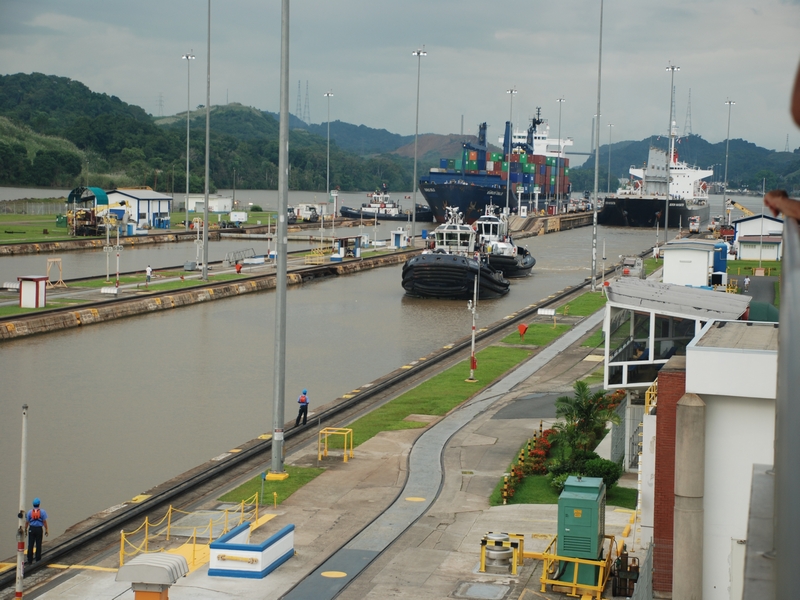 Two Tugs pull in ahead of the grain ship entering the Locks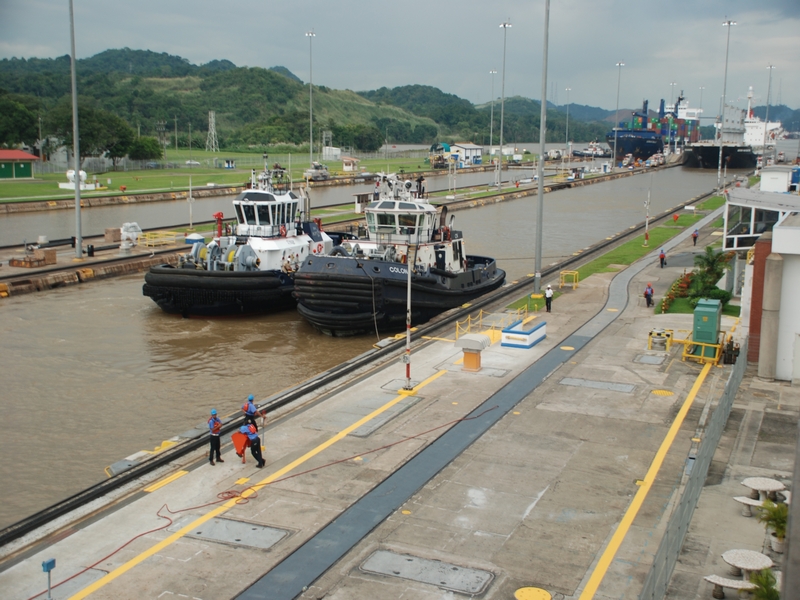 They are rafted together, there is enough room for the ship and 2 tugs to pass thru the locks at the same time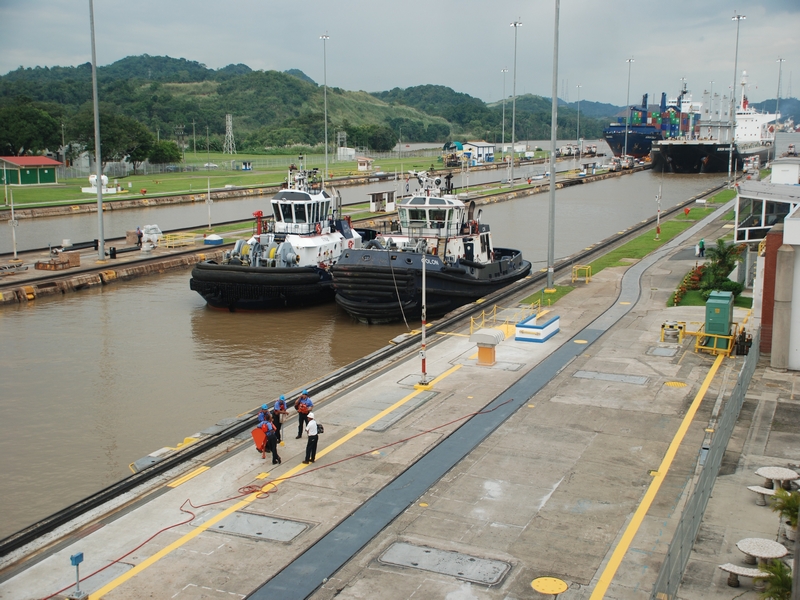 The Locks change direction at 8pm at night so the tugs are preparing to be in position for the change of traffic flow coming up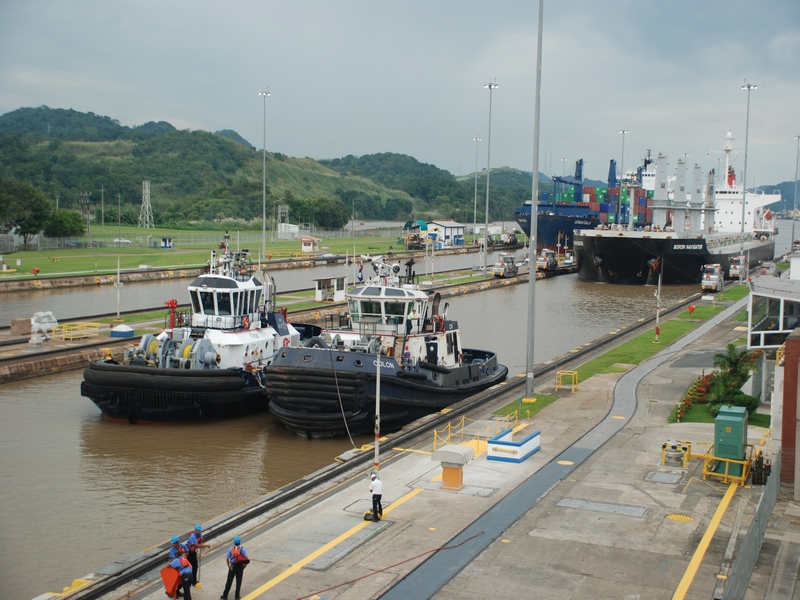 The ship is attached to the Electric Mules and the smaller tugs are tied to cleats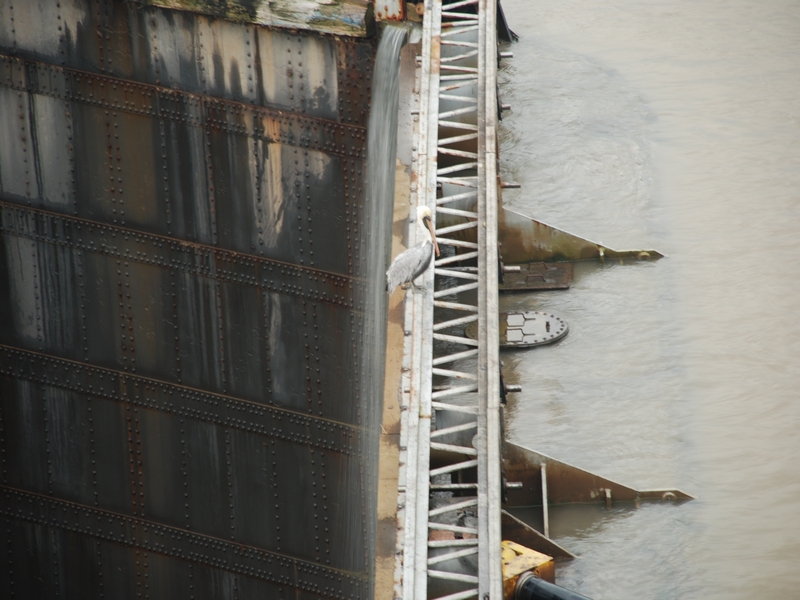 The Locks prepare to open, you can see the water start to pour in between the gates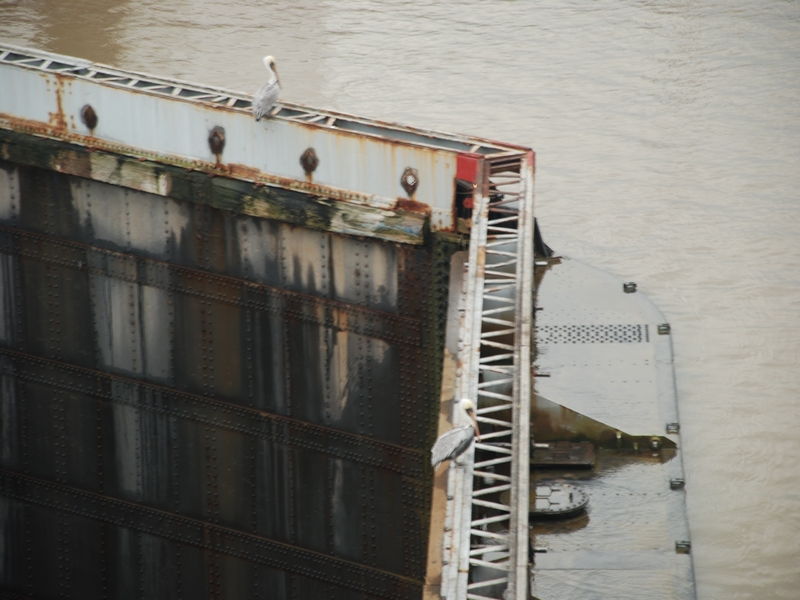 The pelicans are looking for a meal ticket, the water flow causes eddies or whirl pools and confuses the fish who are easy pickins for the Pelicans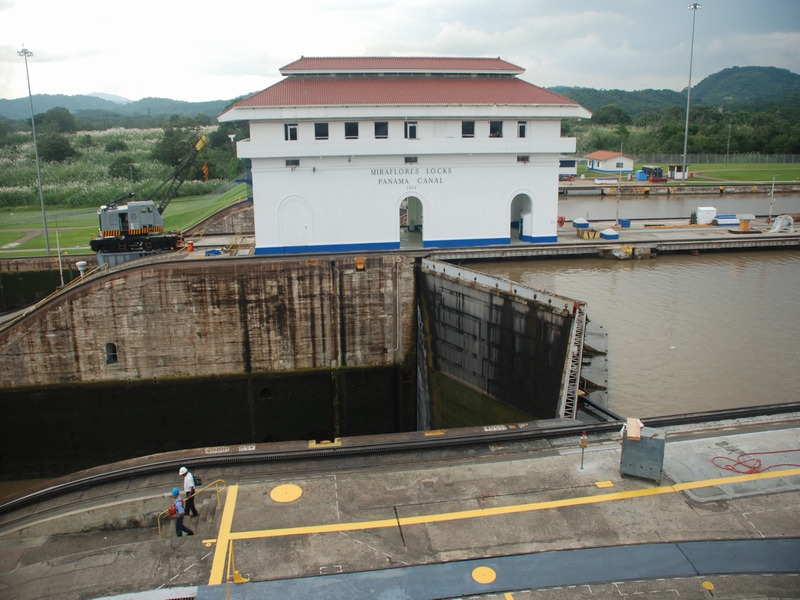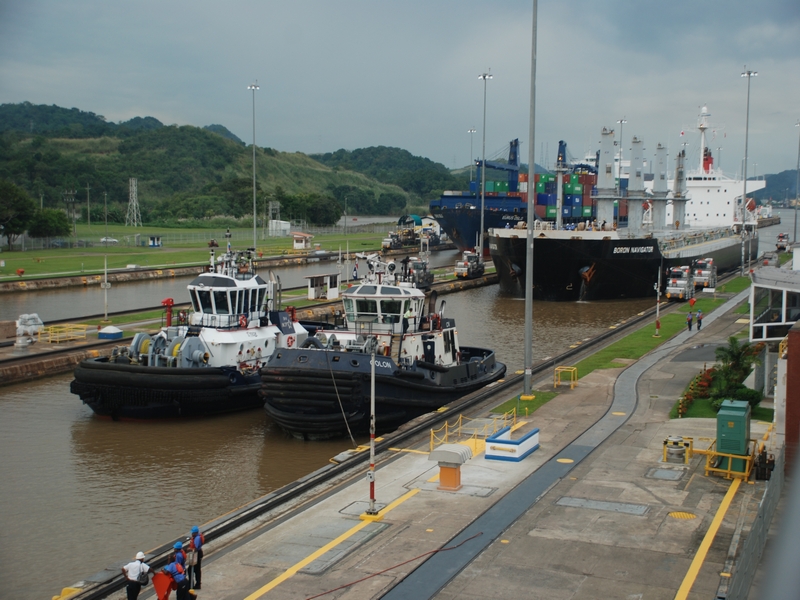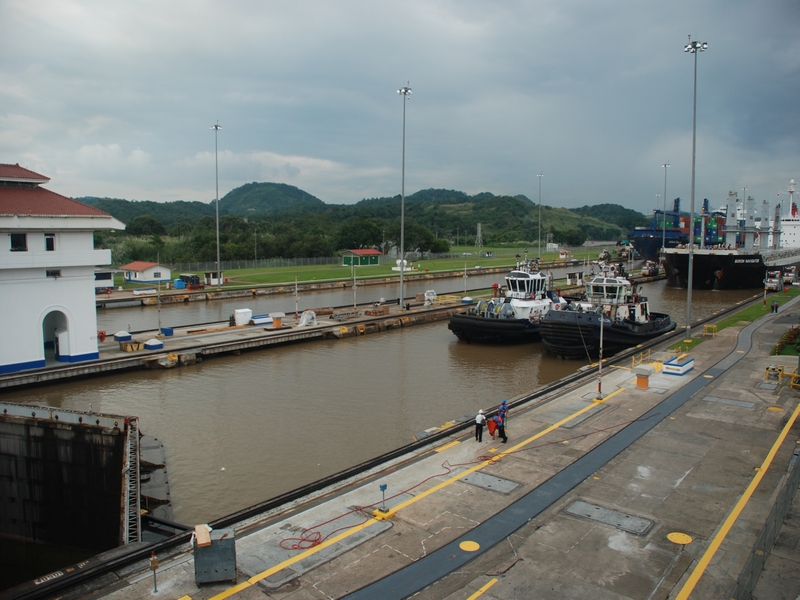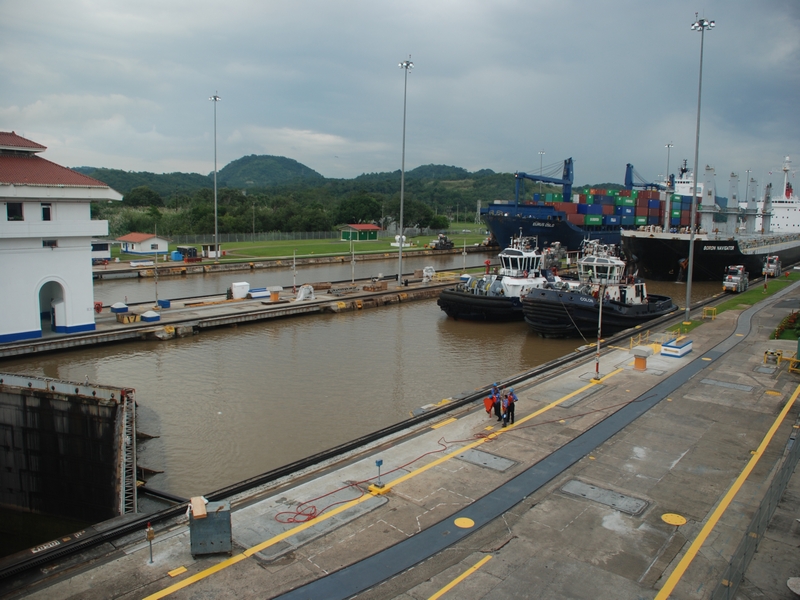 The gravity fed pumps release water from the Lake down into the Pacific Ocean, no hydraulic pumps!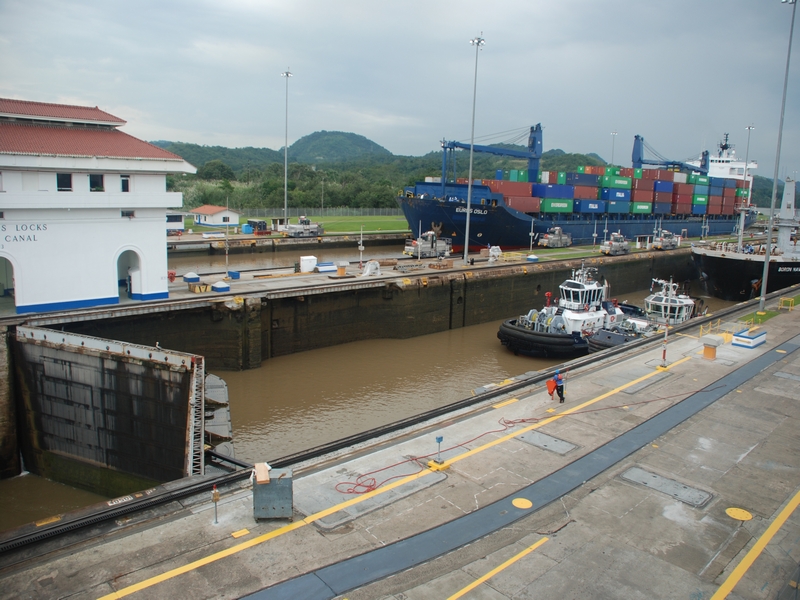 The pumps release thousands of gallons of water and lower the locks 8 - 10 meters in 1 minute and 50 seconds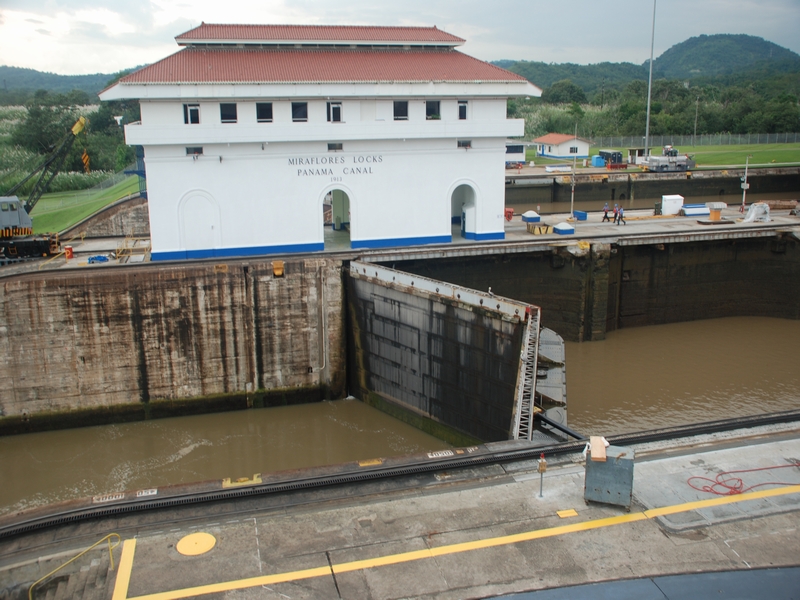 Almost There!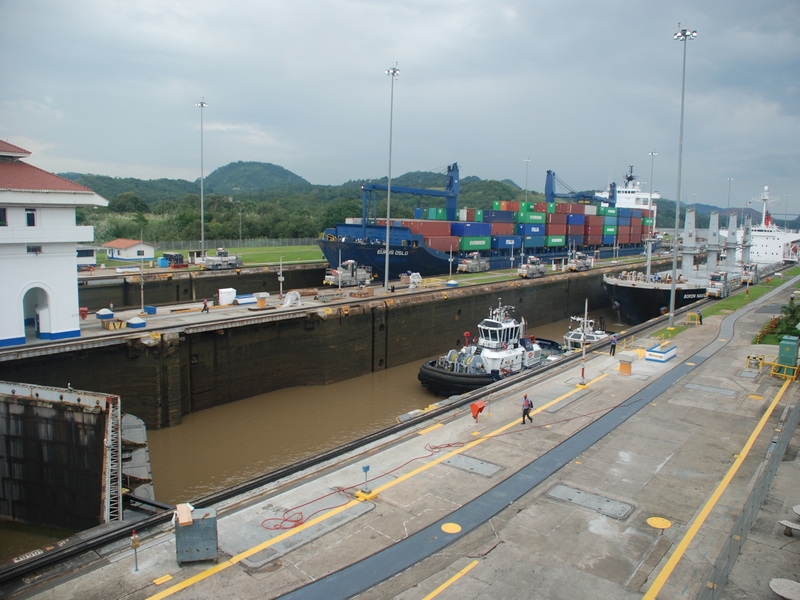 The 2nd lane, with the container ship is still much higher than the tugs and grain ship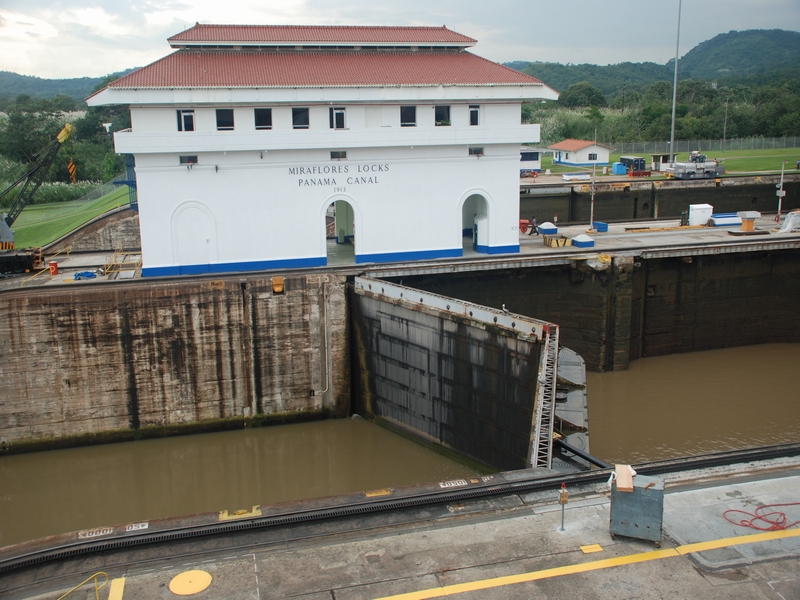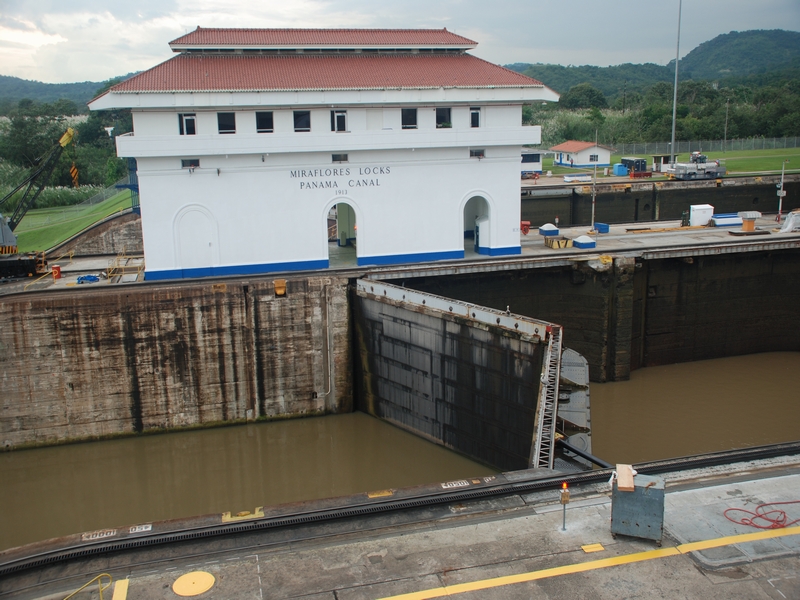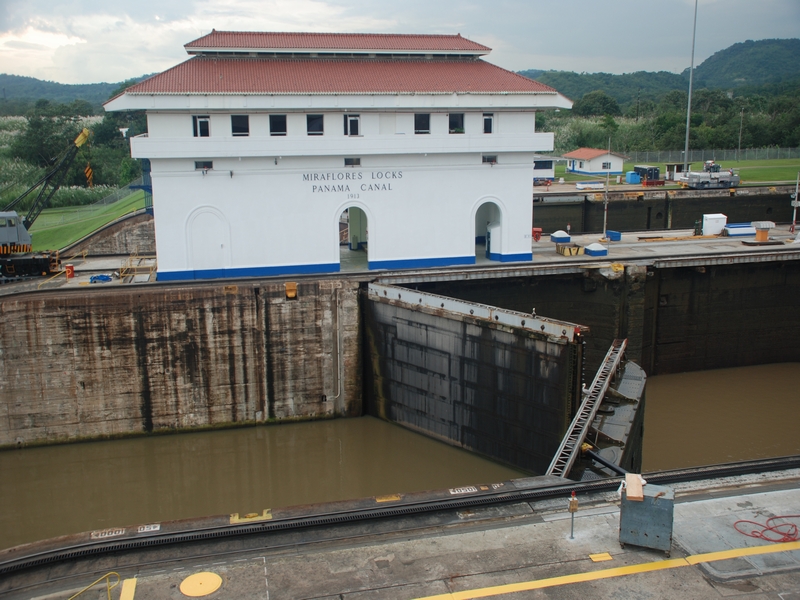 The gates begin to open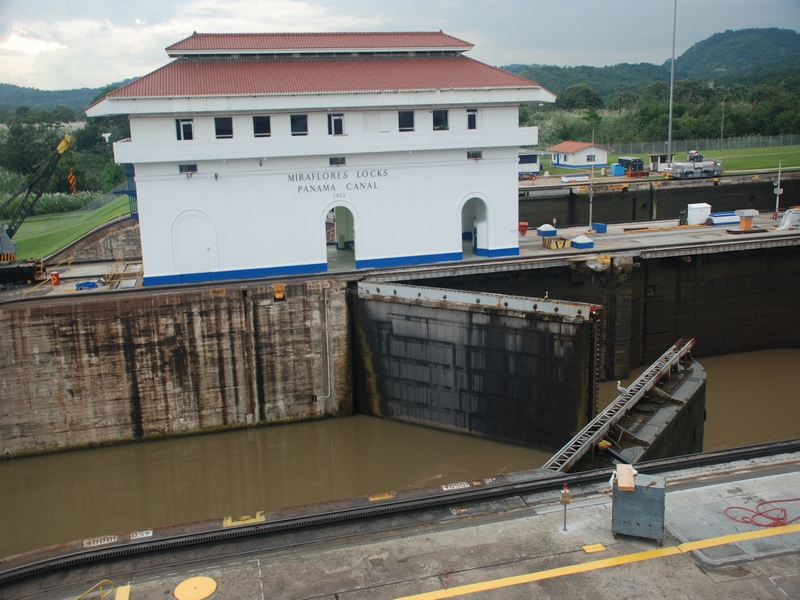 Sending the ship to the next set of gates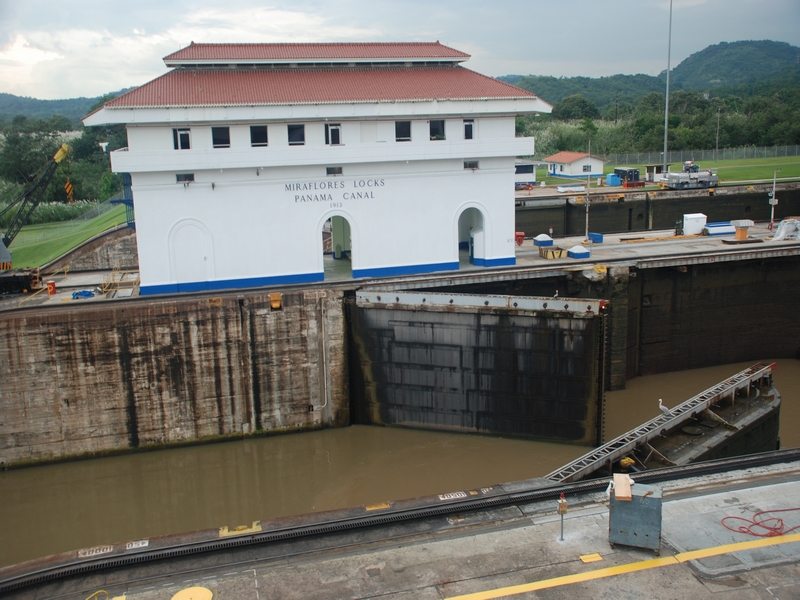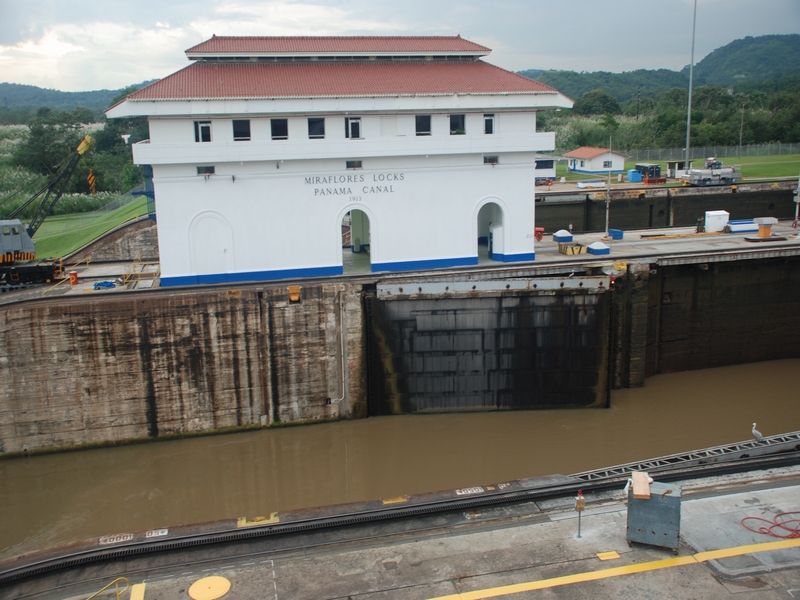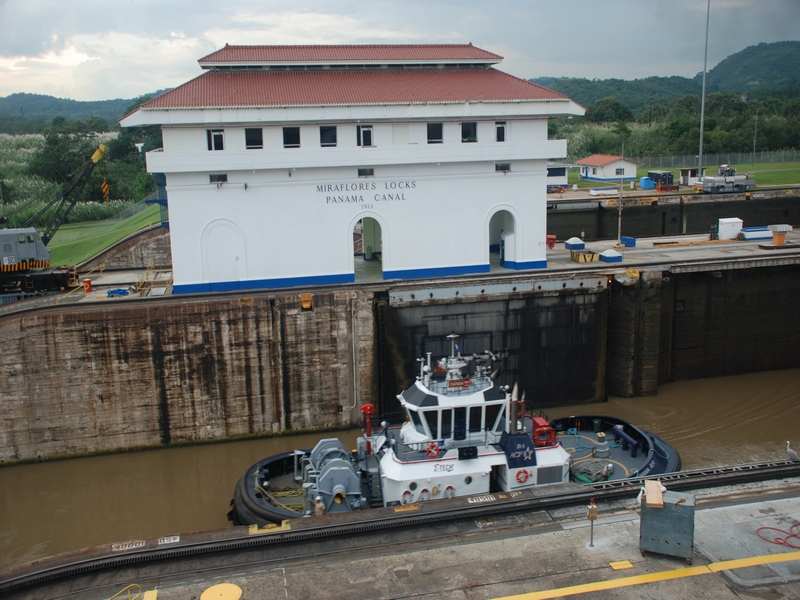 Tugs Transiting, you can see how the gate fits perfectly into the side of the lock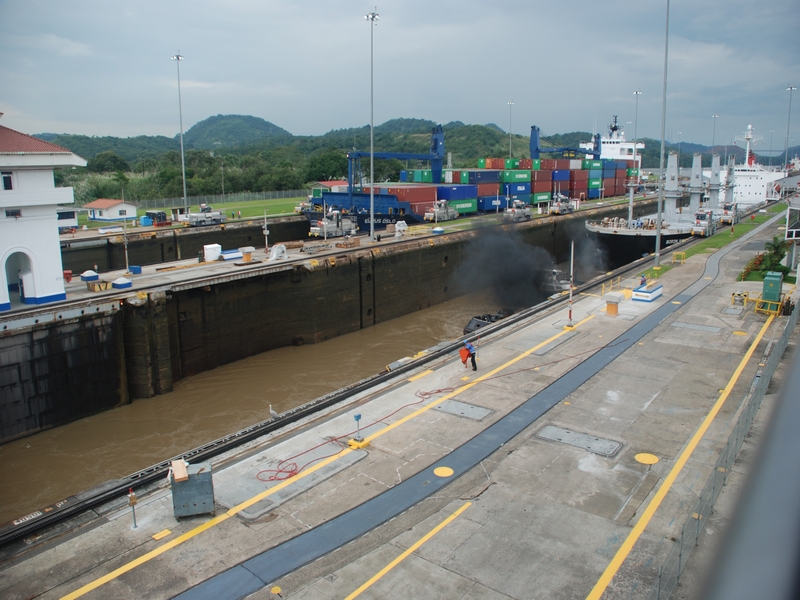 You can also see how the gate can fit into a space in the wall of the channel to the right of where it rests now, so the ships can use the same channels for transiting North or South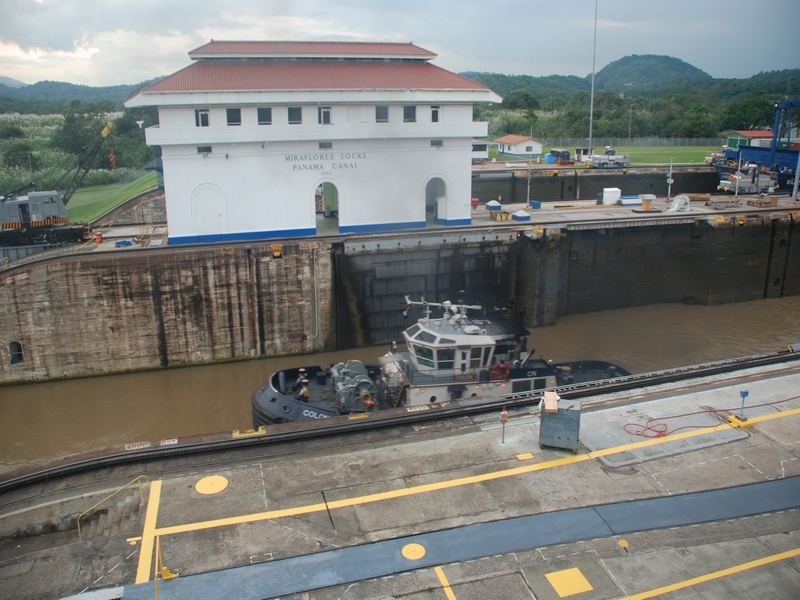 Tug passing thru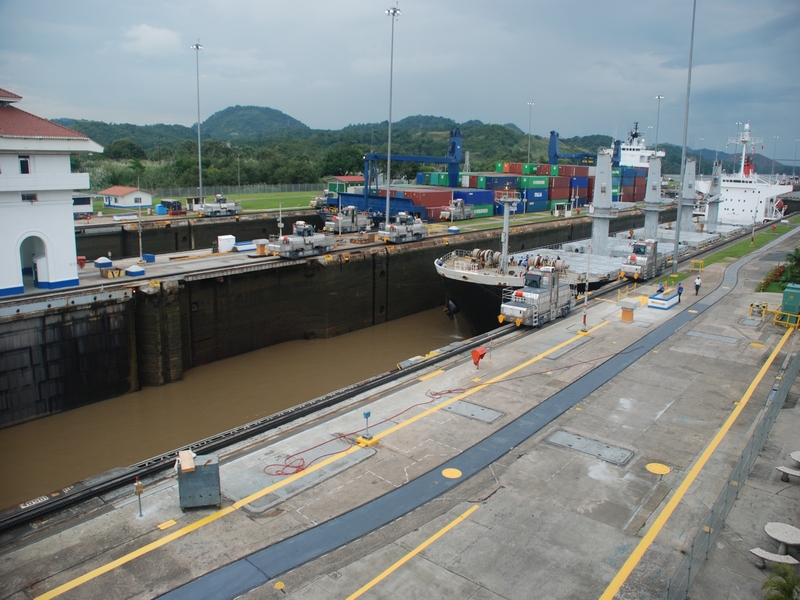 These ships must pay to have a Canal Authority Captain on board, the regular Captain or owner of the vessel cannot transit without a professional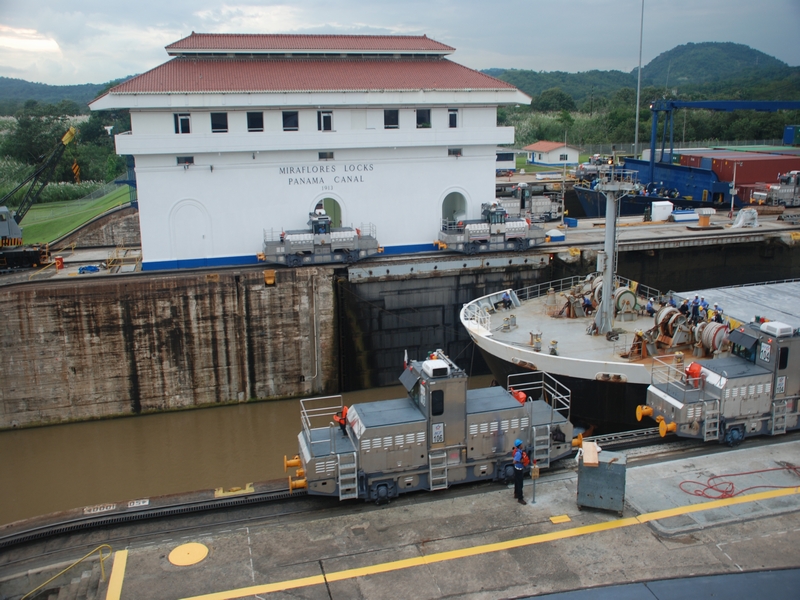 The grain ship being pulled by the Electric Mule past the gates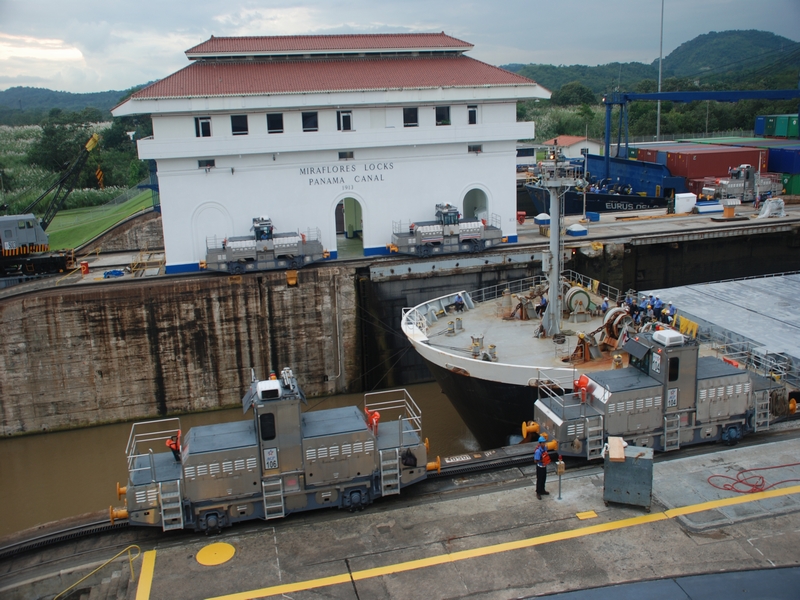 There is also a certain number of crew you must have on board your vessel, the average amount of money paid by a ship this large to transit is in the hundreds of thousands of dollars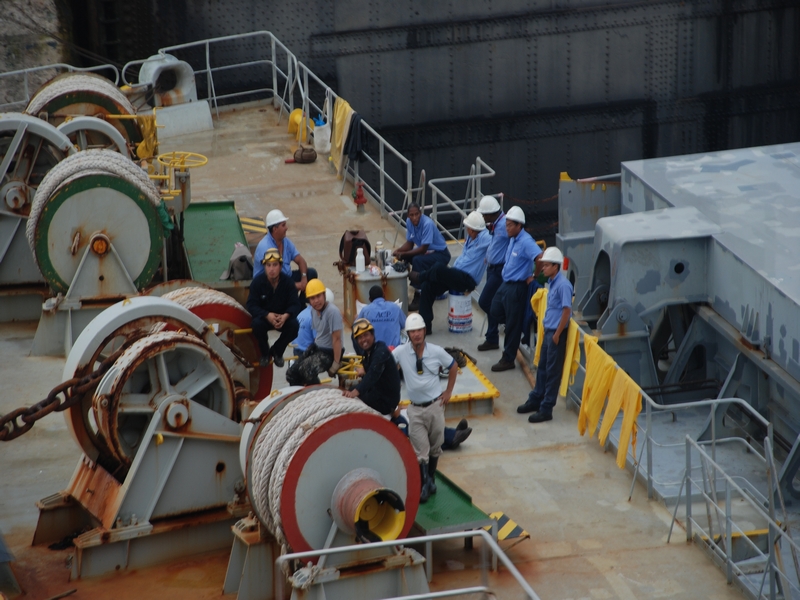 Some of the crew posing for pictures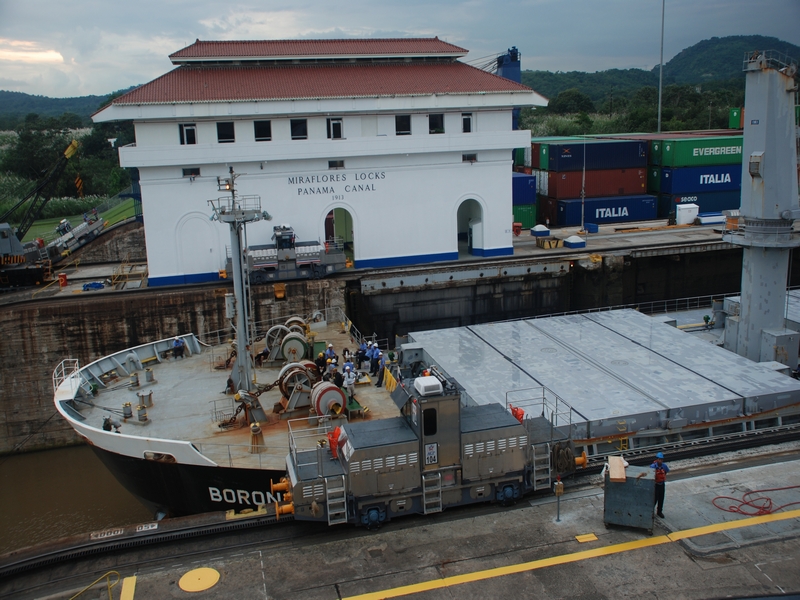 The most money ever paid to transit was by a cruise ship who recently paid over $375,000!! All fees have to be paid in advance with cash or wire transfer and can only be paid in American dollars. The least amount of money ever paid was $.36 in 1928 by the adventurer Richard Halliburton, he swam the canal!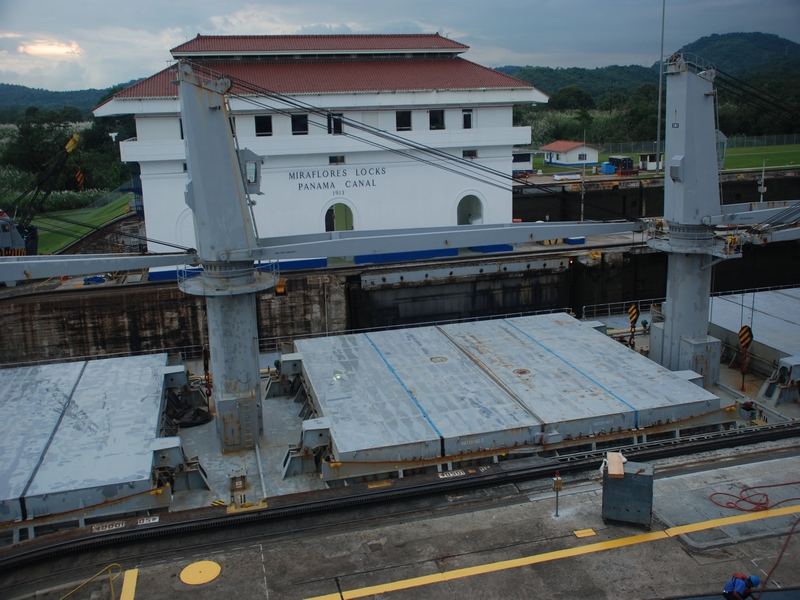 You can see the towers or cranes on deck that will lift the cargo, hidden beneath the large metal doors, to the Port where it is to be delivered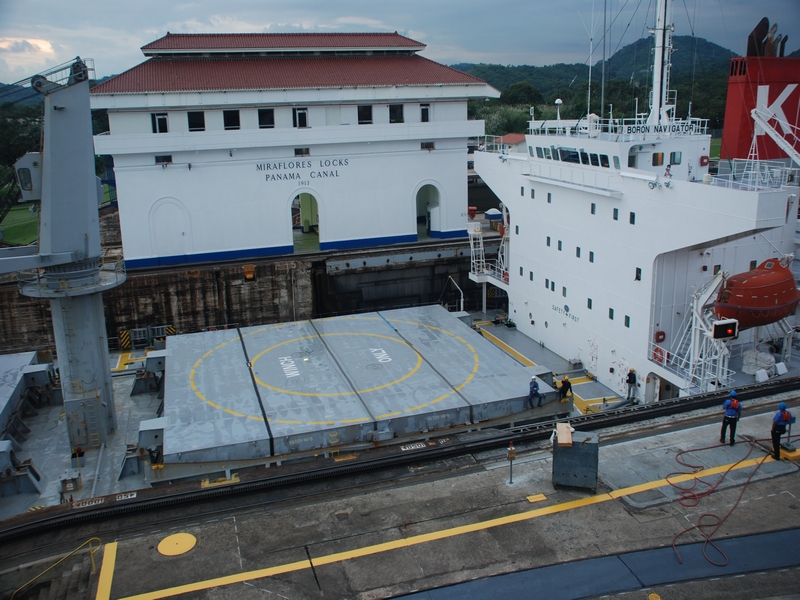 This set of doors look like it says "winch only" not sure why??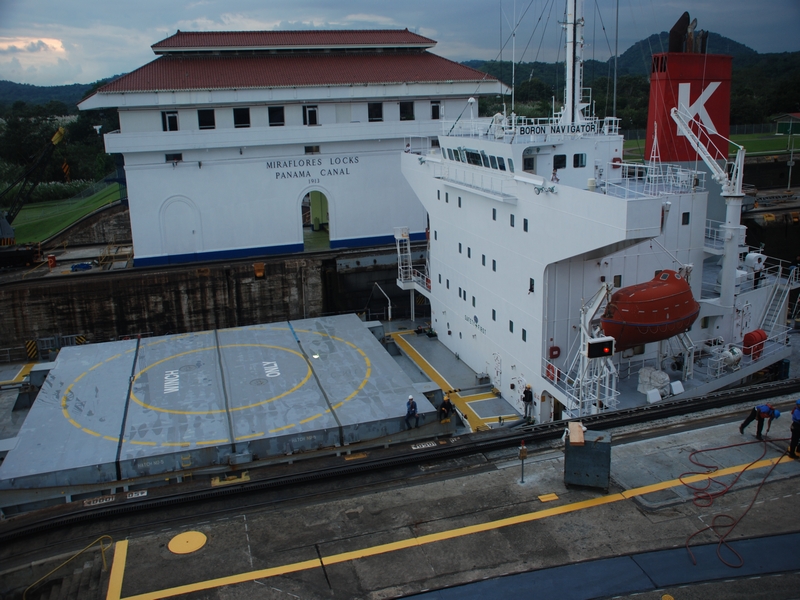 The name of the ship was Boron Navigator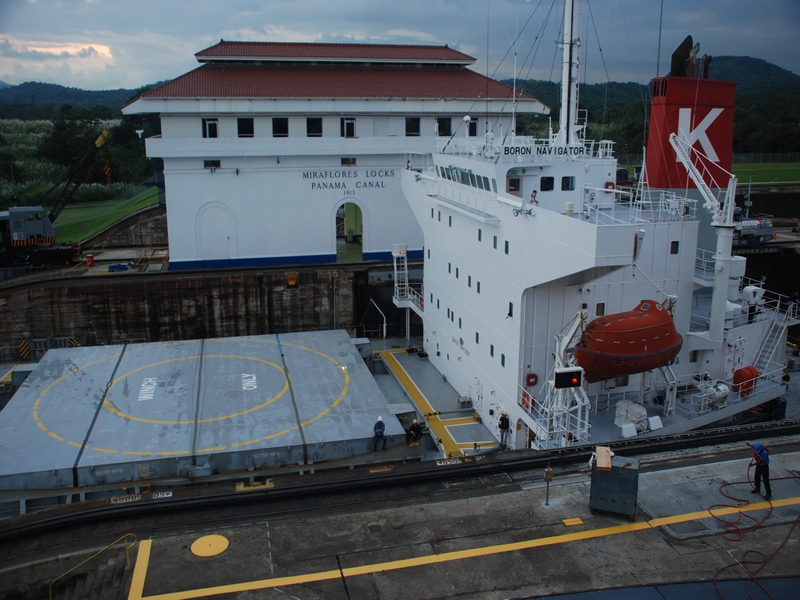 You can see the submarine looking craft on the right, that is the "life raft"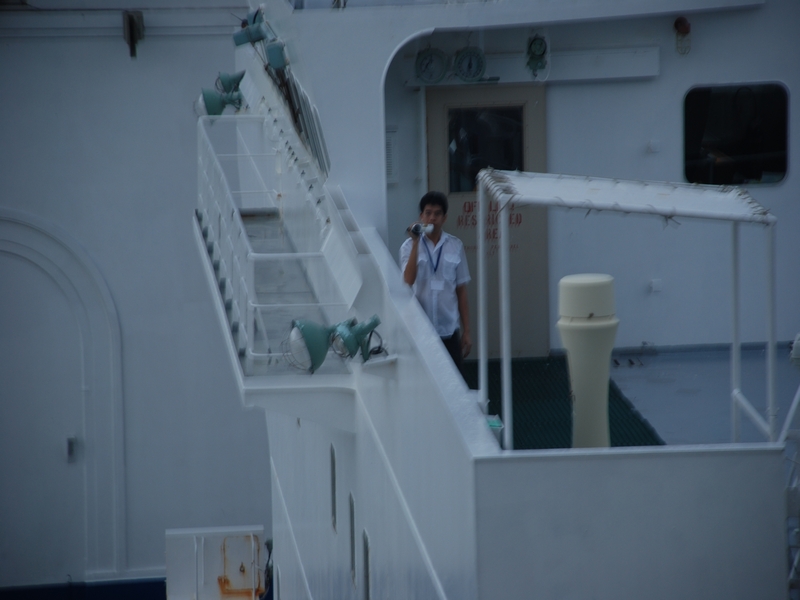 Some of the crew were also filming us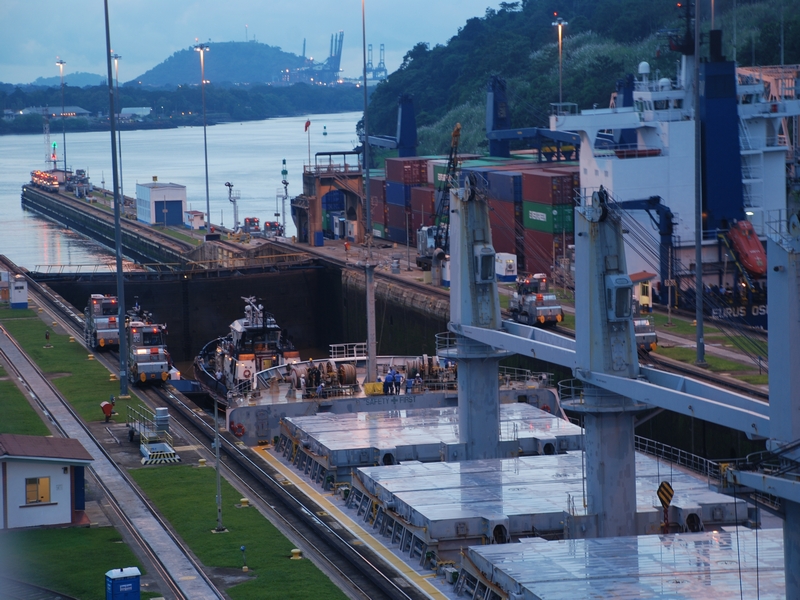 It looks like the container ship beat the grain ship through the locks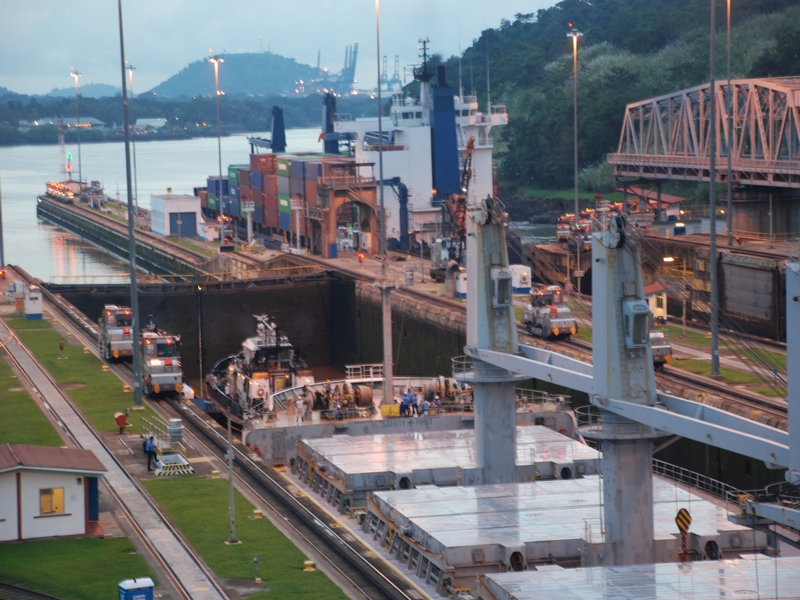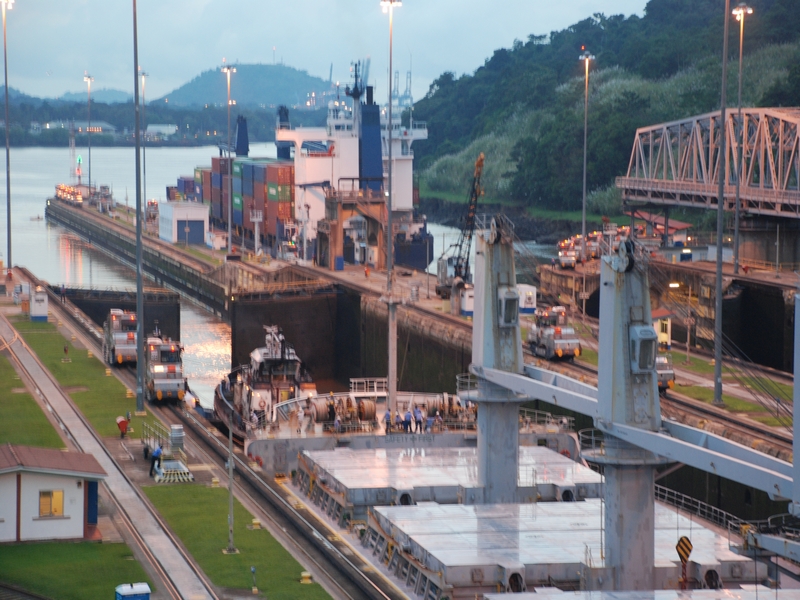 There is also a swing bridge to the right so cars or trains can pass, but it does not happen often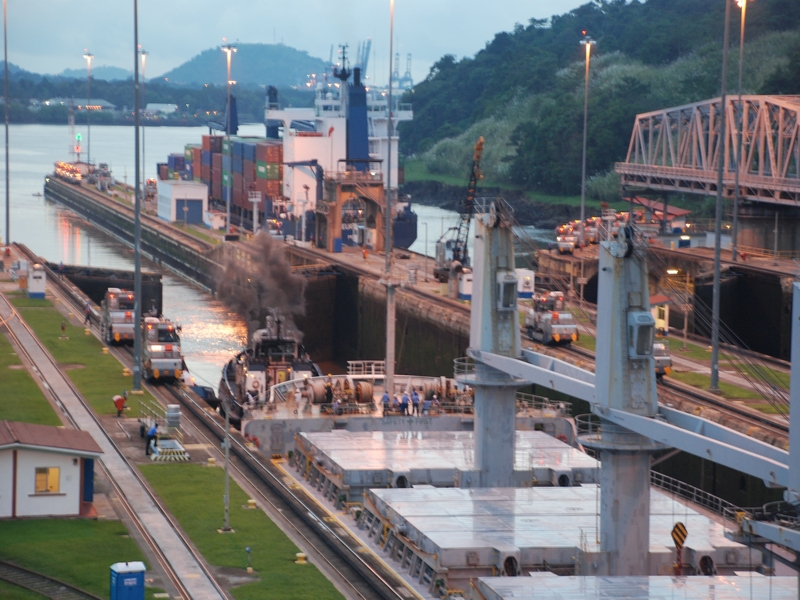 The 3rd set of gates opens and the ship is on it's way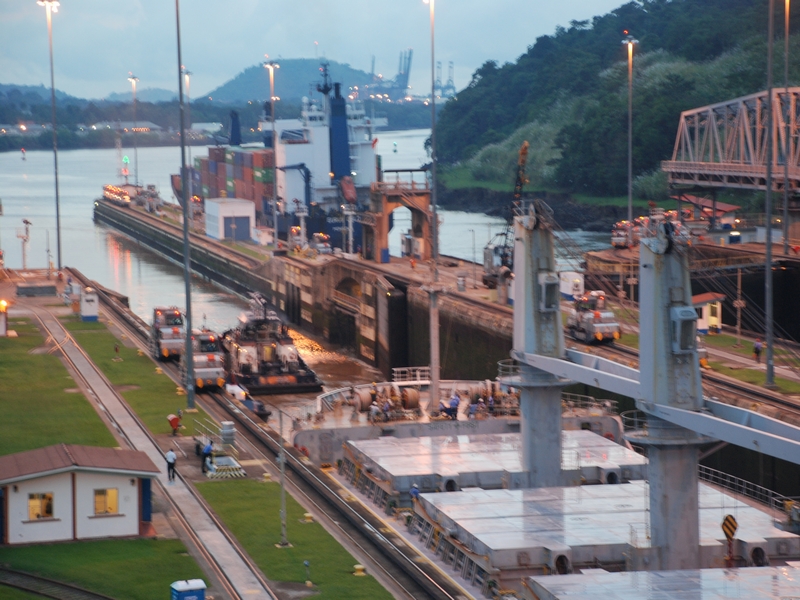 Tugs first of course!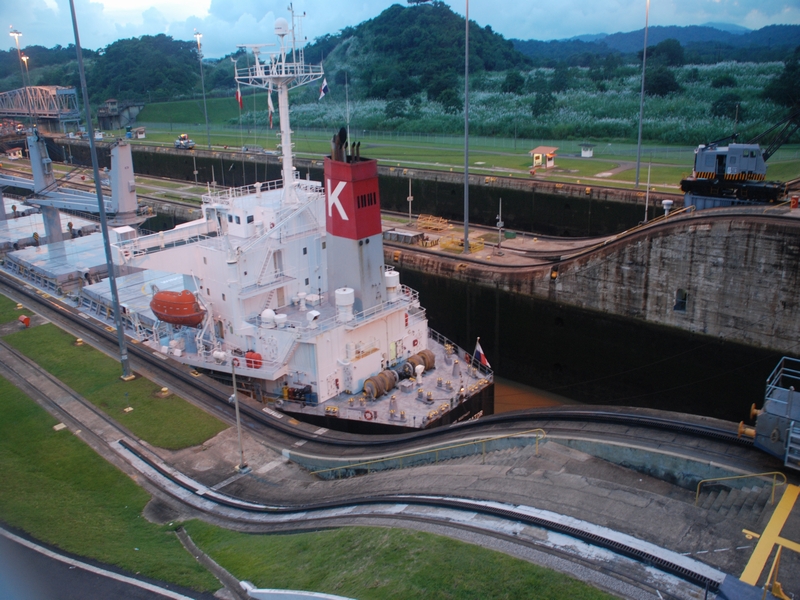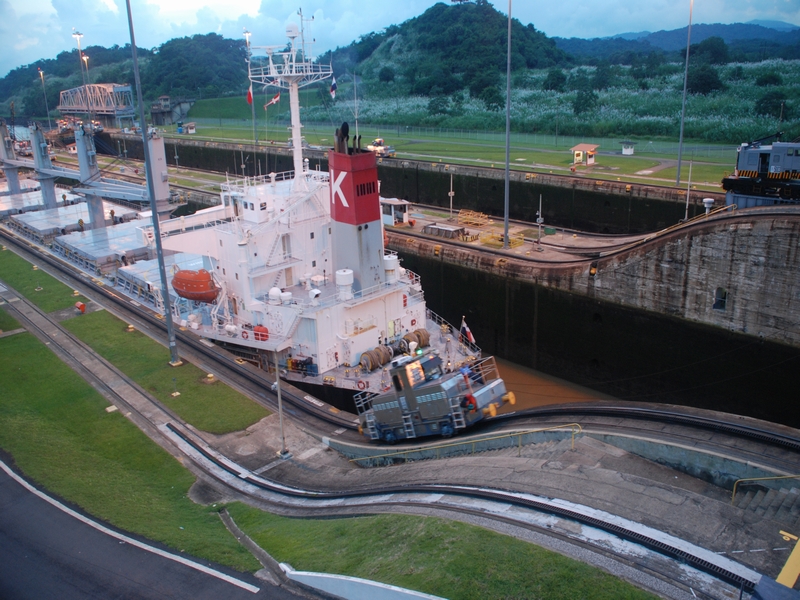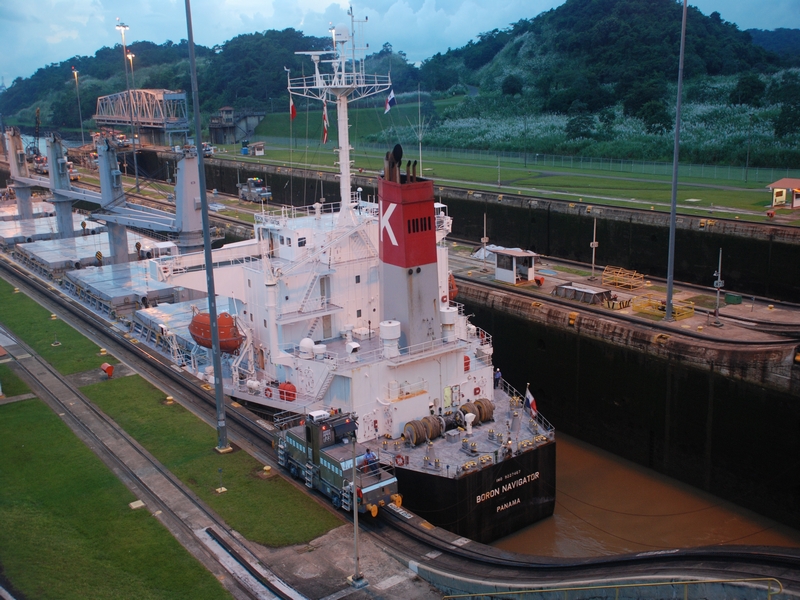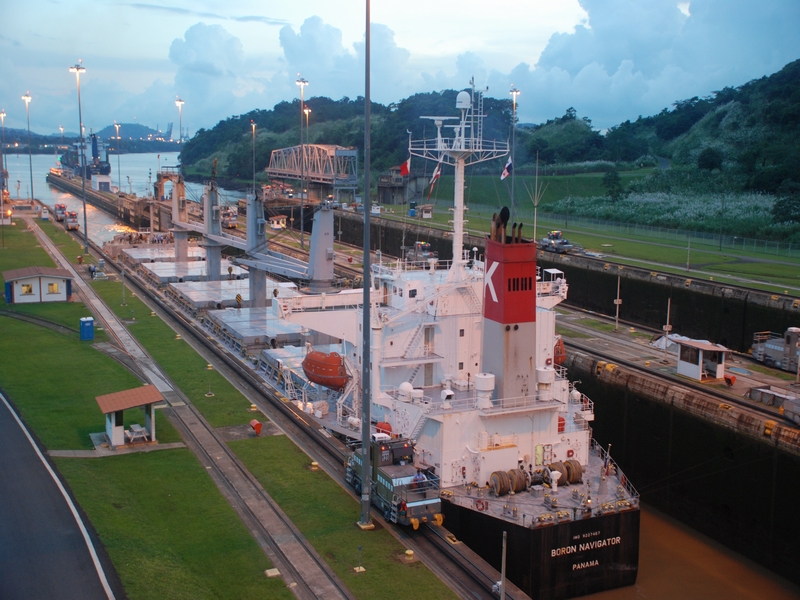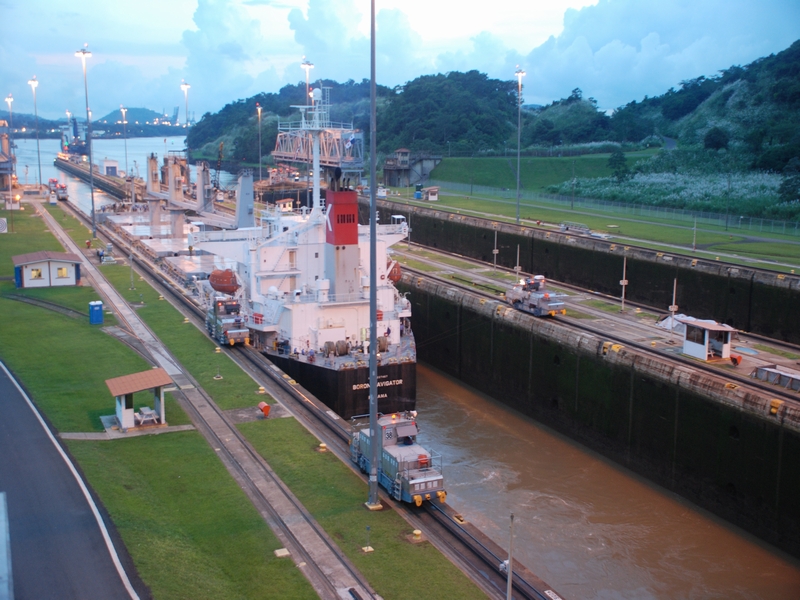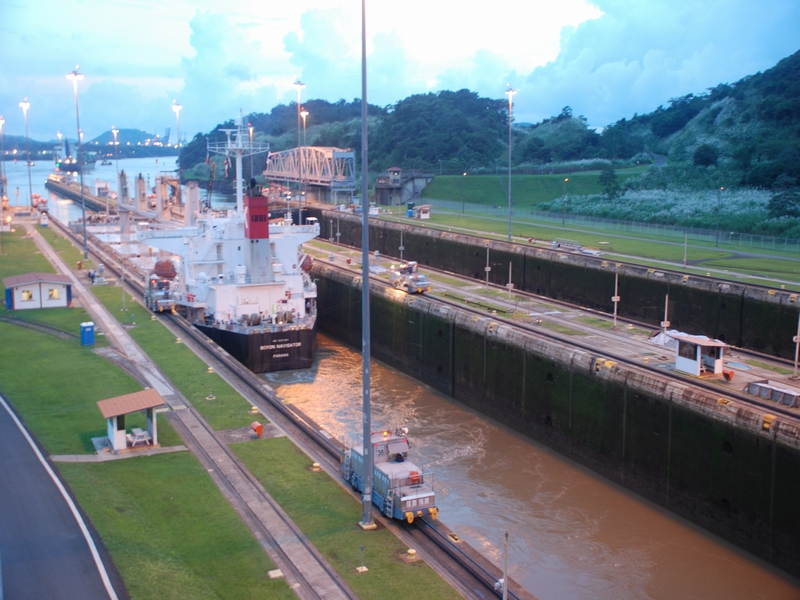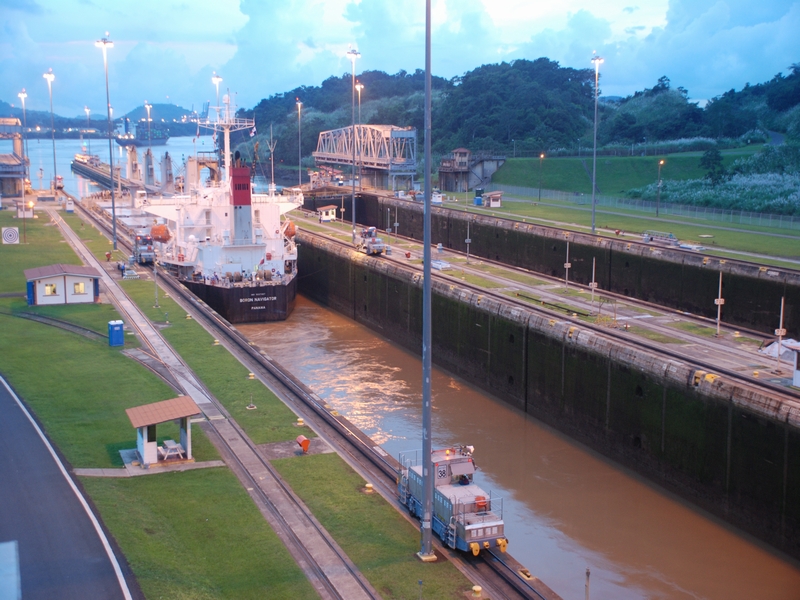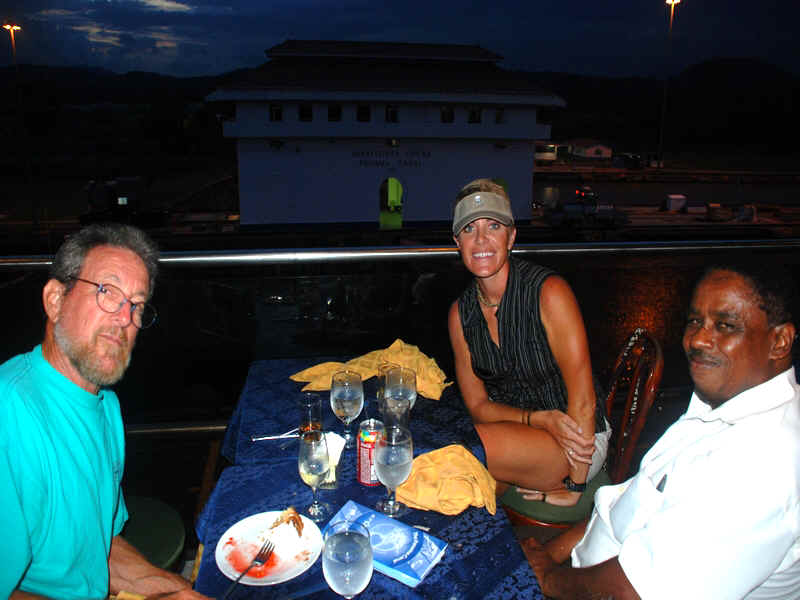 Our Vantage point at Mira Flores was a great restaurant with a balcony and an excellent buffet!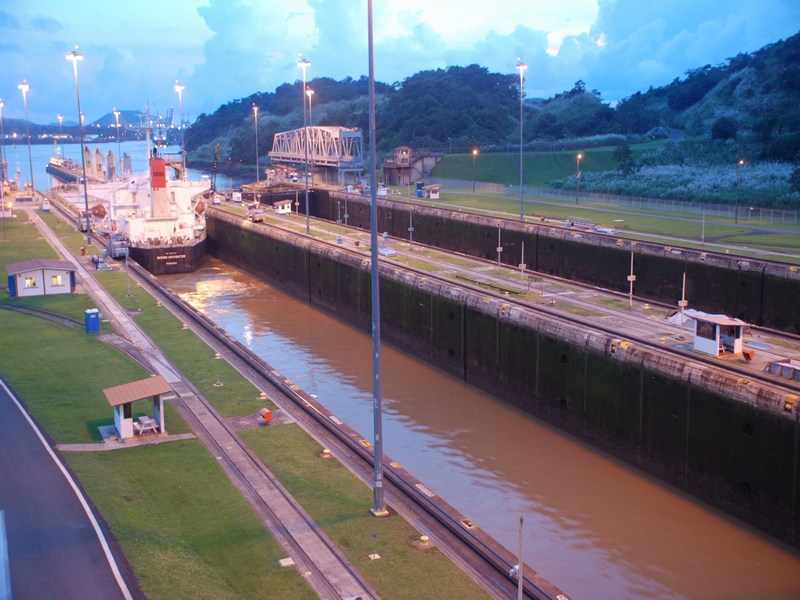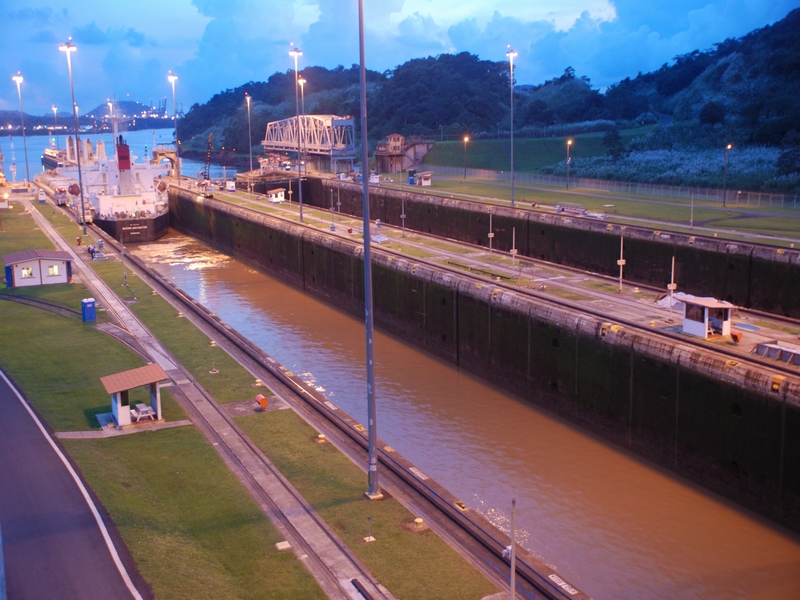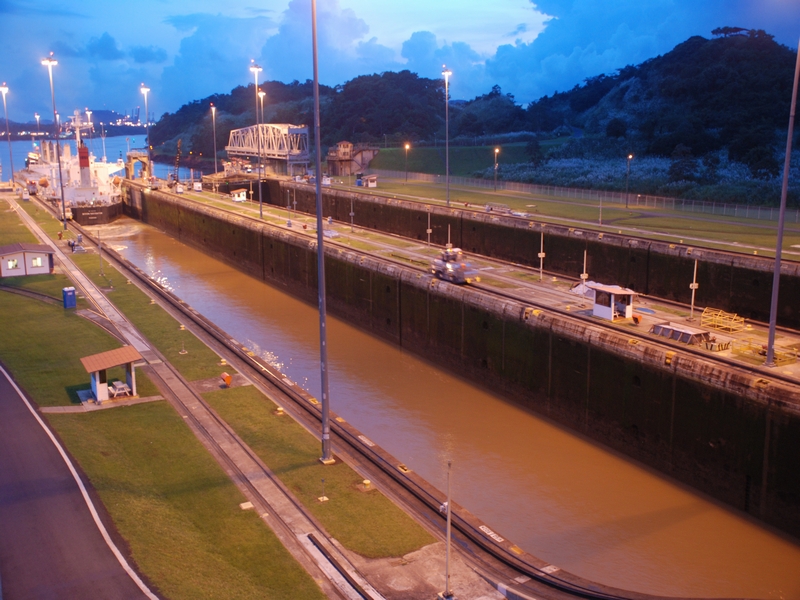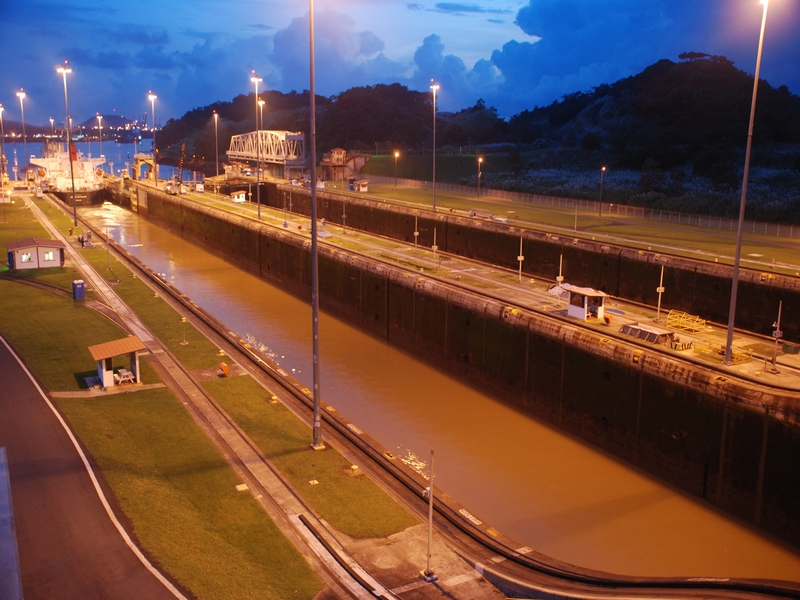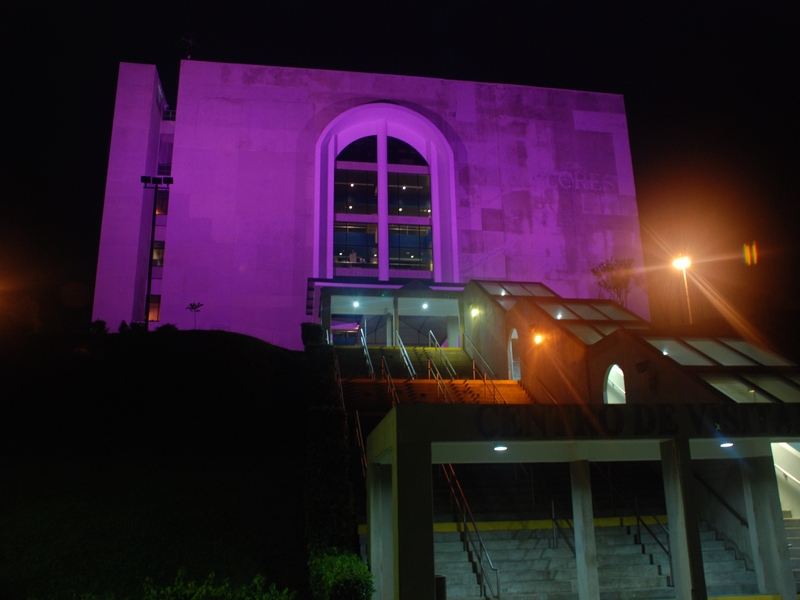 Visitors Center at the Mira Flores Locks an admission is charged if you do not eat at the restaurant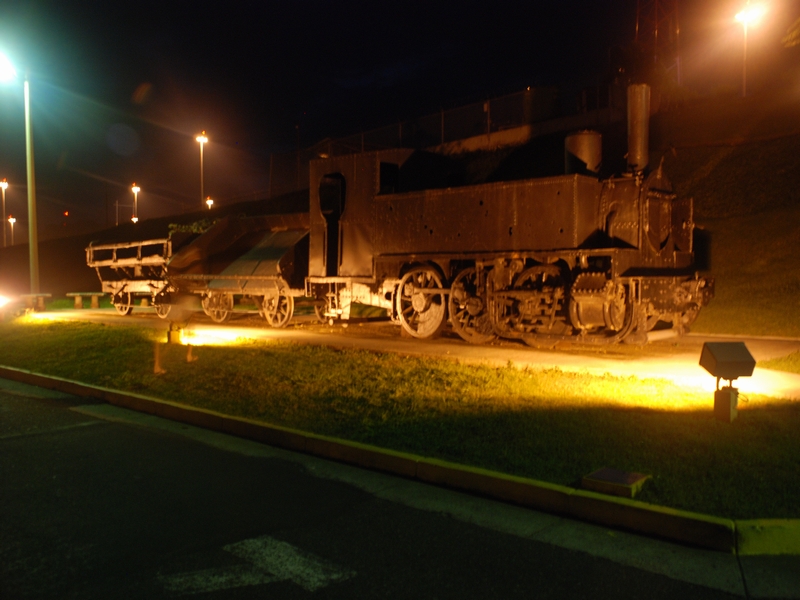 One of the original trains that helped to build the Panama Canal transporting workers and supplies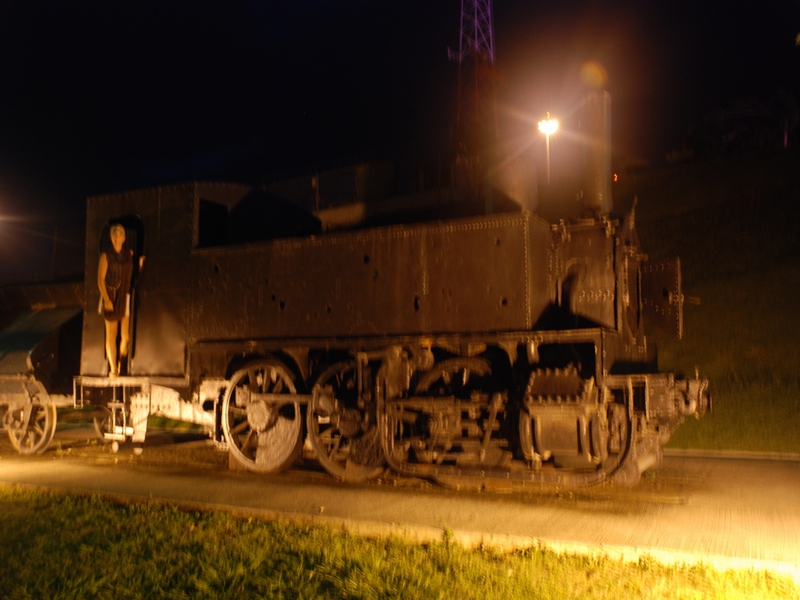 Kate riding the Steam Engine