Musha Cay, Southern Exumas
We left Little Farmer's Cay with an eye on making it to Georgetown. A Norther had just blown through, and left a strong high pressure system southeast of the area. The wind had been blowing out of the south for several days at 20+ knots, but for some reason we convinced ourselves it wouldn't be that bad out in the ocean, and another thing clouding our judgment was that we were sort of anxious to get to Georgetown. So, we slipped our mooring and headed towards the cut. Heading towards the cut, you could see that with the tide going out and the wind blowing against it, the waves in the cut were built up huge, but since they weren't breaking, we decided to power through and get out into the ocean to see how bad it really was out there away from land. We were getting pounded pretty hard with 10-15 foot seas and heavy wind that wasn't helping us sail, only helping blow the spray straight back into our faces. The whole boat was covered several times by waves that crashed over the front. Ok, only 6 or 7 hours to go, right?? So, Mike said, "We're already in the Bahamas - why in the world are we doing this to ourselves??", and headed below to search the charts for a suitable cut to bail out. The problem was, that the tidal flow would have only increased during the time we were out in the ocean, and if we didn't pick the right cut, we would get caught in what the Bahamians call a "rage" - basically an outgoing tide, opposed by a strong onshore wind that creates huge, dangerous, breaking waves in the mouth of the cut. Also, when we did pick our cut, once we started in, the huge following seas would make turning around safely without getting rolled almost impossible, so whichever cut we picked it better be right, and not in a rage, or we would be stuck in a pretty hairy situation. Mike eventually chose Big Rock Cut north of Musha Cay, and after changing our approach angle several times to minimize the effect of the large following seas, we entered the cut and found it to be in pretty good shape. So, up the RPM's to fight the ebb tide, and stay in the center, between the large brown jagged rocks. We made it!
With that behind us, we found a beautiful anchorage just behind the north end of Musha Cay, directly across from what looked like a very nice resort, with a private beach, complimentary jet skis, etc... We had just become scenery for people who paid huge amounts of money to stay at this resort. Hope they didn't mind our laundry strung out to dry on the lifelines. We settled in to enjoy the lack of motion for the rest of the afternoon, and decided that we would wait right there until the time/weather was right to go to Georgetown. And, we spent 4 days in the same spot - we never even lowered the dinghy - we just relaxed, snorkeled (without Barry), shelled, read several books, grilled out, laid out in the sun, played underwater bocce ball, and whatever else we felt like. It was great, and we wondered why we hadn't done that sooner. On the third day, a boat came in with some people that we had met in Nassau. They were traveling with another boat and were looking to go to Georgetown the next day. It was still blowing 15-20 from the south, and had been since we had arrived. They asked if we would like to travel with them the next day to Georgetown, but we knew what it had been like out there, and with the winds still blowing that strong, without a break, it wasn't likely to be much better, so we just smiled and said we think we'll take it easy for one more day. They headed out that next morning and got bashed around (we know because they called us on the VHF and told us), while we continued our quest for extreme relaxation. That day was the nicest of them all, because by the afternoon the winds were finally dying, the waters began to flatten out, the sunset was gorgeous, and just after that, a full moon rose brilliantly over the eastern horizon. We spent the evening in the cockpit just taking it all in - it was absolutely perfect. The wind died to almost nothing, and for the first time in over a week, our wind generator stopped spinning. Mike slept in the cockpit that night, and woke up early to announce that the time had come to point the bow towards Georgetown, and at 6am or so, we exited the now quiet Big Rock Cut to enter the ocean, which now more resembled a lake. It was a beautiful trip, iron genny flying, all the way to Georgetown. We did catch one fish on the way - only a small Barracuda, which went back in the water with a huge headache and some serious dental work in his future.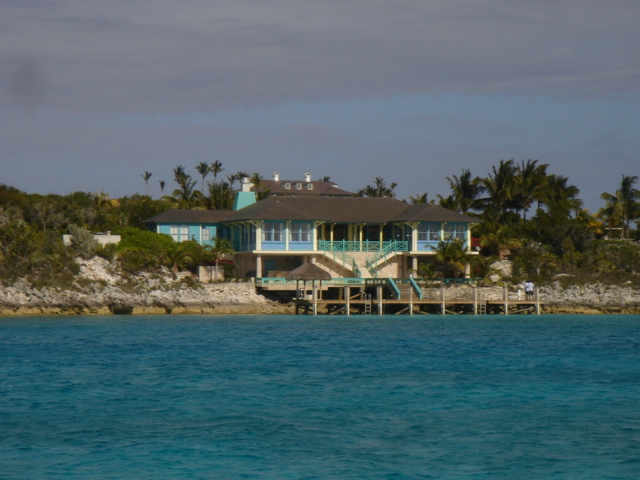 This is a gorgeous resort on Musha Cay a private island. We wondered what millionaires were staying there that week. We saw them many times.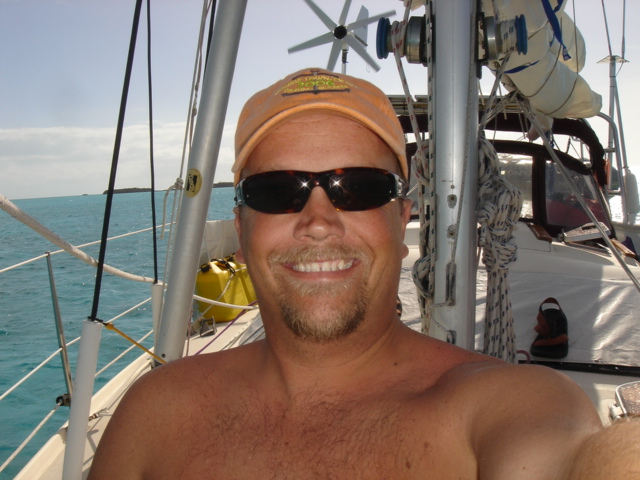 Mike reading on the bow at Musha Cay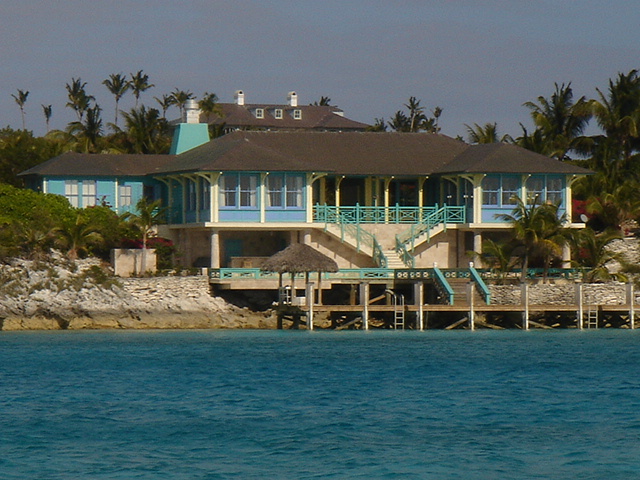 The colors of this house were vibrant & breathtaking. They had 2 boats, 4 jet skis, a private beach and plenty of toys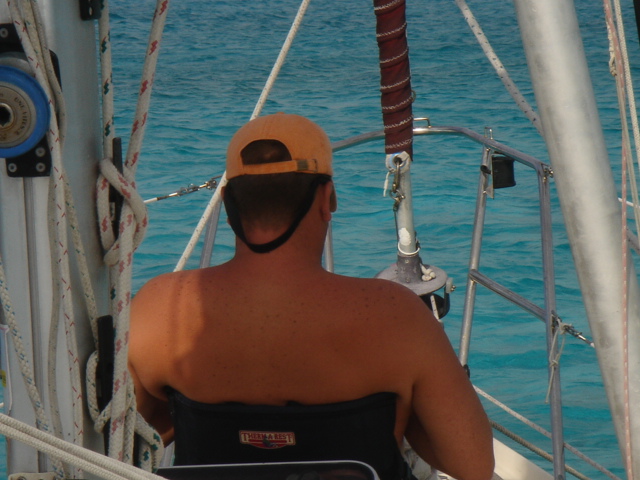 We had a great time reading books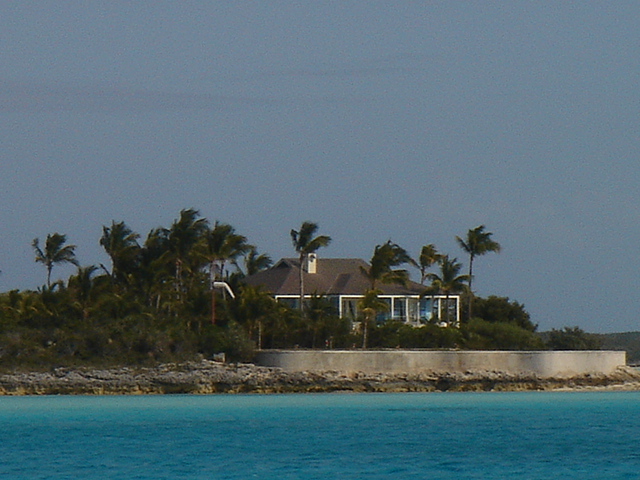 Another rental on the point at Musha Cay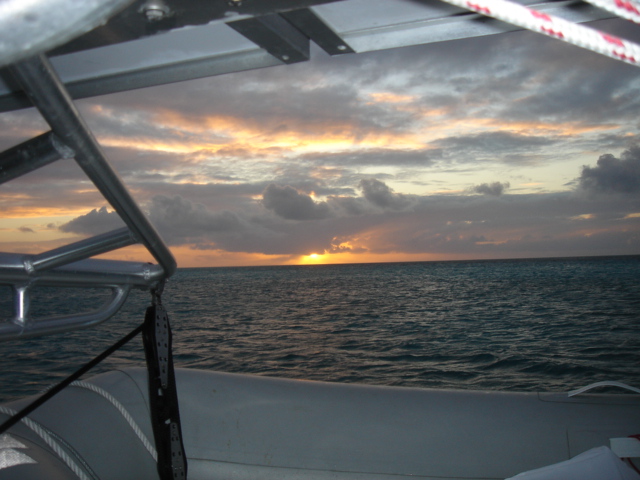 One of many gorgeous Sunsets at Musha Cay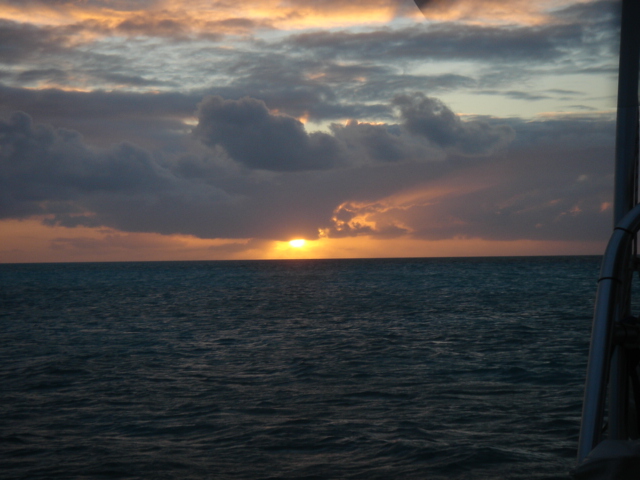 Some of the many storm clouds, while we were in Musha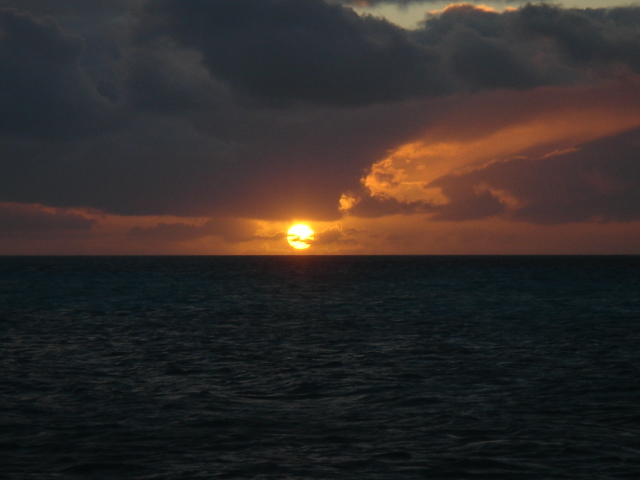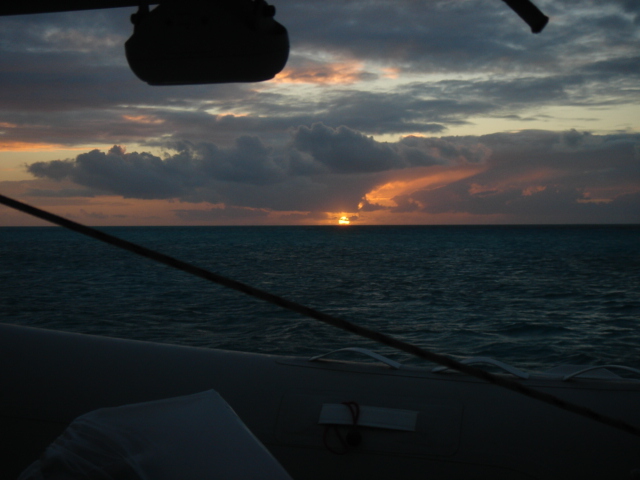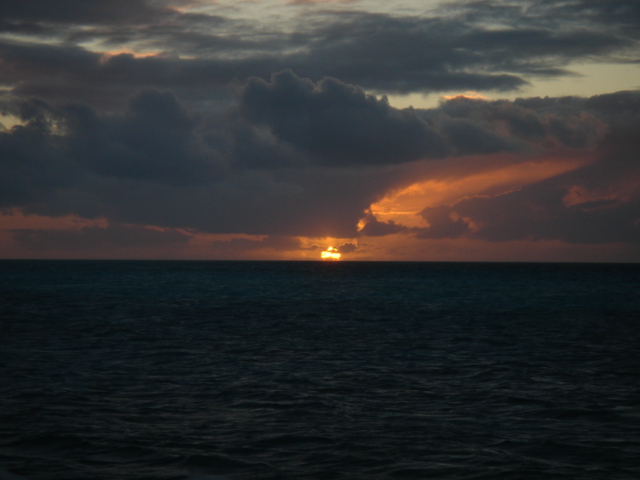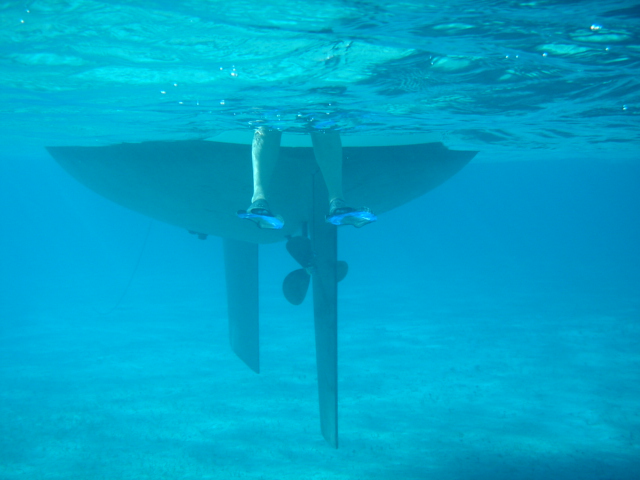 The hull of our boat with Kate testing the waters from the swim platform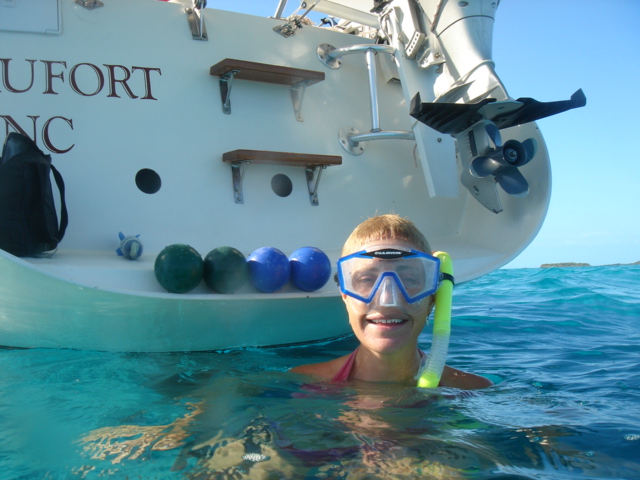 Underwater bocce ball was a blast - And who would've thought that our swim platform had a molded in bocce ball holder?? They thought of everything!

By the way, it is a known scientific fact that it is impossible to not look like a dork when wearing a mask and snorkel. Just thought you'd all like to know that
We were in the perfect amount of water, about 8 feet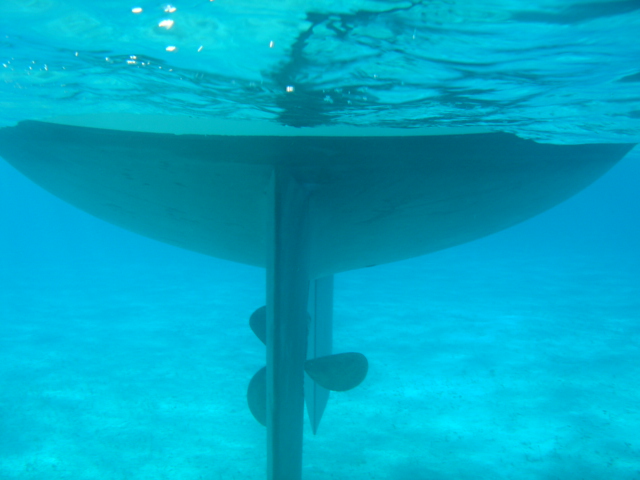 The hull of Tomorrow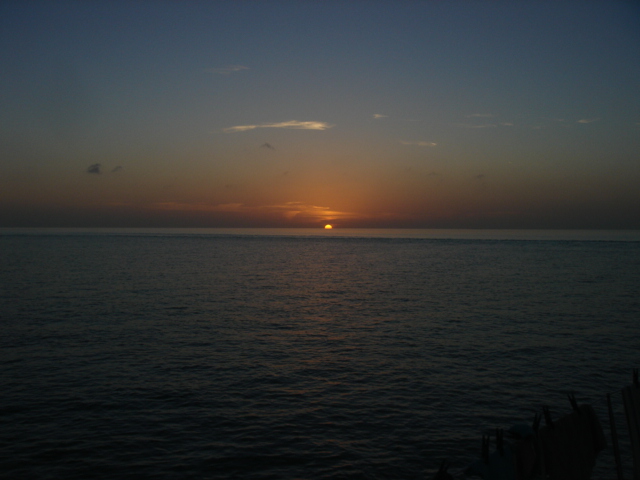 Another beautiful sunset at Musha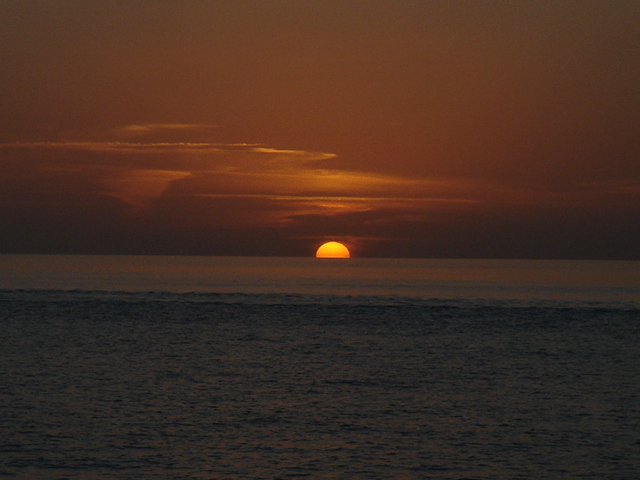 Half of a sunset and much calmer water than we had seen for a whole week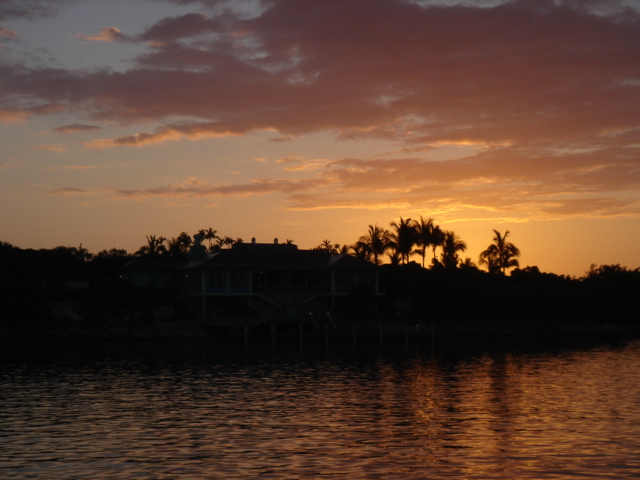 Sunrise at Musha the morning of departure. Simply magnificent.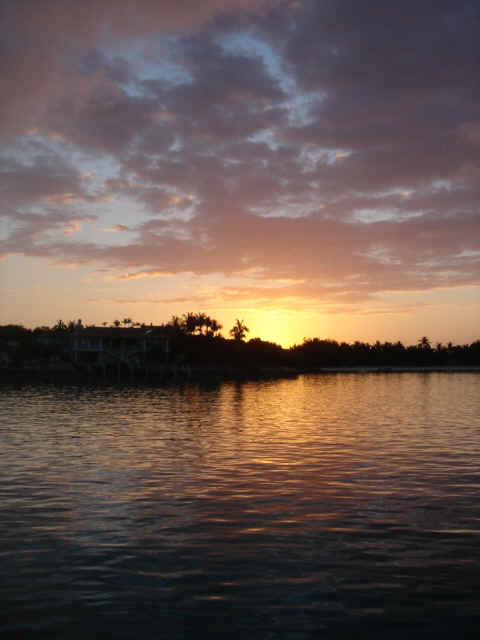 The waters were glassy. We were thrilled to have waited the extra day, and not to have gotten pounded all the way to Georgetown.