USA TOUR 2001
Wrigley Field, Chicago, IL
We left Cincinnati at 8AM this morning heading straight to Wrigley Field to catch a 1:30pm Cubs-Marlins game. Everything worked out great (we even got handed a free VIP parking pass which was beautiful, seeing that parking was $20), and we made the game by the first inning. We got bleacher seats, which is where the real fans sit anyway. Oh, and real fans they were, belching and all! Sat right behind Sammy the whole game, and saw the Cubs come back to win on a 3-run, game-tieing, Fred McGriff homer, and a game-winning Solo HR in the bottom of the ninth! Definitely good baseball.
Went to a place that the SUPERFANS behind us at the Cubs game strongly recommended. They all agreed just like you would think Chicagoans would, it was pretty funny. The place is called Chicago Pizza Oven and Grinders, where they make supposedly the best Chicago Style Pizza in the city. We can't really be the judges of that, but it was hella good.
Driving to St. Louis after all that, 6 hours away. This calls for Coffee and Cold Pizza (you know we got a TO GO box)!
All I can say is "CUBS WIN 5-4 in the bottom of the Ninth with a solo Homerun!!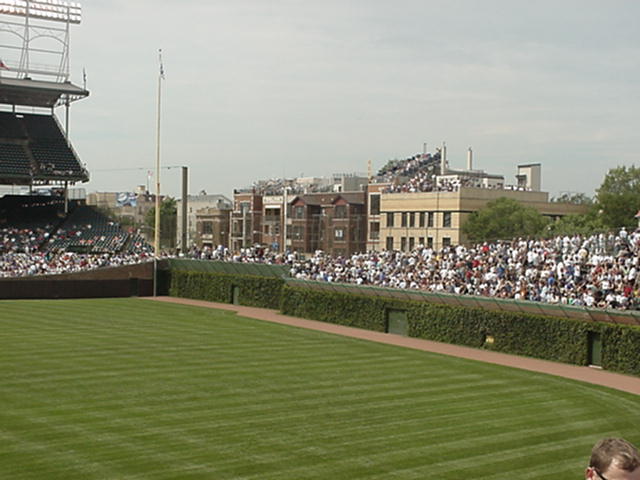 Slammin' Sammy Sosa
Sunset on the way from Chicago to St. Louis, Thursday night