USA TOUR 2001
Redwoods National Park, CA
September 21, 2001
Location: Redwoods National Forest, CA
We headed to Crescent City to pick up our mail and use the internet. Thanks MOM!!!!!!!!!!!! We then headed to Prairie Elk Campground in the Redwoods. We camped right on a river AGAIN! It was very beautiful and the water was so peaceful. We hiked down to what used to be the tallest tree in the world. The top fell off a few years ago and they haven't disclosed or don't know the location of the tallest at this point. We had to get a permit from a ranger to be able to do the hike. We were the first ones to do the hike in a week and we broke all of the spider webs for the latecomers.
September 22, 2001
Location: The Bay Area to Yosemite
We drove from the Redwoods and headed for San Francisco. We drove along the PCH south along the winding coast and saw our first Sea Lion. The drive was really long , but gorgeous and well worth it. Check out some pix by clicking HERE.
When we got to a campground near San Fran it was full. They were going to let us camp in the picnic area, but wanted us to come back in an hour. We had time to kill so we headed for the Golden Gate. We arrived at Fisherman's Wharf and decided to hop out for some Clam Chowder in a sourdough bread bowl. To Die For!!!! We decided not to back track to the campground and headed on to Yosemite. We arrived after 2 a.m. and searched for a campsite. We took the emergency site and decided to stay another day.
Thursday through Saturday, September 20-22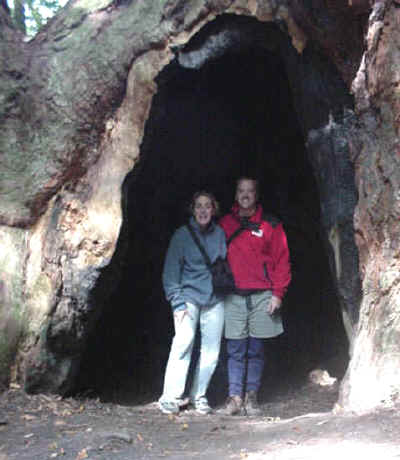 Get me outta HERE!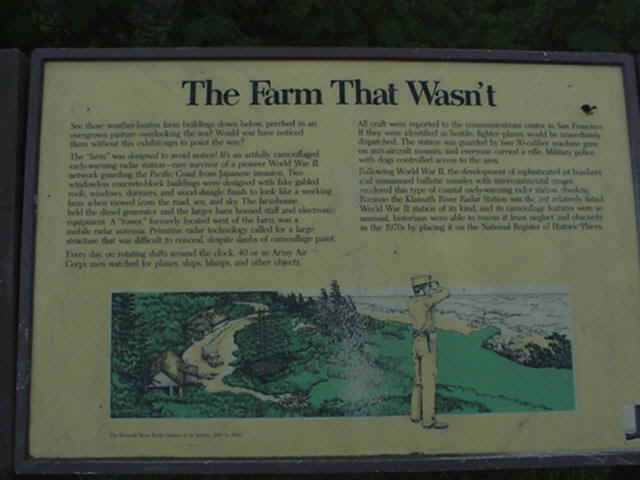 The WWII Radar Station
I'm not getting in it, Mike!
Very tall Redwoods
I know something lives in here!

Mega Redwood!