Grand Teton National Park
September 7, 2001
Location: Moose, Wyoming
We made it! We are definitely in Moose country now. We found a spot at Jenny Lake campground which is right at the base of the Grand Teton. It was snowing and sleeting when we arrived, and very cold. We checked out the lake and took a nap which was very necessary since Mike drove us here overnight from Denver. Check out some Pix from the drive by clicking HERE. The whole rest of the day was very wet! At night it was down to 28 degrees.
September 8, 2001
Location: Grand Teton National Park, WY
We saw a couple of Buffalo and a female Moose this morning, both from pretty far away. We were still hopeful to find a Bull Moose, and thought the best way to hunt for one would be on the Snake River! We scouted around and found out about kayaking the Snake River. We asked the Rangers and they said it was very difficult. They did not recommend beginner river runners to do this. So we planned our trip. We also checked into climbing the Grand Teton. It's a two-day, guided trip to get to the top, sort of like climbing Everest, but without the ice and altitude sickness. Maybe next year! We have logged over 5,000 miles at this point!
We were up at 5:30 AM to begin our journey down the Snake River! It was freezing!! We had our boating permit ready to go, but we had to figure out a way to get back up river to the truck after we were done. So we drove down 6 miles to drop off a mtn. bike where we would end up. We drove back up to Jackson Lake Dam where we put in our kayak on the Snake River. The dam was flowing so we had to put in 1000 yards down stream. Mike paddled us along the river's edge where we saw tons of ducks and osprey. There were bald eagle nesting sites and we saw a family of beavers swimming along near Cattleman's Bridge. We heard all of the wildlife was at Oxbow bend so we had to keep a close eye on the map so we didn't miss the turn. We paddled in and the water was not moving as swiftly there as we paddled around a bend Kate noticed enormous antlers behind the brush on one of the islands. BULL MOOSE!!!! We were so excited and almost nervous at the same time. He was within 30 ft. of us feeding on the willows and grasses. We only videotaped him, sorry no photos. We were elated to finally find a Bull Moose, he was enormous at least 9 ft. tall with his antlers. There was no one anywhere near us, so we had the moment all to ourselves. We hung around for half an hour trying to get better shots and then continued down the river. When we got to Pacific Creek, Mike had to mtn. bike back up to get the truck, and almost got frostbite on his toes. Later on we drove down to Teton Village and Jackson Hole. We saw a Black bear cub on the way. Jackson Hole was awesome and on the way back to Jenny Lake we saw the Mamma and her 2 cubs and snapped a great picture! We also had deer in our campsite when we got back. It was a great day for us and wildlife! We love it.
The Grand Tetons, view from Oxbow Bend

Les Trois Tetones translated means the 3 breasts

The Snake River at Oxbow Bend
The Grand Teton
Mt. Moran with a glacier in the bowl
Mike at the top of the Grand Teton
Mike at Jenny Lake
Lake Jackson
Lake Jenny and The Grand Tet
Mike and Kate at Lake Jenny in front of the Grand Tet
Lake Jenny, the Bear box at our campsite. Nothing could be left out. Bears frequent this campground!
Chillin'
Lake Jenny campsite
Mt.Moran
Kayaking the Snake with the Tetons behind us
Targeel ducks on the Snake
Mt.Moran from the Snake
Osprey on the Snake
Les Trois Tetones
Grand Teton with skywriting
Middle Teton with skywriting
Black Bear cub eating huckleberries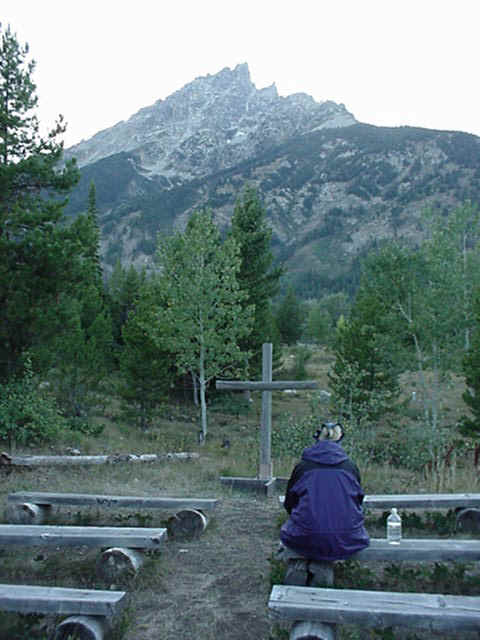 God was in this church!