The Bahamas

August, 2002
Six of us on a 45 foot Privilege Catamaran for a week in the Bahamas. We left from Miami at 6pm or so and crossed the Gulf Stream on an overnight passage. The forecasted meteor shower was spectacular from the darkness of the ocean, and we all saw more shooting stars than we'd all seen in our lifetimes. We cruised in the Abacos, visiting places like Little Sale Cay, Green Turtle Cay, Man O War Cay, Hopetown, and Gun Cay. We tried to keep a log and we didn't forget to take some pics.
We started this trip in Miami, meeting up with Capt. Mark Pomerenke, skipper of Stray Cat (Check out SailStrayCat.com)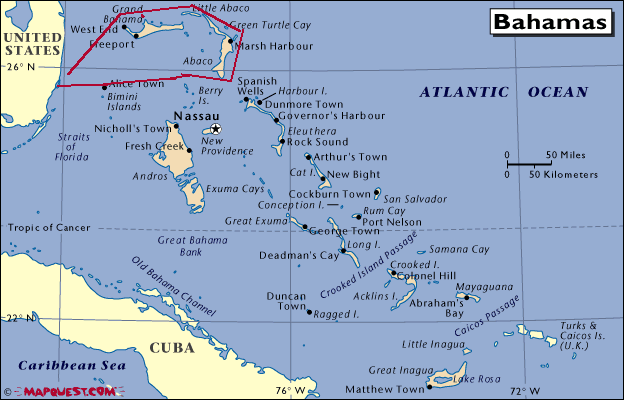 Our Route from Miami, around the Abacos, through the Berry Islands, to Bimini and back to Miami
Total distance traveled - 451 miles
| | |
| --- | --- |
| Miami Skyline, from Harbor Marina | Dewayne making sure we bought his rum |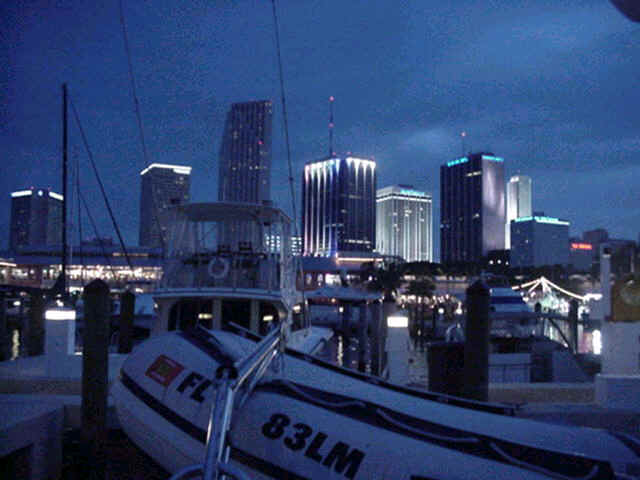 Miami Skyline from the aft of Stray Cat
Ship's Log - August 12, 2002
Departed Bayside Harbor in Miami at 4:30pm. Wind out of SE @ 15 knots. Set a course for West End of Grand Bahama Island. Seas at 4-5 feet and no foul weather. Plenty of heat lightning to brighten up the sky. Also, we are right in the peak of a meteor shower forecasted for this week. It is breathtaking! Mike and Dewayne manned the helm overnight while the rest of us slept in the cockpit. Between them, they saw at least 50 shooting stars. The temperature was a perfect 72 degrees.
Kate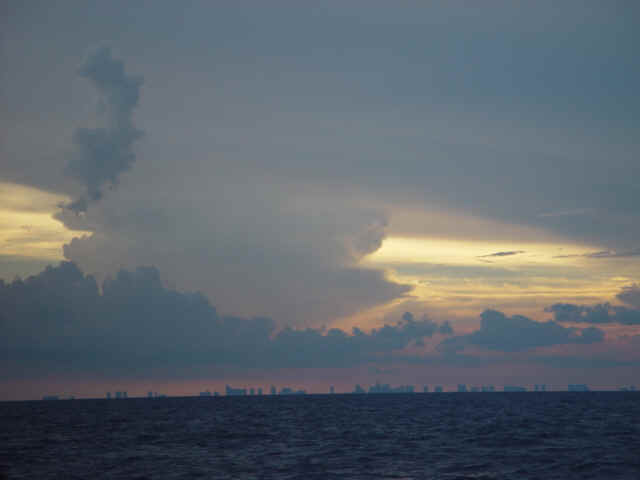 Sunset over Miami as we sailed out towards the Gulf Stream
| | |
| --- | --- |
| | |
| Karen practicing her relaxation techniques | From the front of Stray Cat back towards Miami |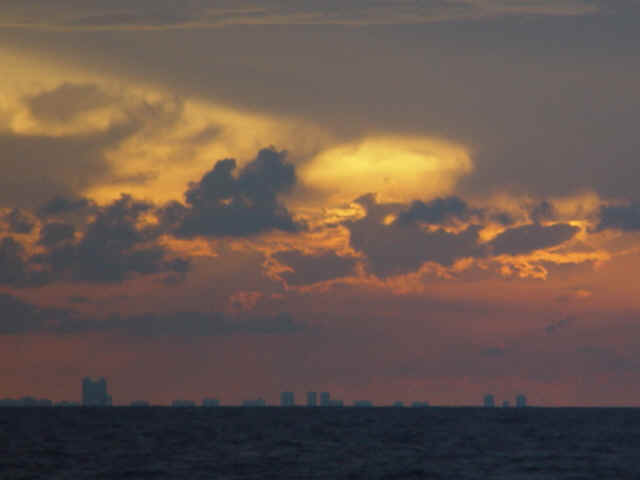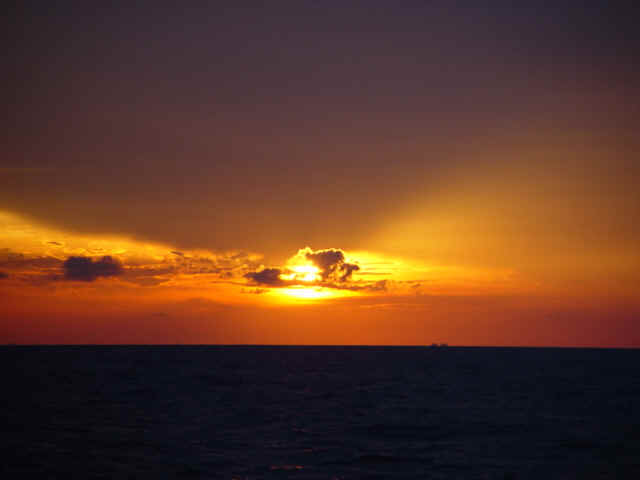 Ship's Log August 13, 2002
Woke up early to more shooting stars at 5:30 am. ETA 7am at West End. Just waiting for the sunrise so we can anchor safely. Midday - DeWayne and Vince catch 2 "huge" fish! Went snorkeling off of an uninhabited island. We had a great swim and an exceptional dinner. The island where we anchored for the night was Little Sale Cay. There were maybe 5 other boats within the crescent shaped harbor of white sand and mangrove trees. The water was calm all night and the sleeping was great.
Leslie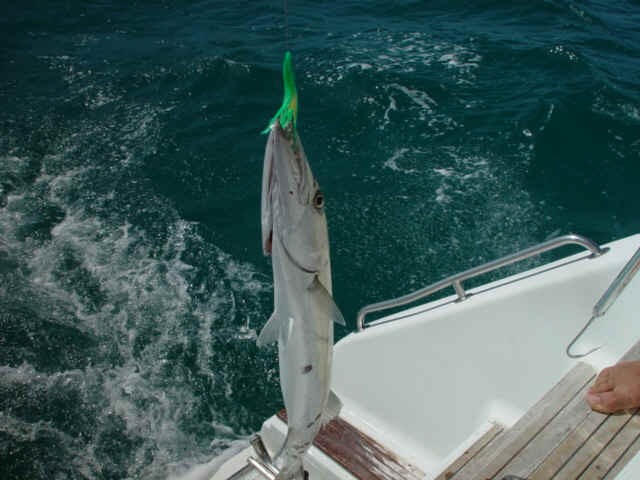 Vince's first Barracuda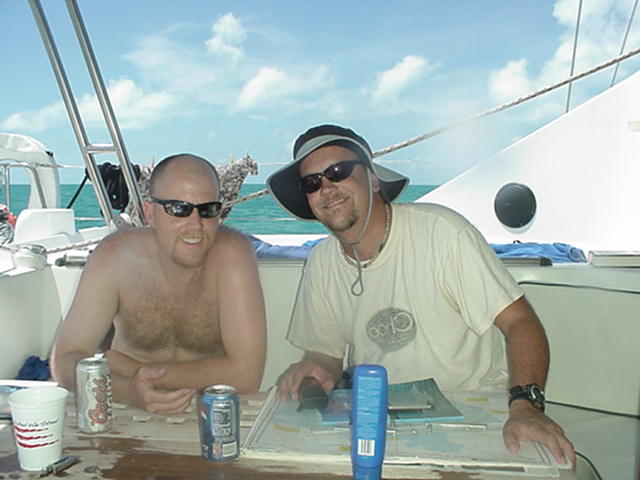 Dewayne and Mike - Master Navigators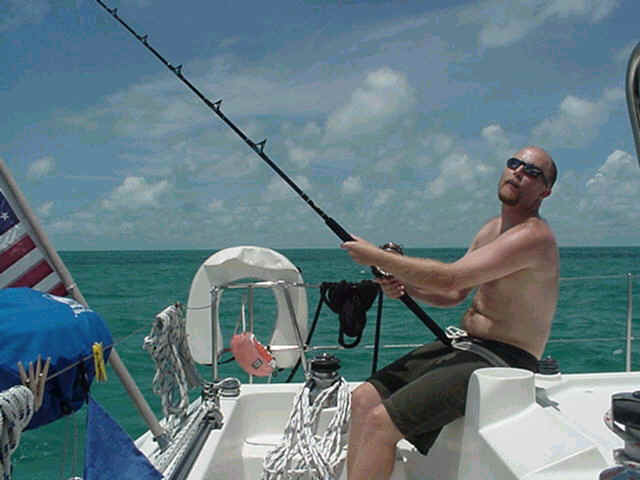 Nice Pole !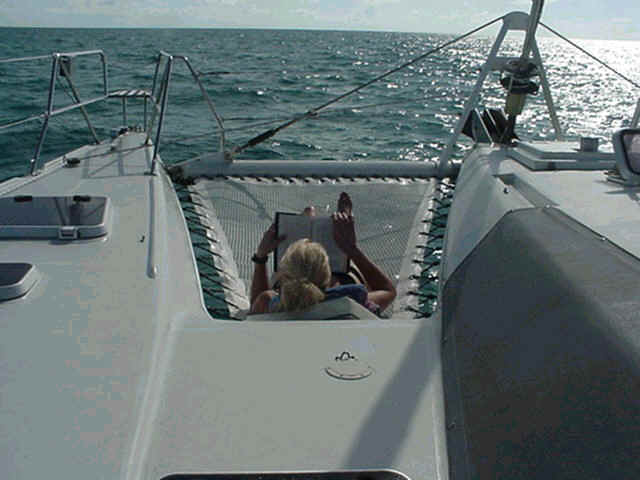 Nice place to read a book, ehh? Kate thinks so.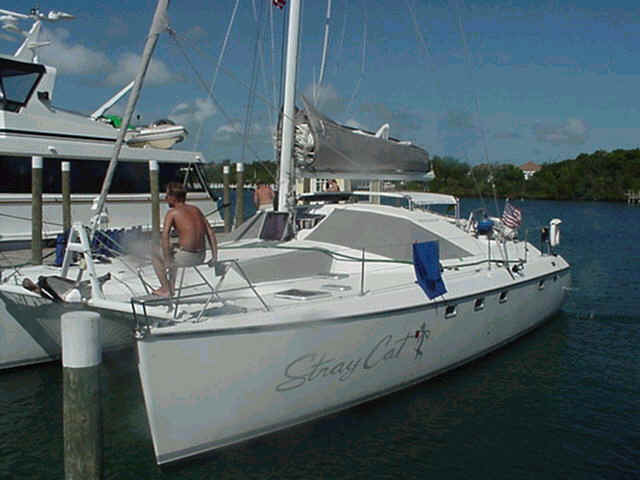 Refueling at Man O War Cay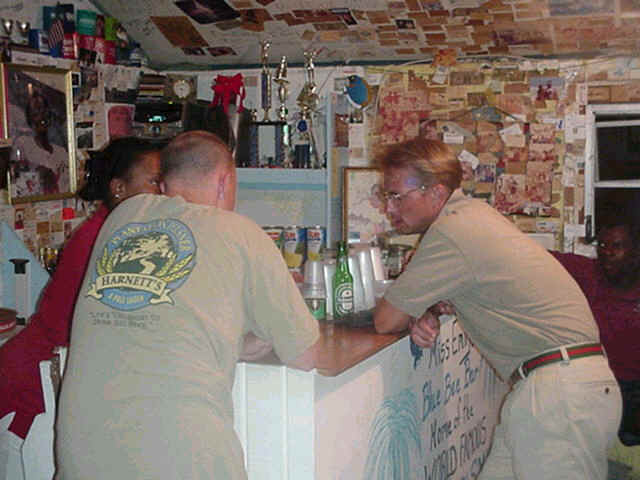 Nice little bar on Green Turtle Cay - They specialize in The Goombay Smash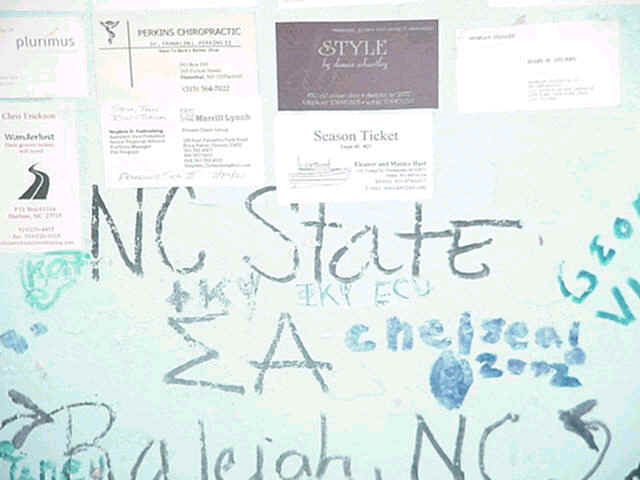 You can't keep us out !!!! This was written on the wall of the bar at Green Turtle Cay. Go Pack !!
Ship's Log - August 14, 2002
It's midday and Dewayne still doesn't have a beer in his hand. We are getting worried about him. Bow riding has been like bronco riding today! The seas are at least 5 feet and we are beating directly into them, but the Stray Cat is handling them like a dream. We caught a Barracuda in mid afternoon. He was almost 2 feet long w/ plenty of teeth.
7:45pm - Anchored @ Green Turtle Cay, we headed ashore, freshly showered to find a local place for some drinks, and boy did we find it. Goombay Smashed are the words of the day. We had a great time at the bar last night and came back for some beautiful music and dancing on the Stray Cat.
Vince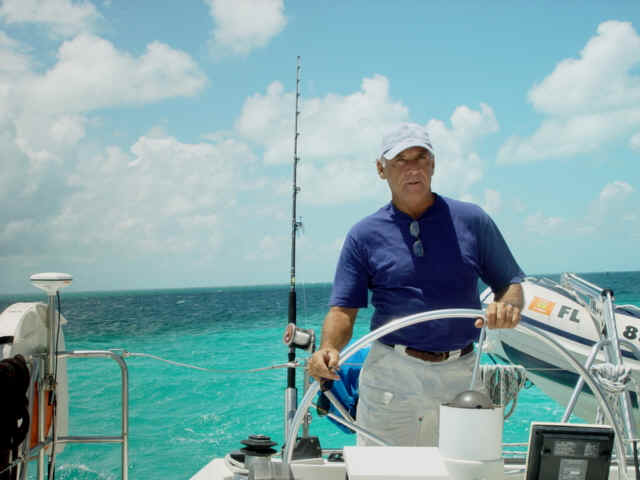 Capt. Mark at the helm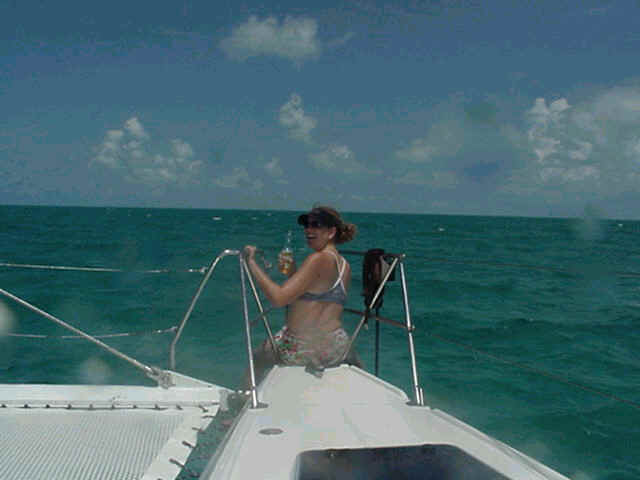 Karen is saying, "This does NOT suck !!!"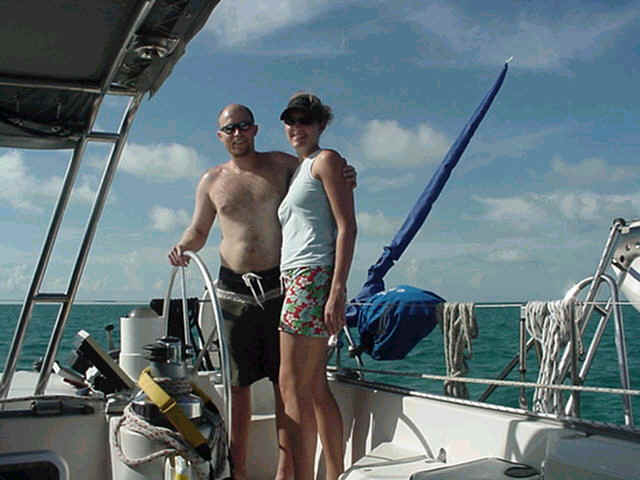 Dewayne and Karen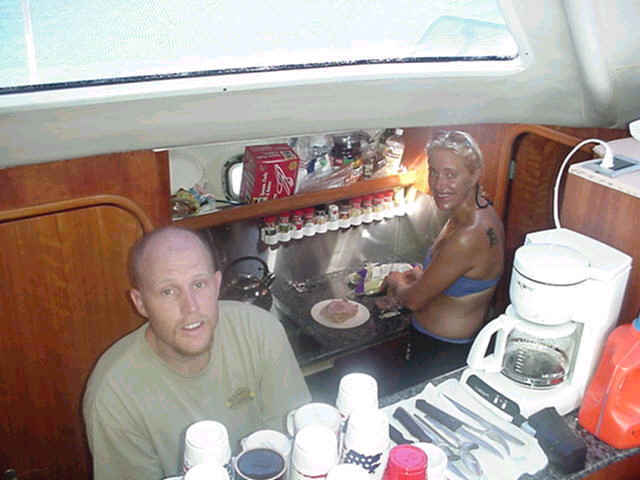 Dewayne and Kate fixin' some lunch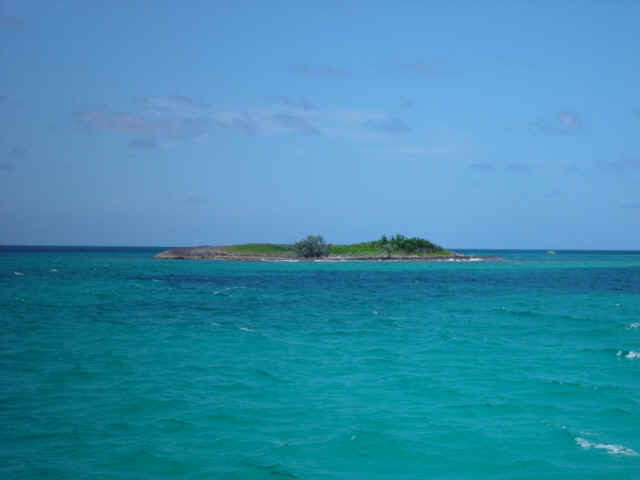 How much for this island??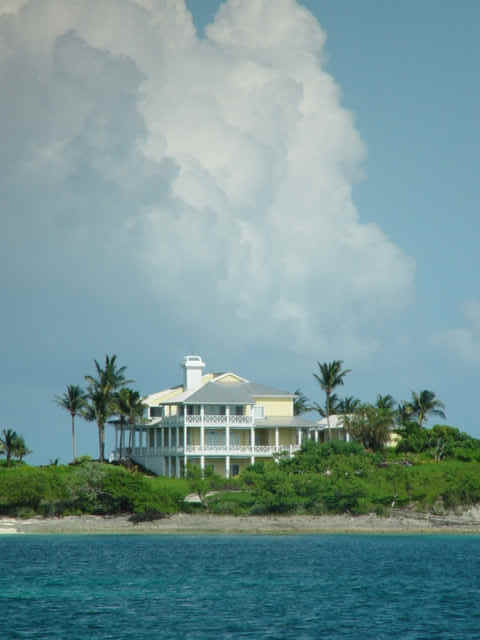 How much for this island ??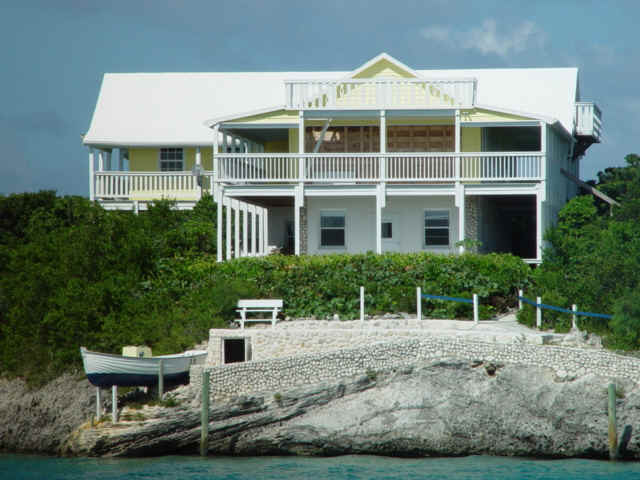 Very Nice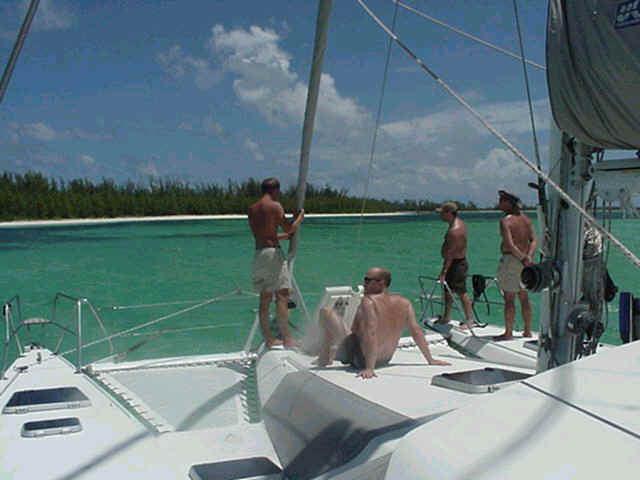 Ship's Log - August 15, 2002
We are refueling in Turtle Cay Harbor. It is a tropical paradise! We saw both black and spotted Manta Rays "flying" across the bottom on our way to the fuel docks. I saw some of the best meteors last night. It is incredible. Thank God for this beauty!!
Kate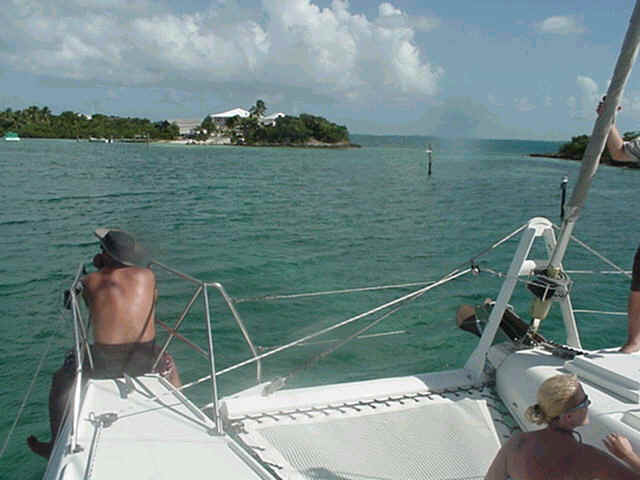 | | |
| --- | --- |
| | |
| Pulling into Green Turtle Cay | This place was for rent. |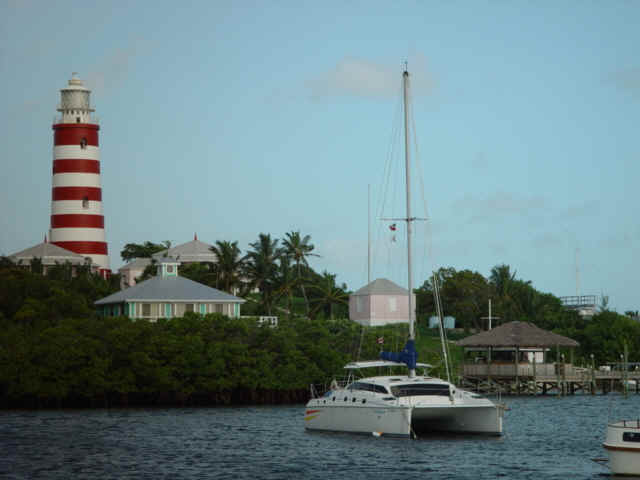 Hopetown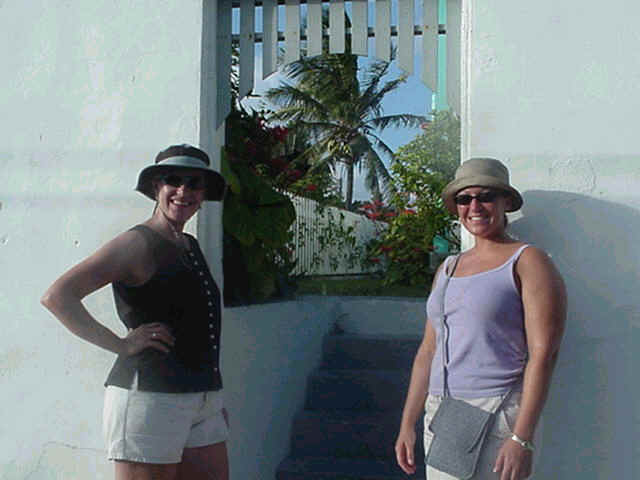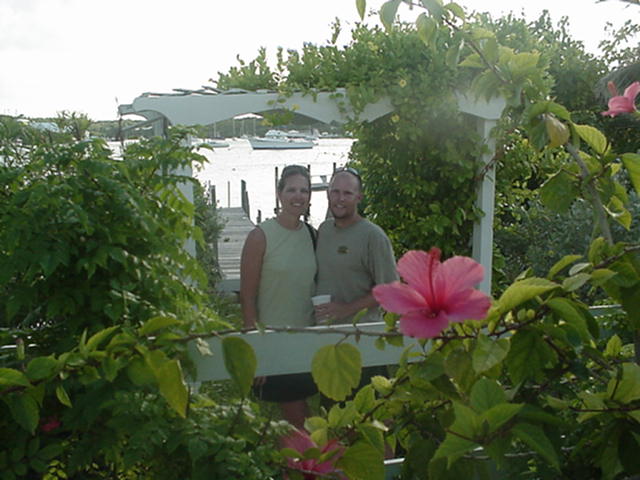 Ship's Log - August 16, 2002
We did some snorkeling off of Great Guana cay. There were white sandy beaches, starfish, conchs, sea biscuits, sand dollars, and a few fish. Another tropical paradise. We are headed for Man O War Cay and on the way we had a group of about 8 dolphin surfing in our bow waves!! They hung around for a few minutes and then headed on their way. This is exquisite, a dream come true!
7 pm - Anchored in Hopetown, had drinks and some wonderful appetizers at a hotel right in the harbor, complete with a beautiful red and white lighthouse that reminds me of a peppermint. Caught a shuttle across the island to the Abaco Inn and crashed a wedding party. (We were invited 5 minutes earlier) A couple from the US had over 100 people on the island for their wedding on the coming Saturday, and everyone we met asked us if we were with the wedding party. We said no 2 or 3 times, and then decided that it would be best to start saying "YES!". We had more food and drinks with those guys, who turned out to be a lot of fun, and then headed back to the Stray Cat at about midnight. Riding in the dinghy through the harbor at night was more than exciting ! Try avoiding 30 moored sailboats and twice that many mooring balls in the dark! We made it !!
Mike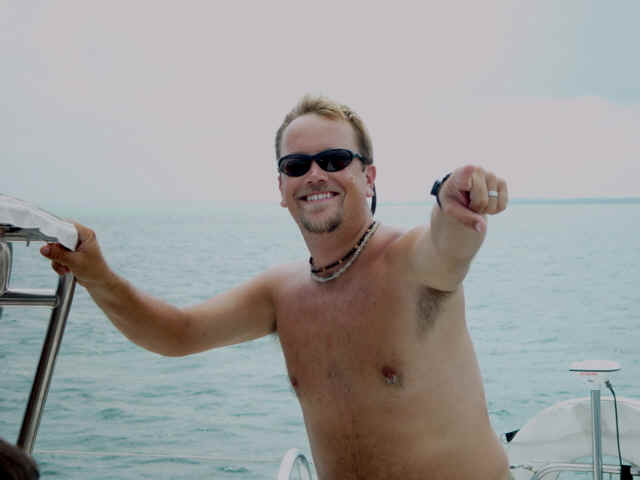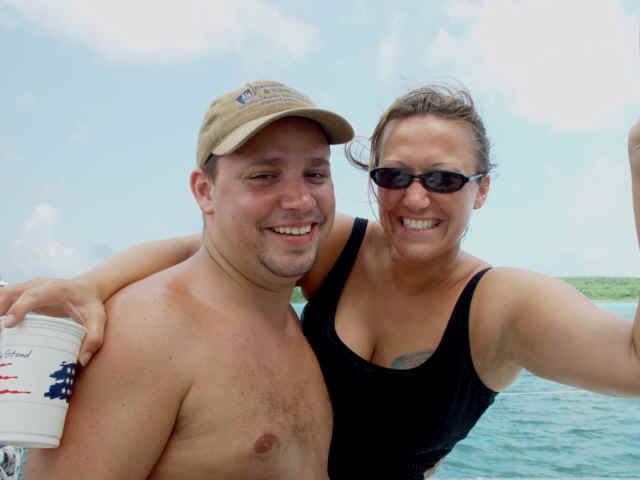 Vince and Leslie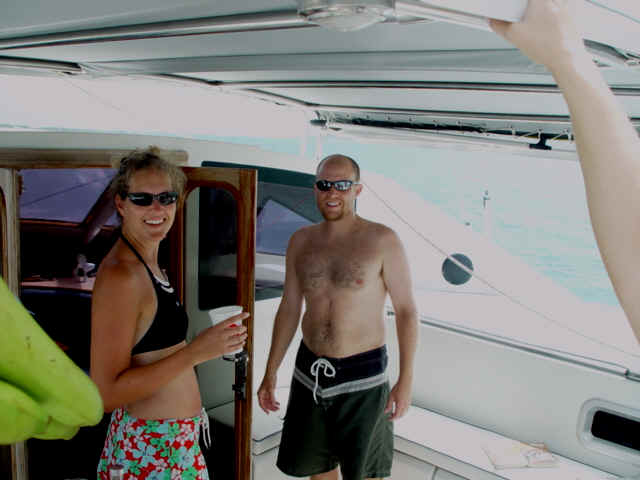 The Taylors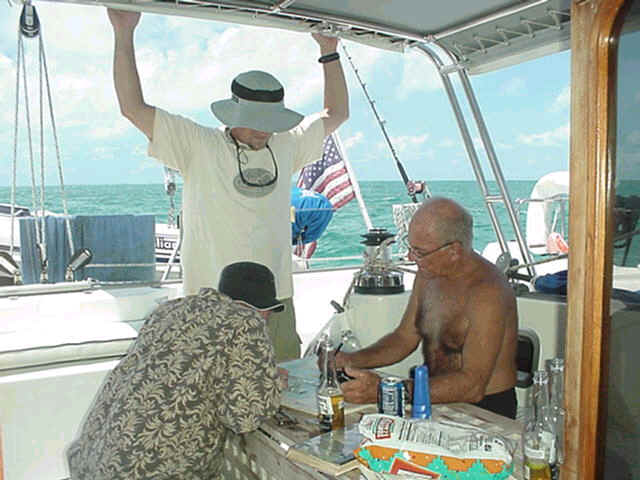 Capt. Mark, Mike and Vince going over the charts
| | |
| --- | --- |
| I can fix cavities that are THIS BIG !!!! | Near Man O War Cay |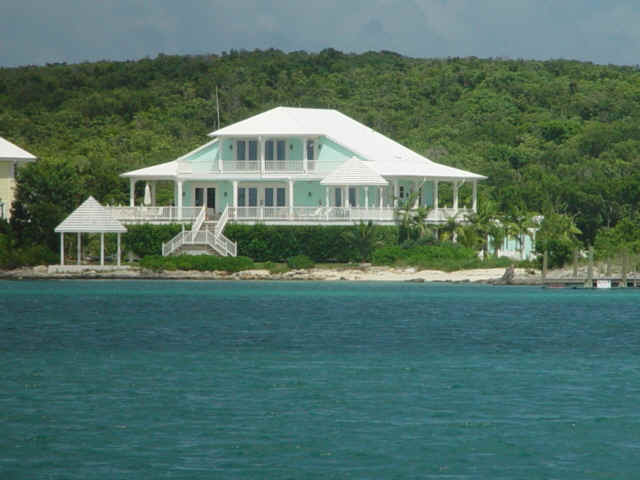 FACT: It costs twice as much to build a house in the Bahamas than in the States.
| | |
| --- | --- |
| Heading into some rough water | We saw some 15 footers when we headed through that cut |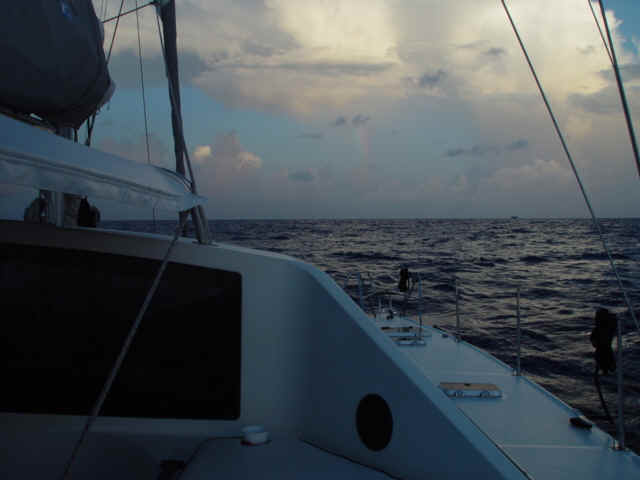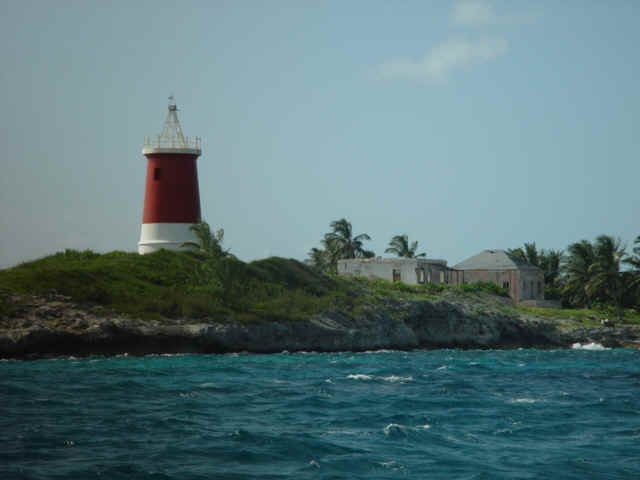 Gun Cay Light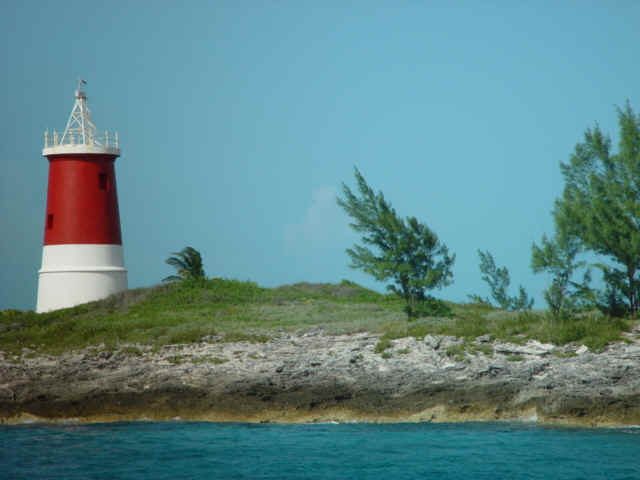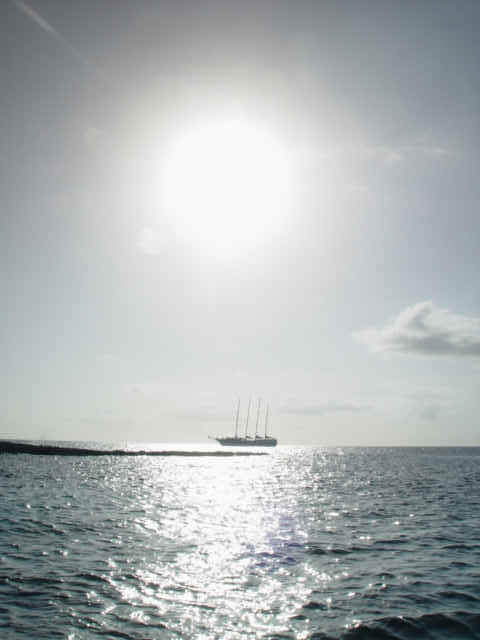 Four masted schooner anchored directly under the sunset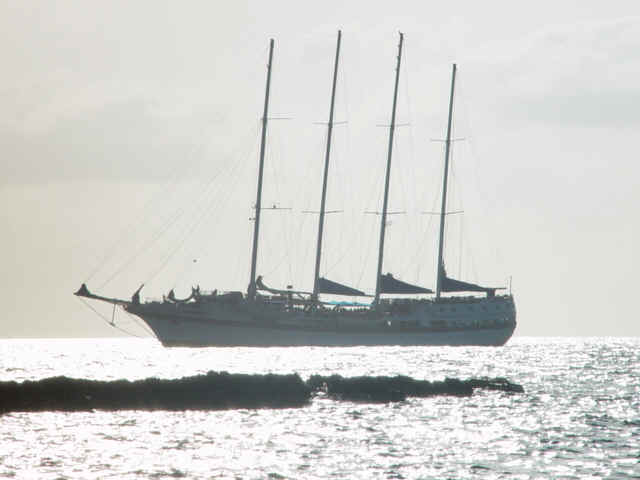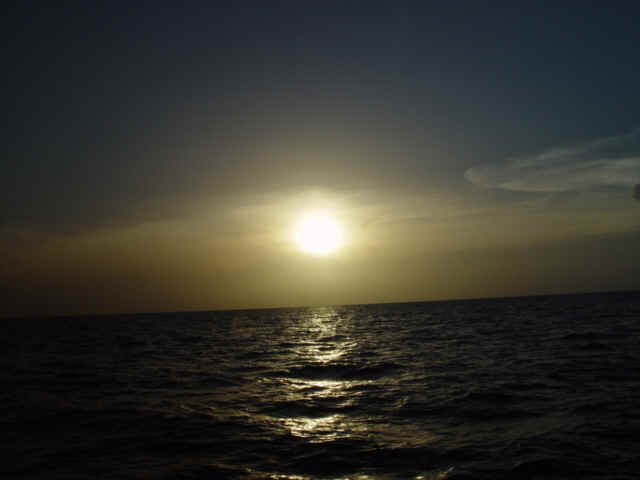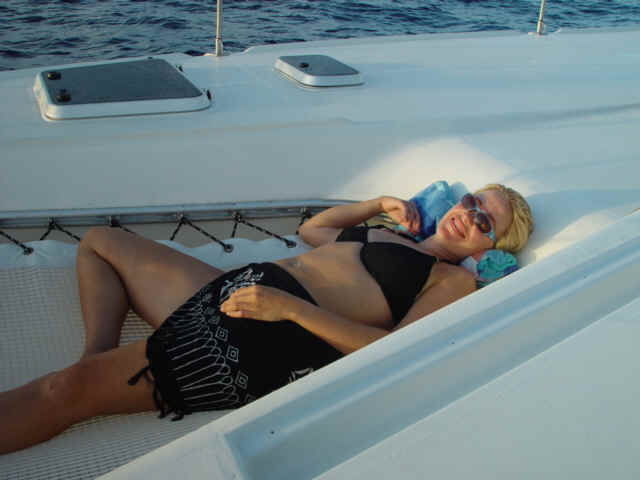 What day is it?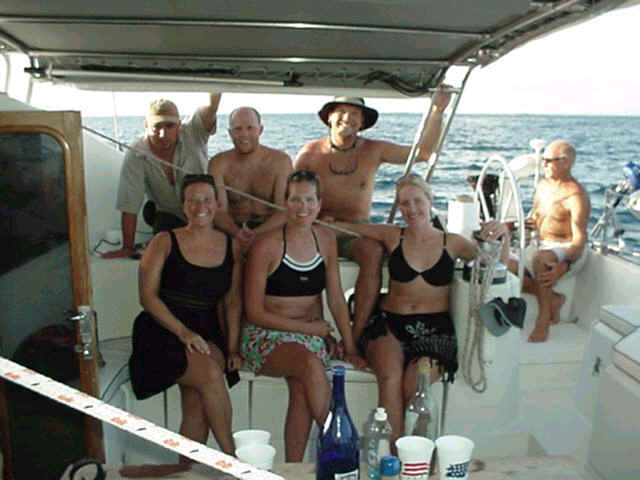 The Gang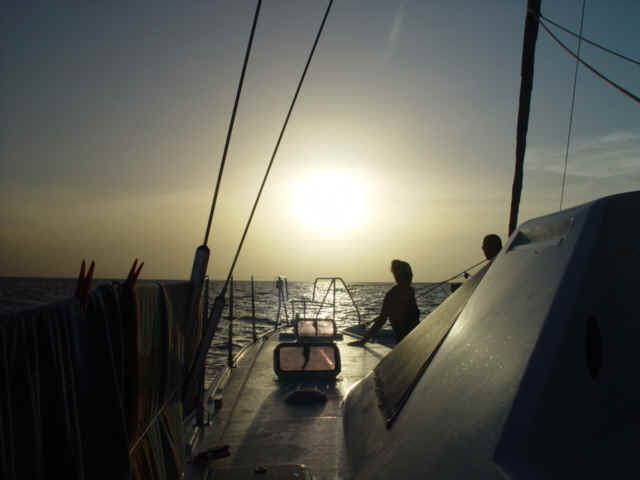 This does not suck
What it feels like to watch a sunset from a Cat in motion.